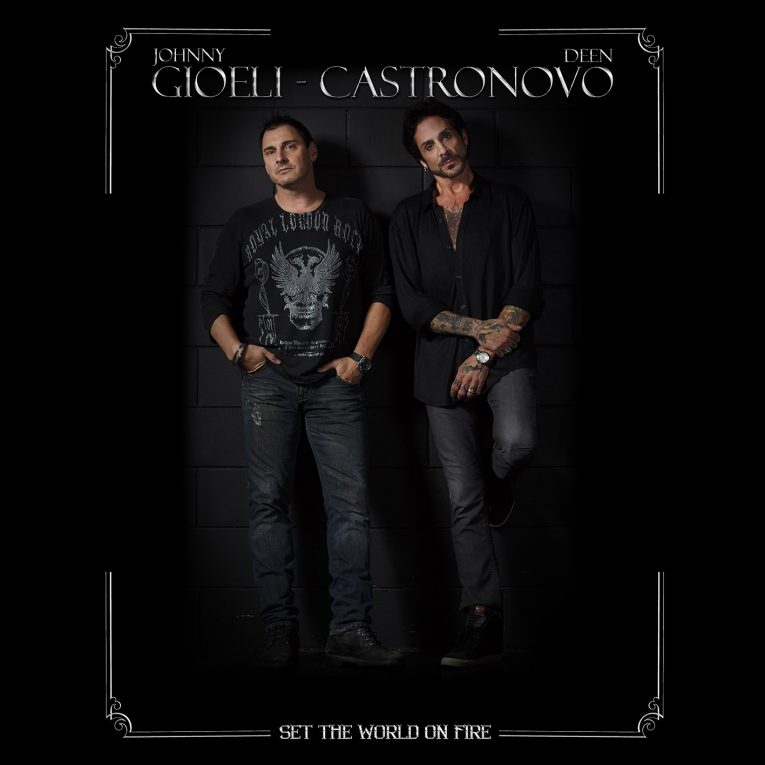 By Tom O'Connor
Frontiers Music Srl are fearless in the face of superstition, scheduling the release of the Gioeli-Castronovo debut album Set the World on Fire for Friday the 13th. The label has every reason to be confident as these two rock/metal craftsmen have turned in a tight and powerful collection that'll remind you of some of the best aspects of old-school "arena rock" while also still helping you get through today's turbulent times.
Vocalist Johnny Gioeli and drummer/vocalist Deen Castronovo met in 1992 when they met in a band called Hardline, and it only took a quarter of a century for them to finally get together again to make some big rock noise with some super-pro level studio assistance from Mario Percudani's guitar, Nik Mazzucconi on bass, and the dialed-in keyboards of Alessandro Del Vecchio.
Always keep in mind that, in spite of the axis-shifting Cambrian Rock Explosion that was Nirvana and Grunge etc.,  AOR "arena rock" is still a wild and powerful musical genre that has successfully taken on the world and found generation after generation of fans in every corner of it. There is something timeless about screaming guitar leads and soaring, melodic vocals spiraling over crunching power chords and stinging keyboard riffs. They got the job done then, and they still do now. As tempting as it is to draw constant comparisons to everyone from Journey to Dio (and I will do some of that) this music can, and should, still be judged on its own merits, as it relates to listeners today. Does it move you? Does it make you press down a little harder on the gas? Does it make you feel better?
Yes.
As a good opening track should, "Set the World on Fire" lets everyone know what to expect for the next 48 minutes or so; a rhythm section that starts at full speed and only pushes harder from there, big, crackling guitar, heavy on the treble-side of distortion, and vocals apologetically front-and-center. No one will mistake this for anything but what it is: a big-sounding song that needs to be cranked to full volume in a big venue, or in an extremely fast-moving car. Next up, on "Through," we fully hear one of the secret weapons this particular band possesses; not just one, but two uniquely flavored and talented vocalists. Whether trading lines mid-verse or seamlessly blending their voices in the bridges and chorus', it is a rare alchemy.
It can't be an arena rock album without a power ballad or two, and "Who I am" fills the bill, the song also offers the first serious sample of Percudani's extraordinary guitar work as he effortlessly bounces from subtle to bombastic and back again, and that's before he even gets to the solo section. "Fall like an Angel" then floats in on some crystal-clear keyboard work from Del Vecchio and some more squealing, crunchy guitar all designed to set up the big shout-along chorus. All this power-balladry comes completely into focus on "It's All About You" which hangs on a framework of piano chords and strummed acoustic guitar before Percudani's distortion box and big solo remind us why we're all here.
In what immediately felt like an intentional shift of gears, along comes an unexpected
Lady Antebellum
cover of "Need You Now." It is an unusual move on this kind of debut, and there is no point in doing a cover like this unless the band can really make the song their own. Mission accomplished. "Ride of your Life" cooks along on the same framework that starts with bare piano chords and a big beat that was born racing for the even bigger chorus of soaring vocal acrobatics.
Less a power ballad and more of a "ballad ballad," the emotional and vaguely Spanish-flavored "Mother" may be slow-to-mid tempo, but it carries just as much energy as the full throttle tunes. Next up, lighter-lifter "Walk With Me" keeps the tempo slow but the intensity high. You get a return to something heavier/louder with "Remember Me," which develops from  Castronovo's drum line, mingles in some vintage synth-rock pads and builds to a classic deep-lunged chorus.
In an unexpectedly heart-on-the-sleeve moment, the album closes with a vocal showcase in the strummed acoustic tear-jerker "Let Me Out." Almost along the lines of Extreme's "More than Words," it is a reminder that these are some skilled musicians with some serious vocal and musical chops. They just make "Arena rock" look and sound easy. It isn't.
For more information on Gioeli-Castronovo:
Facebook: https://www.facebook.com/johnnygioeliofficial/ 
Facebook: https://www.facebook.com/DeenCastronovoOfficial/