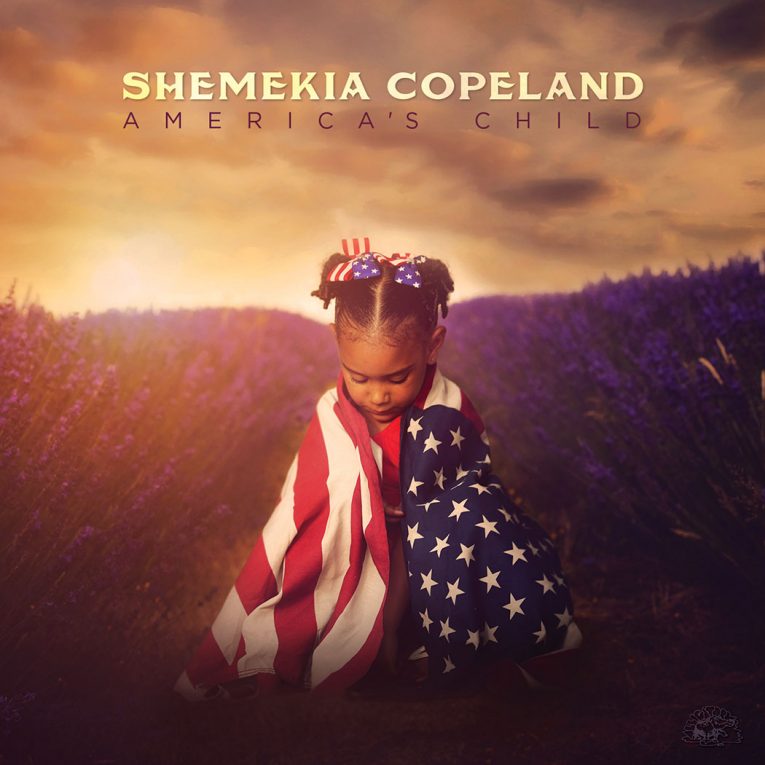 By Kevin Porter
After a three-year absence, Shemekia Copeland makes a welcome return with America's Child, which will be released on August 3rd on Alligator Records. The reigning Queen of the Blues, Copeland has established a solid and growing fan base with her passionate, take-no-prisoners vocals and her tell-like-it-is lyrics. She also has garnered respect and admiration from many of her musical peers, with Grammy nominations and multiple Living Blues Readers and Blues Music awards for Best Female Artist of the Year, and two Blues Music Awards in 2016 for Best Blues Album and Contemporary Blues Female Artist of the Year. That artist respect extends to this album, with several musical heavyweights such as Steve Cropper, John Prine, Emmylou Harris, and Rhiannon Giddens making guest appearances on the album.
Copeland kicks off the album in characteristic style with a thumping bass line and a sweet guitar lick with "Ain't Got Time to Hate." The first single off the album, Copeland warns listeners to "be smart" and to "be strong" because life is short and "ain't got time for hate." It's a memorable song, and already, Joe Bonamassa has added "Ain't Got Time to Hate" to his list of "10 Best Blues Songs of 2018" so far.
Next up is the first of two songs contributed by singer-songwriter Mary Gauthier, "Americans." Starting off with a New Orleans-style shuffle, "Americans" is a delightful and loving tribute to the diversity of people and backgrounds that comprise the residents of the United States of America. Among the colorful characters Copeland references include Elvis impersonators, Southern belle beauty queens, gray-hair baby boomers, and yesterday's rock and rollers that "are pushing baby strollers." Yet while we are "walking and talking contradictions" and "no two people are the same," Copeland sings that is what makes the USA beautiful. A solid message for everyone to consider in these complicated times.
"Would You Take My Blood" changes the mood considerably—it's a darker song about the sins of racism, sexism and just the general hatred of people who are different from one another. Copeland puts it in stark terms when she asks the song's subject if they would take her blood if they were on death's doorstep, or would they rather die instead. Copeland rails against the hatred but leaves a ray of hope that she'll take a chance on someone if someone takes a chance on her.
One interesting twist with America's Child compared to Copeland's previous albums, is that Copeland expands her rock, blues and soul musical stew to embrace elements of Americana and country. Copeland and Prine do a duet on Prine's "Great Rain" that appeared on Prine's The Missing Years, released in 1991. Prine's lyrics display his renowned wit ("I was praying for mercy, and all he ever sent me was you). Copeland and Prine make an unlikely duo, but it works. An even more direct example is "Smoked Ham and Peaches," the second song contributed by Mary Gauthier, where the prominent instruments are a banjo, played by Giddens, and a slide guitar. Here, Copeland sings about how the whole world may be coming unwound, but there's much to enjoy in the simple pleasures of life. The song is a mash-up of folk, country and blues, suggesting there is less separation between those musical styles than one might think.
It's not all serious and heavy, though—there's plenty of humor and appreciation for life sprinkled throughout the album. On "One I Love," Copeland croons her unbinding love for her lover and expresses her thanks every day just for being alive. It certainly helps that "One I Love" has a killer guitar hook that grabs your attention from the get-go. Over a toe-tapping, funky shuffle in "The Wrong Idea," Copeland voices her indignation at being hit upon at the bar when she just wants to have a good time with her girlfriends and unleashes on her suitor. Examples include, "Looks are deceiving, not what they seem, you ain't close to the man of my dreams," and the killer finale, "Sip on your beer a little bit, that's the only place you're putting your lips on tonight."
As is typical of a Shemekia Copeland album, the musicianship is divine. We've already mentioned several examples, but a highlight is Steve Cropper's playing on "Promised Myself," written by the late blues great Johnny Copeland, Shemekia's father. On this song, she channels her inner Otis Redding, and Cropper exquisitely fills in the spaces, playing just the right notes at the right time, with nary a note wasted. Producer Will Kimbrough—who has played with Mavis Staples, Allen Touissaint, and the aforementioned Emmylou Harris, among many others—plays guitar throughout the album, contributing sizzling lick after sizzling lick and playing nicely off Copeland's vocals.
America's Child is Copeland's ninth album, and like the others, it's a good one. Copeland better make room in her trophy case because this album will likely win some awards in the coming months. Hopefully, Copeland's fan base will keep growing with this new album because this is one talented singer that deserves more recognition.
For more information on America's Child and Shemekia Copeland:
Listen to sample here: