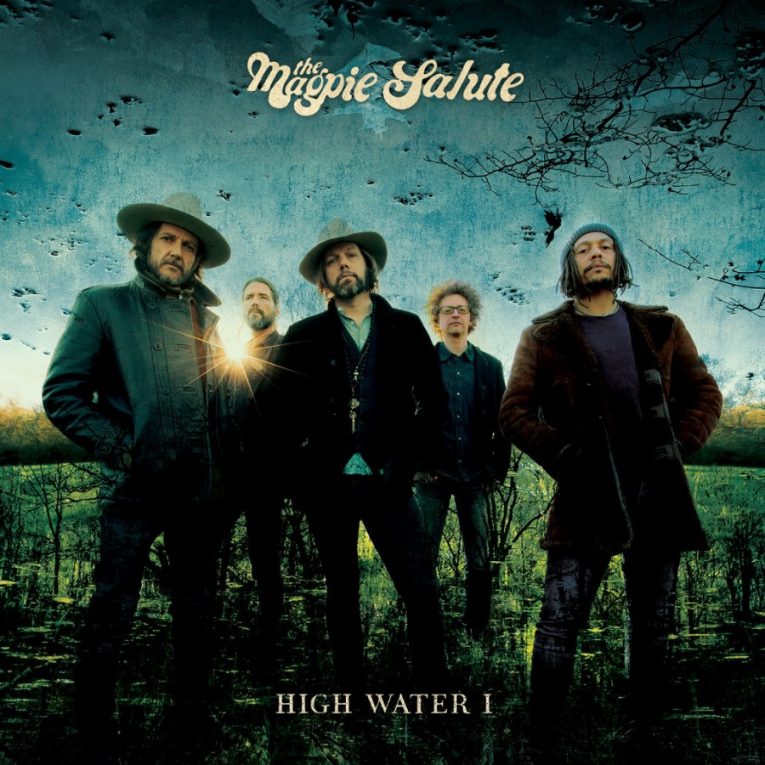 By Tom O'Connor
Two years after debuting with a live album, The Magpie Salute will finally be releasing a new studio collection, High Water 1, August 10th  via Mascot/Eagle Records. Band boss and former Black Crowe, Rich Robinson produced this one himself and turned to some  familiar faces as well as some new ones for assistance on this effort, and everyone delivered. Big.
Longtime fans will hear the solid and familiar bass of Sven Pipien and the slinky guitar stylings of Marc Ford blending effortlessly with Joe Magistro's nearly telepathic drumming, Matt Slocum's always emotional keyboard work and some truly remarkable vocals by John Hogg. I have no idea how long these guys spent in the studio, but the result is they all sound like they've been playing together for years.
"Mary the Gypsy" kicks off with a brief horn fanfare, a touch of showmanship announcing the arrival of some new kings, before immediately drawing you in with a beat that can only be described as throbbing. Next up, the title track "High Water" bounces in with a ripe and sunshiny taste of acoustic guitar-driven psychedelia, and the kind of subtle, but fully committed vocals from John Hogg that'll make listeners say, "Chris who?" Of course, some comparisons to Robinson's previous outfit are inevitable. For my money "Send Me an Omen" sounds the most like mid-career Black Crowes. For all its balls-out brashness though, this is a very thoughtfully produced tune, with the band handling tempo and tone changes with ease, taking you on that ride and finishing with backup vocals behind Rich's insistent guitar and Hogg's plaintive voice.
A sweet, full-minute long intro sets you up for a big switcheroo on "For The Wind." But no one minds having the rug pulled out from under them in the name of some good, funky bombast. The band fills every available frequency on this tune and even touches on some Allman Brother's mojo in the lead break. I can see this song turning into a long and lethal jam at some outdoor venue on a perfect Summer night.
The gears shift on "Sister Moon." A  piano and drum intro sets you up for a melancholy walk in the moonlight that'll pull at the memory of every lost love you've ever tried to forget. Hogg's vocals, impressive again, manage to pull at your heartstrings as much as that mournful pedal steel, which is no easy trick. An acoustic guitar and some burbling flanged electric ease you into the quiet confessional observations and condemnations of "Color Blind." Without raising their voices, or amps, the band steps up with a reminder that we could all do a lot better by each other.
I can bet you won't find a single review of
High Water I
  that doesn't use the word "swaggering" to describe "Take It All." A quick (only 3:24) blast of slide guitar-fueled rowdiness, bluster and stomp that camouflages a tender message: If you're going to love me, promise to love me completely. Speaking of love, I get a George Harrison /
Tom Petty
vibe from stand-out track "Walk on Water." Maybe it's just me, but this tune has the lilt and hope of a Traveling Wilbury's invitation to "step into the unknown" and join them on a journey of wonder and that might, or might not, include psilocybin. Loose handclaps and toe taps drive the rhythm of "Hand in Hand" a deceptively simple-sounding tune that gives Rich a chance to remind us that he doesn't need a distortion box to sound amazing on guitar. Just when I was starting to wonder when a harmonica break might roll in, they added a piano to the front porch jam instead and it sounded just about right.
You'll hear some pure Americana, bordering on Country when the weeping pedal steel returns to intro "You Found Me," a tune made for slow dances and lingering glances, it is a thank-you note ode to love. Next up, "Can You See," sounds like a bookend to "Color Blind," as we find the band speaking their minds and having a point of view on the human condition that goes way beyond "let's party," even if the song itself is a sonic, head-bobbing party.
The album closes with the sinewy slither of "Open Up." You have to admire a band that knows they've already had their say in the previous 11 tracks and they don't feel a desperate need to finish big and loud. Instead they go for big and quiet and absolutely nail it with a final message of unity and love. Hear it. Feel it. Spread it.
For more information on High Water 1 by The Magpie Salute: