By Dave Resto
Blues vocalist and six-time Blues Music Award nominee, Trudy Lynn released her newest CD, Blues Keep Knockin' on July 27, 2018. Produced by Rock Romano for Connor Ray Music, it is her fourth recording on that label. It features Lynn's friend and collaborator, blues harmonicist, Steve Krase, as well as some of Houston's best session musicians and special guest guitarists, Bob Lanza and Carolyn Wonderland.
A native of Houston, Lynn entered the city's blues scene as a teen. She worked with and learned from some of the area's notable players and was soon off on her own. Eventually, she became one of Houston's leading ladies of the blues, going on to perform at the Chicago Blues Festival and eventually, around the world. Blues Keep Knockin' is a collection of nine cover songs, carefully selected by Lynn, plus the title track, an original song written by her.
The album kicks off with Georgia White's "The Blues Ain't Nothing," a song about how easy it is to define the blues simply as love gone wrong. Lynn steps out with a powerful vocal performance, as she changes the song's format from a rolling piano boogie to a driving blues-rocker. She and Krase trade off 'call and response' between vocals and harmonica during the verses, and Bob Lanza plays an artfully phrased guitar solo.
The Jimmy Rogers and Othum Brown single "That's Alright" is an excellent showcase of Lynn's contralto vocal range. She infuses her singing with a mellow smokiness, which conveys her sense of resignation to losing her man to another woman.
"Blues Keep Knockin'," written by Lynn, is a lively shuffle, which owes its groove to bassist, Terry Dry and drummer, Matt Johnson. Both have previously recorded and toured together with Mike Zito and know how to weave a tight pocket. Unable to prevent the blues from coming around to call on her, Lynn sings, "Mr. Blues is my friend/Come in, Mr. Blues, you win!"
The talking blues piece, "One Monkey Don't Stop No Show" has a distinct Big Bad Voodoo Daddy feel, thanks to the performances of Dan Carpenter on saxophone and Jim Brady on trumpet. Lynn's raspy bellow during the choruses gives this song the bawdy flavor its suggestive lyrics deserve.
"Never Been to Spain," written by Hoyt Axton and made famous by Three Dog Night has a sexy, blues/soul feel. That gives Lynn something to sink her teeth into and she takes a big bite. Her voice embraces the opportunity to go alternately low and high, sultry and strong. Again, her vocals and Krase's harmonica work together in the most complimentary fashion.
The slow-grinding Etta James song, "I Sing the Blues" features an aggressive vocal performance by Lynn. Showing off her expertise in vocal dynamics, she continuously throttles up, only coming down for a moment here and there before pushing hard again in a passionate performance.
Audio Link for "The Blues Keep Knockin'"



"Pitiful" launches with a blistering guitar intro by guest Bob Lanza. Lynn wails about her sorrow and pain over love lost and Lanza reflects that pain in his emotional soloing.
Trudy Lynn turns Big Bill Broonzy's "When I Been Drinkin'" into a boozy, speak-easy soiree. Her vocals, set against Brady's muted trumpet and Carpenter's sultry sax solo, create visons of Lynn at the microphone in a sequined dress and a feather boa in a prohibition-era night club.
Lynn performs a faithful version of Aretha Franklin's "It Won't Be Long." The song's bouncy, tent revival groove prompts her to cut loose with some of her most soulful singing, with Krase's harmonica right in her hip pocket.
The Etta James classic, "Would it Make Any Difference" features guitarist Carolyn Wonderland's signature string work right from the top. Her performance walks hand in hand with Lynn's, occasionally embellished by just the right notes from Krase.
The songs Trudy Lynn selected to cover on Blues Keep Knockin' and the song she wrote for the album speak to her experiences with love and heartbreak. As she expressed in her press release prior to the album's drop date, "I truly understand about each one of them."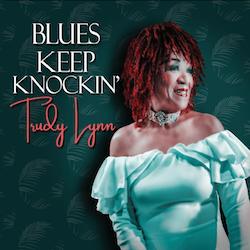 For more information on Blues Keep Knockin' by Trudy Lynn: