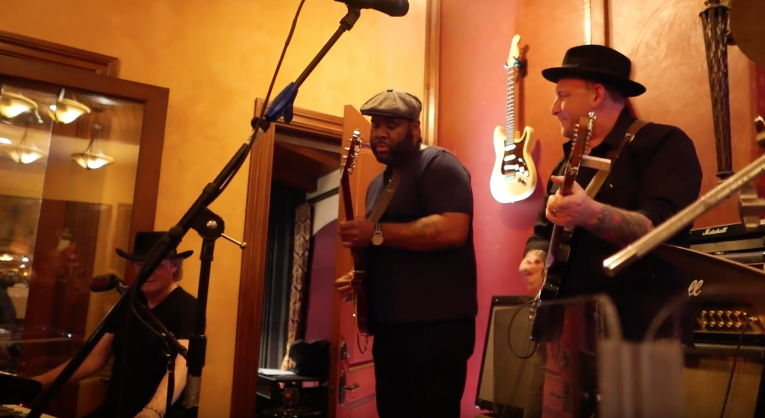 This was an obvious choice for our Video of the Week. "Crosscut Saw" features Blues guitar maestros, Josh Smith, Kirk Fletcher and Joe Bonamassa. It's such a great song made famous by the great Albert King, and these musicians are superb—you can't beat this outstanding performance! So blown away by it, I knew I had to feature it as a Video of the Week.
Shot by Natasha (1AnitrasDance on YouTube) the video was filmed by this talented videographer at the Midnight Mission Benefit Show. It is one of the most outstanding videos of these musicians I've ever seen.
Enjoy. I'm quite certain you will.
Josh Smith
is a guitarist, singer-songwriter and producer who has a new album coming out,
Burn To Grow
. Since releasing his debut album as a 14 year old in Florida, 25 years ago, Josh Smith has the toured the US and the world, released ten self-produced albums, and quietly joined the elite ranks of blues-based guitarists. In 2002 he moved to L.A. where he made a name for himself as a session guitarist, sideman and producer. In addition to his own gigs, Josh has done extended tours as guitarist for international stars such as Taylor Hicks and Raphael Saadi. Josh collaborates with friends including Kirk Fletcher, Joe Bonamassa and Eric Gales.
http://www.joshsmithguitar.com
Kirk Fletcher is a singer, guitarist, songwriter, and is widely considered one of the best blues guitarists in the world. He is a four-time Blues Music Award nominee and 2015 British Blues Award nominee and has played with Joe Bonamassa, and as a three-year lead guitarist for The Fabulous Thunderbirds. He is front man of his own Kirk Fletcher band, having released three studio albums and a live album and has an upcoming fourth studio album. http://kirkfletcherband.com
Joe Bonamassa is one of the biggest names in blues-rock and is considered one of the greatest guitarists of our generation. He has an upcoming album, Redemption, his 17thalbum. This two-time Grammy Award nominee is a singer, songwriter and guitarist, and has played with Stephen Stills, Eric Clapton, Buddy Guy, Warren Haynes, Derek Trucks and many more. He has 16 #1 Billboard Blues albums. At 12 years old he toured with BB King and was mentored and trained by guitar legend, Danny Gatton. He has several side projects and collaborates often with the great singer/pianist, Beth Hart. https://jbonamassa.com
The Midnight Mission Helps Homeless Individuals in L.A.
Founded in 1914, The Midnight Mission offers paths to self-sufficiency to men, women and children who have lost direction. Their emergency services and 12-step recovery, family living, job training, education and workforce development programs offer a compassionate bridge to achieve and maintain healthy, productive lives. They remove obstacles and provide the accountability and structure that people who are experiencing homelessness need to be productive in their communities. https://www.midnightmission.org