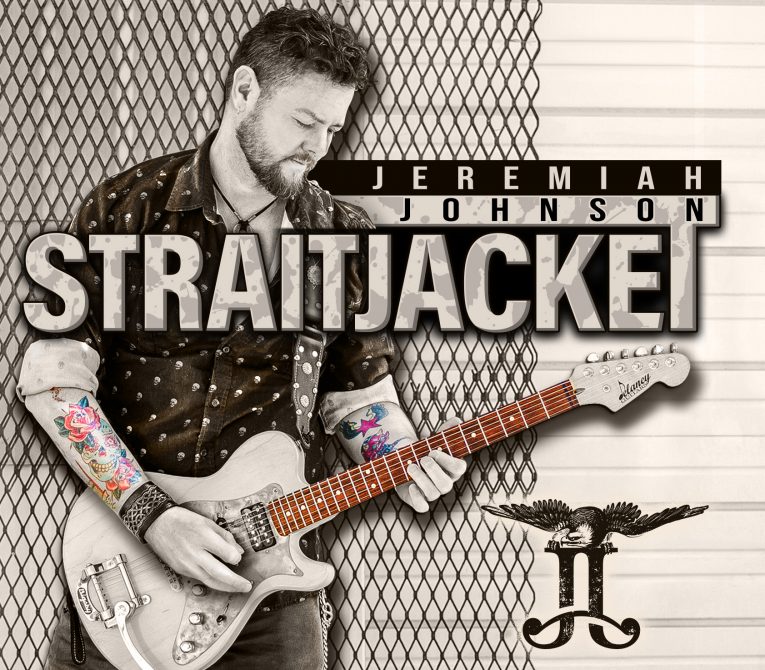 By Kevin Porter
Jeremiah Johnson will release his third album, Straitjacket, on August 24th via Ruf Records. Fellow St. Louis native Mike Zito produced the record out of his MARZ studio in Texas. Johnson lived in Houston for 10 years, and finished in first place at the Houston Regional Blues Challenges for three consecutive years before returning to St. Louis in 2011 to win the St. Louis Blues challenge. Johnson's time in Texas merged Texas blues and St. Louis blues into his current musical stew. Straitjacket is a mix of those two, plus soul, and 50s-style rock and roll. In recording the album, Johnson went for as live a sound as possible, and the result is a spare and lean sonic treat.
Jeremiah Johnson roars into the first song, the title track, a smoking mix of James Brown soul meets George Thorogood-style rock and blues, an analogy made obvious by the presence and fine playing of sax player, Frank Bauer. The rhythm section of Benet Schaeffer (drums) and Tom Maloney (bass) lays the groove down.
The funky "Getting Tired" also has great groove, with Johnson and Maloney playing in unison, and a chorus featuring a stanza all too familiar to some—"I'm getting tired of getting old, it's getting old feeling tired." Yet the song urges listeners to continue on until judgment day. "Blues in her Eyes" slows things down with Lewis Stephens on the organ setting a mournful tone, as Johnson croons, "That's when I realize, she has the blues in her eyes."
Another shift in gears occurs with "Keep on Sailing," a country-rock shuffle reminiscent of some of the songs of the late, great J.J. Cale, and featuring some slide guitar work that reminds me of yet another departed and dearly missed musician, Lowell George of Little Feat. Johnson flashes some humor in this song, singing "Leader of the pack, I'm king of the fools."  There's also a nod to substance addiction when Johnson describes "cocaine dreams and whiskey friends" but notes that when they're gone, "you'll never see them again."
"Believe in America" starts off with Johnson expressing his love of America and describing the woes of hard-working people without a pension or who are mired in poverty. From a slow and simmering rock/blues groove, the song briefly switches to a Santana-like interlude (think "Black Magic Woman") before changing yet again into an Allman Brothers-esque sound, where Johnson and Bauer emulate the unison guitar lines that were a hallmark of the
Allman Brothers
.
There's no doubting the meaning of "Dirty Mind." Over a silky smooth groove, Johnson beckons the subject of his song who calls in the wee hours of the morning to come on over "because I've always got the time for your dirty mind." After another good sax solo by Bauer, the song shifts tempo and sounds like a chugging freight train, with Johnson singing as if he's holding on for dear life as the band rumbles along. "Old School" is another topical song. Over a funky groove, Johnson laments that arguments today too often end up in gun fights, whereas the worst that happened when Johnson was younger was a "bloody nose and a black eye."
"Bonneville Shuffle" is the only instrumental track on the album—think a slower Dick Dale song meeting "Peter Gunn" by Henry Mancini. "Hold my Hand" is an unabashed love song and somewhat of a departure from the rest of the album in that it is more pop than a blues/rock tune, but it's sweet and quite touching. Johnson is upbeat in this one, singing about finding a love that feels so good that "it is like finding a million-dollar bill." The album closes with the only cover song, Ten Years After's "Rock & Roll Music to the World." Johnson's version is a little faster than the original and also includes a rollicking piano part by Stephens that anchors the song. Not to be missed are dueling and quite striking guitar solos between Johnson and Zito. It's a great way to end the album—a reminder to all to have fun and to "get up and dance."
Straitjacket is a solid blues-rock record, featuring Johnson's heartfelt songwriting with dashes of humor and self-effacement throughout. A common theme throughout the album is Johnson urging his listeners to persist and to keep moving forward, mantras I'm sure he applies to his own life. The "live" feel of Straitjacket surely means the album will translate well to the stage, and if this album is any indication, Jeremiah Johnson in concert will be a smoking affair.
For more information on Straitjacket by Jeremiah Johnson: