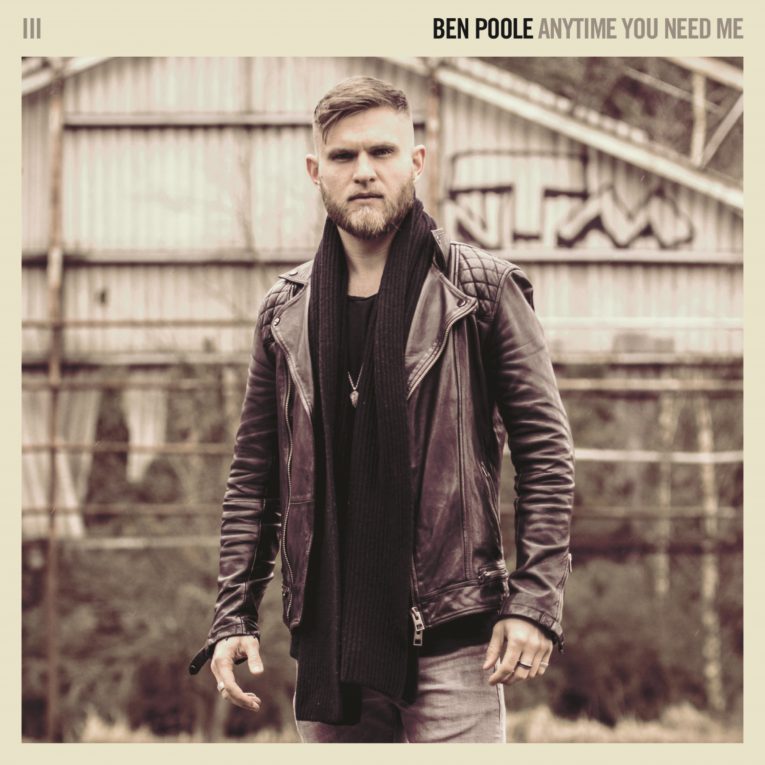 By Tom O'Connor
Fast-rising UK blues/soul rocker Ben Poole will be releasing his new album Anytime You Need Me on Sept 14ththrough Manhaton Records. This heavily anticipated collection of eight originals and two covers successfully expands on his previous, critically praised 2016 album Time Has Come. I'm sure fans who have applauded Poole's music, including Jeff Beck and Kenny Wayne Shepherd, will like what they hear.
Producer Wayne Proctor also happens to be the band's drummer, which explains the seeming drum/bass mind-meld with bassist Beau Barnard, no matter how tricky some of the arrangements get. Keyboardist Ross Stanley is also given plenty of opportunity to shine on piano and bring the soul with those sweet, sweeping organ sounds. This album had the feel of a "friends and family only" creation; an artist and a band working things out for themselves in a studio without a lot of distractions. It pays off here.
Opening and title track "Anytime You Need Me" sets the tone and theme for the entire collection. Expect a message of hope along with plenty of that edgy blue-eyed soul croon floating over some tight rhythm and blues, with just enough sonic surprises, including a tasty guitar solo, to keep a listener on his/her toes.
It isn't all roses of course, "Take It No More" is a straight-up done-me-wrong song that leans on the grittier side and again pops with some surprising guitar tones that cut through the mix. A more classic 70s guitar sound bounces and rolls in on the groovy "You Could Say" which sounds like it could have been the "Song of the Summer" had it been released in June.
Things get slightly darker on "Found Out The Hard Way" which is in no hurry as it stalks deliberately though some dark night city soul, with a touch of Mark Knopfler-esque counter-point guitar at just the right moments. Ben Poole once again shows he isn't afraid of more modern tones on "Further On Down the Line" which rides on a very buzzy/funky central guitar riff that is strong enough to hang some heavy organ swells on. Lenny Kravitz would approve.
Midway through the album comes a cover of Don Henley's "Dirty Laundry." The vocals are, of course, right in Poole's wheelhouse, but what do you do with a song we've all heard so many times? You use the song as a launching pad for two scorching and impressive lead breaks is what you do. Immediately following is another 80s cover; Jude Cole's "Start the Car," which Poole and the band successfully peel down to its rock and roll basics while those organ chords purr in the background.
The simple structure of slow jam ballad "Don't Cry For Me" leaves room for every band member to shine while Ben Poole again channels some of that effortless Knopfler-style float-and-attack soloing that is as effective as it is deceptively tricky to pull off. Next up, "Let Me Be" is the most confrontational tune on the album, both lyrically and musically. With the slow and dirty central riff, and stomping drum beat, if this tune was mixed differently, and sung by a guy with a higher register, it might sound almost Zeppelin-adjacent. As it is, the growling riff rides ominously under the groove for most of the song, giving space to Poole's seething vocals and howling guitar leads.
Album closer "Holding On" is such an attention getter it could have easily been the opening track. The blues is heavy and slow on this one, the soul hard-won, and the lead cuts through the mix and into your rock and roll heart as the message is delivered: It is a tough world, hold on tight to what you're lucky enough to love, keep your claws sharp and never give fear anything to grab onto.
I'll still be playing this record after I turn in this review.
For more information on Anytime You Need Me by Ben Poole:
Apple/iTunes pre-order https://itunes.apple.com/us/album/anytime-you-need-me/1417102152