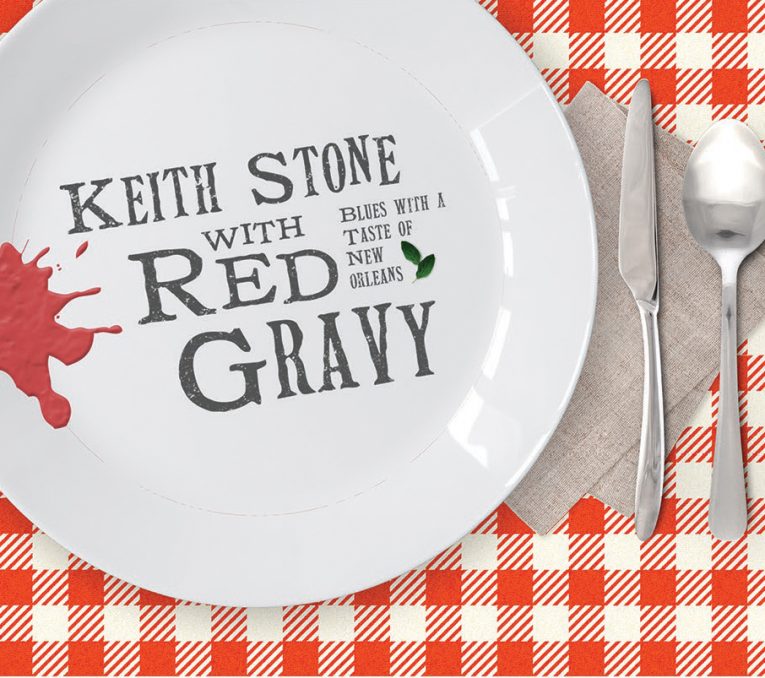 By Martine Ehrenclou
Keith Stone is back with his highly anticipated new release, Blues With A Taste of New Orleans, out September 10, 2018, a follow up to his previous album, The Prodigal Returns. This time Stone teams up with Red Gravy who are some of the most respected musicians in New Orleans.
Keith Stone and Red Gravy are one tight band with plenty of funky groove to their blues. Semi-finalists at The International Blues Challenge 2018, Keith Stone With Red Gravy is a band that offers up a rhythmic stew of New Orleans flavors with inspiration from Guitar Slim, Professor Longhair, Dr. John and Earl King.
There's something so refreshing about seasoned, veteran musicians who are also premiere sidemen to some of the biggest names in New Orleans music. With nothing to prove and years of experience brought to the table (in this case the kitchen table), this disc is a musical gumbo of great rhythmic blues and R&B.
"Aint That The Blues" kicks off the 10 all-original tracks and it's one of the catchiest tunes I've heard in a while. Right off, Stone's tasty guitar riffs lure you in while drummer, Eddie Christmas and bass player, Kennan Shaw lock it down with the rhythm. With Stone's soulful and rich vocals, Tom Worrell's smooth organ and Brent Johnson's magic on slide guitar, you've got one red hot opener.
This band is so tight as a unit, they don't have to broadcast their stellar musicianship. They serve it up like a meal of Jambalaya that demands a second helping. Stone's guitar licks ride the rhythm with a clean, melodic  tone—shadows of  Albert King here. Really, a killer song and one I won't soon forget, especially since it's now in my permanent collection.
Drawing from sounds of The Crescent City, "Love Done Put Me Down" opens with a rumbling bass line and drum rolls, a deep groove and Worrell's inspired solo on keys. A song about love gone wrong, this, however, is no sad number. It's bouncing fun with plenty of sass. Stone's guitar solo is so good I leaned in close to take it in.
"Red Gravy" is pure New Orleans that opens with a piano trill and slides into a syncopated beat. It's a mouthwatering tune about food and flavors from The Big Easy. The name of the band and this song is an ode to Stone's Sicilian mother who cooked up her beloved sauce by carefully simmering New Orleans spices and spirit.
And that's a thread throughout the album–simmering and tasty mixed with funky blues.
"Crazy in Love With You," another standout on the album, opens with a sweet guitar riff over beautiful piano. This track is made for a slow dance with your honey. Stone sings it with feeling, so much so that it drew me in deep. Jimmy Carpenter plays a moving sax solo, a perfect interlude for this song.
Keith Stone on "Don't Count Me Out" blows you away without trying. An elegant guitar player on this easygoing blues shuffle and others, he's chosen musicians for this band who share his laid back but precise way of approaching their music. These are some talented players. But more than that, they jell like they've been together as a band for a long time.
"Hard to Have The Blues" is a slow blues number that showcases Tom Worrell's impressive chops on keys. Stone's guitar fills are as sweet and soulful as his vocals, and his guitar solo, a stunner, is understated, leaving space between the notes to highlight the ones he plays.
Closing out the album, "Something in the Water" is syncopated with plenty of great piano. It's about what attracts people to New Orleans. The piano solo is killer. A great song to sum up this album with exquisite musicianship and a groove that can't be beat.
Can't make it to NOLA? Keith Stone With Red Gravy will give you a taste of the richness of that city along with some fine music. I look forward to more from this talented band.
For more information on Blues With A Taste Of New Orleans by Keith Stone And Red Gravy: