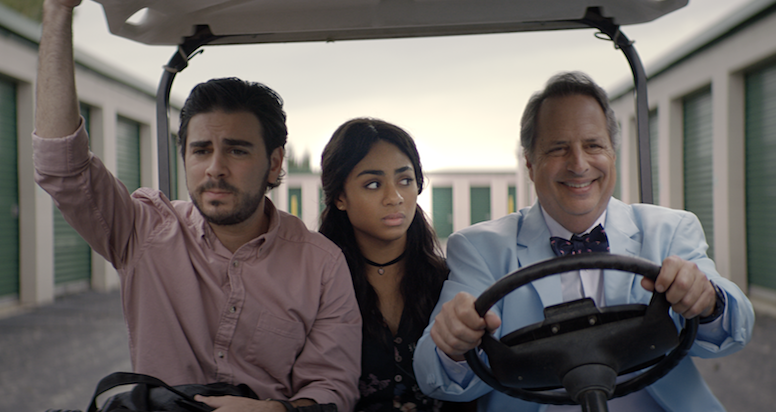 Coming off of a successful film festival run and excellent early critical reviews, indie feature film Chasing The Blues will hit select theaters on October 5th, 2018 in Los Angeles, Phoenix, Portland, Columbus, Philadelphia, Dallas/Ft. Worth, New York City, Detroit, Nashville, Greensboro, and Kansas City, and select theaters on October 12, 2018 in New Orleans, Buffalo, Chicago, Salem, and Chattanooga.
Starring Jon Lovitz, this movie is an ode to the Blues, its history and the culture around it. Written by Scott Smith and Kevin Guilfoile, and directed by Smith, this twisted caper comedy pits two rival record collectors against each other as they attempt to con an older woman out of a rare, but cursed, blues record. When their antics land them in jail, the feud festers for 20 years until they are released from prison and get a second chance at snagging the vinyl – this time from a much more formidable foe.
The trailer opens with Jon Lovitz's character, Lincoln Groome, visiting an inmate in jail, Alan Thomas, played by Gran Rosenmeyer, who used to be a record collector driven to search for a rare 1930s Blues LP. Groome informs Thomas that six weeks ago a man jumped out of a six-story window with a sheet tied around his neck and died and left behind a climate-controlled storage locker filled with thousands of old vinyl records.
"If you could have any record in the world what would it be?"
Grant Rosenmeyer 
(
The Royal Tenenbaums
, Oliver Beene) stars as convict Alan Thomas. Alongside Rosenmeyer, co-stars
Ronald L. Conner 
and
Chelsea Tavares 
set the stage for the scene stealing roles played by
Anna Maria Horsford 
(
Friday
, Mrs. Jones),
Steve Guttenberg, 
and a brilliant against-type
Jon Lovitz
.
The film's soundtrack is a mix of traditional and modern songs from various artists. Listen to both versions of the title track "O Death, Where Is Thy Sting" on Spotify. Brooklyn based singer-songwriter  The Bones of JR Jones  is behind the traditionally inspired, stripped down 'original' session recording heard in the film, while 'O Death' is the modern version with a hip-hop twist featured in the trailer from Doomtree's Cecil Otter.
The film has been hailed by audiences and critics alike calling it "as hilarious as it is heartfelt, weaving the history of the blues through the long and twisted road these two collectors find themselves on in pursuit of a piece of it." Like a rare vinyl record, Chasing The Blues is "the kind of gem worth seeking out".
For more information on the film, Chasing the Blues:
Theaters http://chasingtheblues.com/theaters
Facebook https://www.facebook.com/ChasingTheBlues/
Instagram https://www.instagram.com/chasingtheblues/