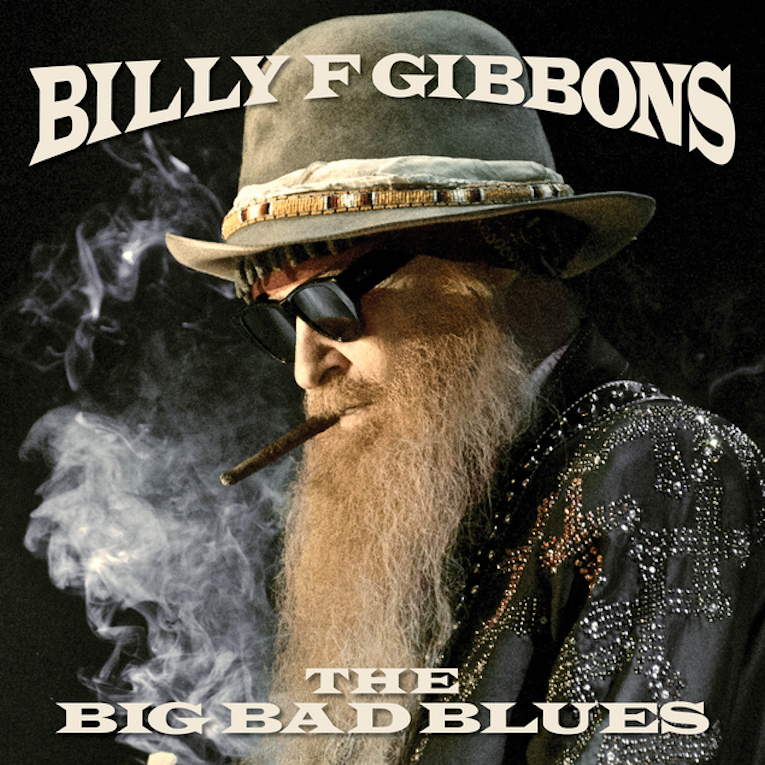 By Dave Resto
Blues-rock guitar legend and Rock and Roll Hall of Fame inductee, Billy F. Gibbons is back with a new solo album, The Big Bad Blues. Produced by Gibbons and Joe Hardy, it arrives on September 21 via Concord Records.
On his first solo album Perfectamundo (Concord Records, 2015), Billy F. Gibbons explored his Afro-Cuban influences. On The Big Bad Blues, he returns to his Blues roots, with seven new songs and four classic Blues covers. The album features bassist Joe Hardy, drummers Greg Morrow and Matt Sorum, keyboardist Mike Flanigin, and harmonicist James Harman.
From the opening licks of "Missin' Yo' Kissin'", Gibbons' distinctive guitar tone is immediately recognizable. Likewise, from the moment he growls, "Hey, hey, hey," we know who is singing. That's because this is his return to the genre he grew up with, the genre he went on to shape and influence with ZZ Top. His sound is his brand, and in his native Texas, your brand is who you are.
"My Baby She Rocks" is a slow rolling, 'flat tire' Texas shuffle. The over-driven harmonica is pushed up in the mix, so it stands toe-to-toe with Gibbons' guitar as they trade solos.
"Second Line" establishes a loose, swingy, streets of New Orleans groove, which is mostly achieved through the interaction between the drums and keyboard. Gibbons' vocals are relaxed and his lyrics playful as he sings, "You so fine, I'll be standin' in line!" His guitar solo has a great Chuck Berry country/rock flavor.
"Let the Left Hand Know" and "That's What She Said" are a pair of relaxed Blues shuffles that allow for some leisurely Blues harp and lazy slide guitar.
"Mo' Slower Blues" is all attitude. The lyrics don't actually tell a story; instead, they conjure up images of dirty deeds and bad decisions. Gibbons' guitar tone sounds as mean as a rattle snake.
Using his gift for infectious, danceable grooves, Gibbons give us "Hollywood 151." It's an up-tempo shuffle with touches of the "Eliminator" production sound. What puts it over the top is the very sing-able slide guitar phrase. Simple genius.
Paying respect to a pair of his major Blues and Rock and Roll influences, Gibbons covers two songs by Muddy Waters and two by Bo Diddley.
"Standing Around Crying" is faithful to the Muddy Waters original. It's unhurried and gritty. Gibbons sings it with sadness and gravel in his voice. He makes each note on the guitar sing with pain.
"Rollin' and Tumblin'" is straight down the middle Blues-rock. Hardy plays a thunderous bass line as the drums slosh and crash. Gibbons smokes the strings with his riffing and slide playing. If there's a comparison to ZZ Top to be made on this album, it's this track.
"Bring it to Jerome" is a good example of Rock and Roll pioneer Bo Diddley's contribution to the Blues. The repetitive riff quickly becomes a hypnotic groove that won't let go.
Gibbons ends the album with Diddley's "Crackin' Up." The feel-good, Calypso tune bridges the gap between Gibbons' previous Afro-Cuban effort and this Blues collection. His authentic, of that era sound was achieved by playing an old Gretsch Duo-Jet guitar.
Next year, Gibbons, Dusty Hill and Frank Beard will mark ZZ Top's 50thanniversary. But Gibbons isn't sitting around waiting to be congratulated for that achievement. He's got music to make, and with this album he's back to The Big Bad Blues.
For more information on The Big Bad Blues by Billy F. Gibbons: