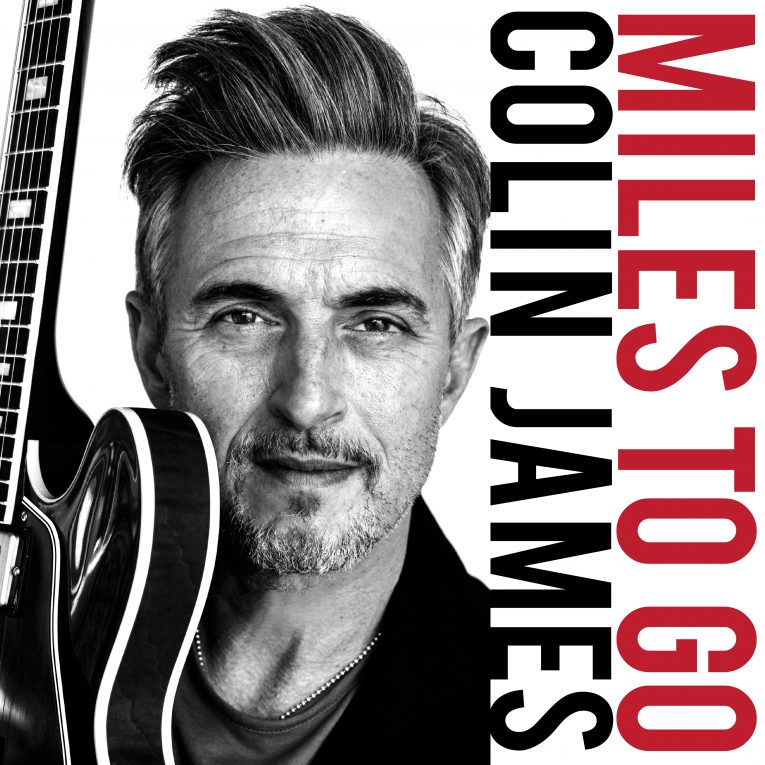 By Martine Ehrenclou
One of Canada's finest bluesmen, Colin James pays homage to the Blues with his highly anticipated album, Miles To Go, out Sept. 21 via Stony Plain Records (USA) and True North Records for the rest of the world. Miles To Go is the sequel to Colin James 2016 release, Blue Highways, which won Blues Album of the Year. With 19 albums, James has won six Juno awards and 17 Maple Leaf awards.
With nine new blues covers of James' favorite artists such as Howlin' Wolf, Muddy Waters, Blind Willie Johnson, Blind Lemon Jefferson, Robert Johnson and more, plus two originals, Miles To Go is part two of Colin James' story of his love for the Blues and utmost respect for the Blues musicians who led the way.
In leading up to the recording, James reacquainted himself with a red Gibson ES-335, one just like the guitar he had to sell as a teenager to pay rent. Reconnecting with this guitar, Miles to Go seemed to flow in the studio, and he was able to blend old and new songs with a sincere dedication to paying homage to some of the Blues greats. Steve Marriner, one of the most talented blues harp players in the world today, joins James on several tunes on the record.
Kicking off this superb collection of tunes, "One More Mile" (James Cotton) is a rockin' blues number with plenty of groove. With a horn section and exquisite harp playing by Marriner, James nails it with soulful vocals and an outstanding guitar solo. If this tune doesn't get you moving, nothing will. When you listen to Colin James sing and play, you're taking in not just his love of the Blues, but his love of music in general—you can hear that in his performance on this song and others on the album.
Another standout track, "Still A Fool" is a modern version of the Muddy Waters tune but still faithful to the original in many ways. Opening with a dirty guitar line, James sings this up-tempo version with soul, a certain grittiness to his vocals that lends to the contemporary interpretation. He makes this song moan, singing as if he's pulling from his gut. His stellar guitar chops ride the tracks of this blues rocker.
"Dig Myself A Hole" a swampy blues tune (Arthur "Big Boy" Crudup) features this experienced and soulful guitar player, on slide guitar this time. With layered horns, some great work on the keys, James sings it like he means it.
These blues tunes are lively, rhythmic and fun. The addition of the harmonica fills out the sound of each one. And James obviously put in a lot of care and thought into choosing songs that he embraces as his own. Having his own dialogue with the past with both feet squarely in the present, James' passion and energy is heard on every track.
James said, "All my life I've tried to bring vitality to older songs. Hopefully, my dedication to it is what floats it over the mark. That's a subjective thing; some people will always prefer the original. However, there's always a group of people coming up to see me after a show who might say, 'Oh, I never would have heard 'One More Mile' by James Cotton—nothing in my life would have pointed me there.' "
And that one of the gifts of Miles To Go—that some listeners will hear these blues tunes for the first time. Kudos to James for placing his own mark on them and exposing the Blues to new audiences.
One of the two original tracks on the album, "40 Light Years" has a Mark Knopfler swing and breezy feel. Almost out of character with the rest of the tracks, it's still in keeping with James' unmistakable style and elegant musicianship.

"Ooh Baby Hold Me" (Howlin' Wolf) is a standout on the album and one that I'd never heard before. It doesn't stray that far from the original in tempo but it's revamped with a contemporary twist. James' voice shines as do his guitar riffs. This is one seasoned player who allows for space between the notes while sitting tight with the lively rhythm.
"Black Night" is another standout, a slow blues number serving up a delicious melody and collection of licks. James' guitar solo is downright beautiful.
With contemporary interpretations of the blues tunes, they pay homage to the blues greats but also serve James' rich vocals and masterful guitar playing.
Closing out the album, "One More Mile" is a stripped down, acoustic version of the opening track. With smoky vocals, James approaches this tune with a traditional blues feel, complete with acoustic guitar and gospel backing vocals.
Miles To Go is a thoroughly enjoyable record and an impressive one. Colin James will be around for a long time, introducing the Blues to new generations and winning more awards, I'm sure, for this album and others.
For more information on Miles To Go by Colin James: