By Kevin Porter
When people ask me about new artists that I'm listening to, Selwyn Birchwood is one name that I almost always mention. A triple threat songwriter, singer, and guitar player, Birchwood has released two absolutely stunning albums on Alligator Records, Don't Call No Ambulance in 2014, and Pick Your Poison in 2017. His music is a smoking mix of blues, rock, funk, soul, and even a little country, and he plays guitar and lap guitar with a fierce intensity. He matches that with original songs that sparkle with humor ("My Whiskey Loves My Ex" and "Guilty Pleasures") to gospel ("Even the Saved Need Saving") to the topical ("Corporate Drone" and "Police State").
Birchwood has already been showered with awards in his young career: Winner of the Blues Foundation's 2013 International Blues Challenge, the Albert King Guitarist of the Year, a Blues Music Award and Living Blues Critics' Award for Best Debut Album of 2014, the 2015 Blues Blast Rising Star Award, and a 2018 Blues Blast Music Award nominee for Best Contemporary Blues Album of 2018. Birchwood was kind of enough to talk to us by telephone, out on the road touring and performing with his band.
KP: I'm curious to know where you're calling from. I assume you're out touring.
SB: We're leaving Louisiana and headed to Texas now. We're picking up the tour. I came down with a pretty severe strep throat and it put me out of commission for about seven days. We're just getting back on the road. I'm just able to talk again and now we're headed West to finish this tour.
KP: Wow. Sorry to hear that. Did you have to cancel any shows?
SB: Yeah, we had to cancel five days last week. I've never had to do that and don't plan to do that again. The only excuse is if you're in the hospital, and that's what happened last week.
KP: Oh, man. But, you're on the mend, I take it.
SB: Yeah, man. I'm glad to be out of bed again.
KP: I'm glad to hear it. I know you get asked this a lot, but you're probably the first person I've interviewed that has an MBA degree. That's impressive. What prompted you to get that?
SB: My parents thought I was doing well in music but that they always wanted me to stay in school and have other options because the music industry is so volatile and competitive. They were insistent on me getting a higher education.
KP: Has it helped you with your music?
SB: I'm sure it has. I've always been kind of business-minded and music is a business, even though we tend to forget that.
KP: It's probably a year too late, but I wanted congratulate you on your album Pick Your Poison. What did you want to get out of making Pick Your Poison?  Did you have some goals in mind?
SB: No, we were just searching for what we could call our own sound. I feel like this album was a step in the right direction. We really wanted to take those old blues sounds that we love so much and try and put our own personality onto it and not just sound like everyone else. I think we're starting to get there.
KP: The music is so interesting. At the risk of categorizing it, you not only got the blues but you got some rock and a little country in it. How do you wrap all of those influences into your sound?
SB: I'm not sure yet. It's just one of those things. You can paint a really good picture using just the color blue, but it makes for a more interesting picture if you add other colors to it. That's what we're trying to do. It makes the sound a little more interesting, using not just blues but adding add some funk, soul, and jazz to it until it sounds like something.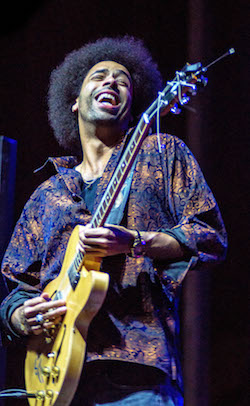 KP: I like your singing on the album—it's got sort of a gruff quality to it. Is there any vocalist that you try to pattern yourself after or emulate?
SB: No, no, not at all. When I was trying to teach myself and learn how to sing, my favorite vocalists were all those older blues guys, like Lightnin' Hopkins and Johnny Copeland and all those guys. I just try and emulate those guys. You can only work with what you got, so that's what I do.
KP: I know you pride yourself on being a songwriter. What's your approach when you write a song? Do you start with lyrics? Do you write the music first, or does it vary from song to song?
SB: It's always different. Sometimes melody comes first, sometimes it's lyrics or maybe it's just a story, but it's always different. I try not to have a formula. That way, it remains a challenge.
KP: How do you catalog the ideas you get when you don't have your guitar handy?  Do you use your cell phone or do you write stuff down in a notebook?
SB: I used to scribble like a manic into notebooks and stuff. But, since we have cell phones now, I tend to vocalize ideas or just write them down on my phone, and go back and piece them together after that.
KP: I know Sonny Rhodes gave you your break. If I remember right, it was through a friend in your neighborhood.
SB: My friend knew I played blues music and that was my ambition in life, and he talked about his neighbor being in a blues band. I thought it was a bunch of drunks in a garage somewhere, but then he brought me one of Sonny's CDs. When I heard him open his mouth to sing, I asked my friend to introduce me. It took about six months for me to meet him because he was always out of town. I took my guitar over there and he asked me to play a song. I got about halfway through a song when he smiled and said: "Do you have a passport, son?" I said: "Yeah." And he said: "I'm going to take you on the road." Within about three weeks, I was on the road with him, traveling all through the US and Canada. I traveled with him for about 3-4 years.
KP: That must have been a great experience.
SB: Absolutely.
KP: I assume he also taught you not just about playing music and performing but also the non-music side, the business side. Is that fair to say and if so, can you give me an idea of what he taught you?
SB: He was adamant about showing me how to be a band leader and how stuff works on the road. It was really cool that at such a young age, he kept me as his second in command instead of just using me as a prop up on stage. It was really cool to be able to do an apprenticeship with someone that had so much experience.
KP: Within a few years, you formed your own band. What prompted you to do that?
SB: It's just my personal preference. I was happy touring behind Sonny, but I had a lot of ideas to try out that didn't exactly fit in with what he does. It is that artist and creative side that I wanted to express. You have to be true to yourself.
KP: I understand you started playing lap steel guitar when you started playing with Mr. Rhodes.
SB: The first time I ever heard a lap steel guitar was on one of his records. If you search my name and Sonny's name, you'll probably find a picture of Sonny playing a lap-steel and me peeking over his shoulder. I just thought it was such a cool sound and something I never heard before. I saved up all of my money from one of the tours and I bought one when I got back home. After all the gigs, I would sneak away from the hotel room and play on this lap-steel on off days, and it affected me so much listening to him that I wanted to play the lap steel as well.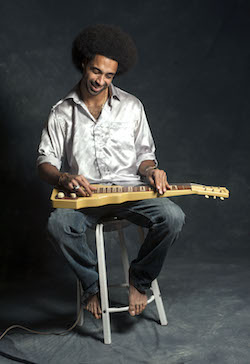 KP: Let me ask you about a few songs on the Pick Your Poison album, starting with the title track. What was your thought when you wrote the song? What's it about? What should people look for when they listen to it?
SB: My dad's side of the family is from Trinidad and Tobago, and it's been a dream of mine to figure out how to mash blues and reggae together. "Pick Your Poison" was an attempt to bring a little bit of those influences into it. It turned into something different than where I initially started it. I try to write songs that just take an experience or share a human experience. A lot of times, if you are honest about it, people can relate to it.
KP: Is combining some of the Caribbean sound or reggae sound with the blues the focus of the next record?
SB: It's just a fantasy in my head. I grew up listening to a lot of the island sounds, and if blues is my first love, then reggae and calypso is definitely my second love. I would love to figure out a way to share the blues music with some of the island sounds. It's not even that it's all different types of music. We want to figure out a way to mix it all up in a pot and come out with a unique sound.
KP: Tell me about the song, "Guilty Pleasures," off Pick Your Poison. You made a video of that song.
SB: That seems to be people's favorite track off that album. We had a lot of fun making the video and if people see the video, they'd see why. We were experimenting a little bit, trying to have the rawness of that old-style blues, but also add some more modern elements as well. I think that kind of worked with this one.
KP: That's an important point you're making. I think the general stereotype for blues is that it's a bunch of old guys playing for old audiences. First of all, what do you think about that and second, what's your audience look like? Are you getting a younger audience or is it the typical blues fanatics that you see at any blues show?
SB: We get both – we get a pretty good cross section at our shows. We get the older, die hard blues fans, sort of traditionalists, but we are also getting more and more younger people at the shows as well. It's my experience that young people really like this music as long as you don't tell them it's blues because the name has got such a stigma about it. I feel like people these days want to run around waving the flag and say "This is the blues" or "This is the real blues" and they try to cram a sound down people's throats. It's a sound that was really new and really fresh and really hip when Muddy Waters and Howling Wolf and Elmore James and all those guys doing it, but that was 70 or 80 years ago, and it's not the same now. It gets watered down after a while. It's got to get some life pumped back into it.
KP: It's good that you're getting a cross-section. I always worry that blues is going to die when the older fans or all the older musicians die out. It's encouraging to see guys like you out there doing it.
SB: It's too good to go anywhere.
KP: (laughs). If someone asks you what kind of music that you play, who doesn't know your music, I take it you don't tell them it's blues.
SB: I've always had a hard time answering that question because we don't play straight ahead blues music. I feel like if I say that, then it's disingenuous. I had an interview a while back and they asked me to describe our music in four words or less and I said electric, swamp, funk and blues. I think that's a decent description.
KP: Let me return to Pick Your Poison and ask about "Even the Saved Need Saving." I understand you were trying to write a gospel song.
SB: I wanted to write a gospel song that didn't sound like every gospel song. I thought it would be an interesting angle to write a gospel song that says that people who listen to gospel music need a gospel song as well. I think people can relate to that.
KP:  Do you try on a different hat every once and a while and say I'm going to write a country song and see how it turns out?
SB: No, I don't really think that far into it. I just try to find sounds that are interesting, and if it moves me, I hope it can move someone else.
KP: What can people expect from a Selwyn Birchwood concert?
SB: We really try to do a high energy show. We're up on the stage because that's where we want to be, there's nothing else in the world that we want to do, and there's nowhere else in the world that we want to be. I try to relay that to the crowd.
KP: Other than the tour that you are doing right now, what are your plans for the future? Are you thinking about going back into the studio soon?
SB: We're writing right now so we're just getting new songs together for another record. In the meantime, we're pounding the pavement to get this record out to people as far and wide as we can.
KP: I know you took like three years between the making of the first Alligator record and the second one. Do you think it's going to be that same timeframe for the next album?
SB: I hope not, but it's more time consuming when we're writing all the music instead of doing half a record of cover songs or doing half a record of straight blues, so it takes some time.
KP: Thank you for taking the time to talk to me. I'm glad you are feeling better and I hope you recover quickly.
SB: Okay, I appreciate talking with you.
For more information about Selwyn Birchwood: