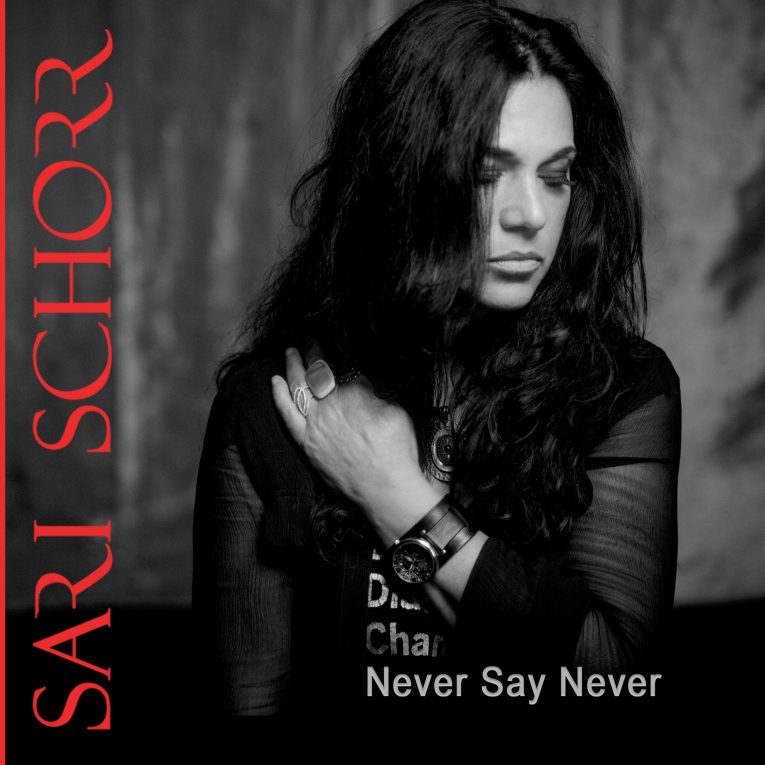 By Tom O'Connor
Powerhouse blues vocalist Sari Schorr will finally be releasing her second studio album Never Say Never on October 5th through Manhaton Records. Whether I call this album "long awaited" or "hotly anticipated" the bottom line is, everyone has been waiting for Schorr's second album since the day they heard her incredible debut solo release A Force of Nature (2016.)
When a vocalist is as strong as the opera-trained Sari Schorr (with a rumored five octave vocal range!) you had better staff that studio band with some serious players who can set the table for those soaring, emotive vocals of hers and still be dynamic and interesting enough players in their own right to stand out in those moments when the spotlight falls on them. She couldn't have done better than British guitarist Ash Wilson, who turns in some dazzling work throughout the collection, both in rhythm and lead, complimented by Roy Martin's drums and Mat Beable's steady bass. Filling out the sound is former King-King keyboard/organist Bob Fridzema, who always seems to get it right; coming in with just what the song needs while always avoiding the sonic clichés.
It seems like Sari wants to keep you guessing for a few seconds through the intro of opening track, "King of Rock and Roll." The rolling instrumental open feels vaguely sinister and a harbinger of hoo-doo to come. And what hoo-doo it turns out to be; a straight-up meeting the Devil at the Crossroads tune that opens with the lament: "Lord knows I gotta get to Memphis before I die" and then goes on to give you a taste of everything you can expect to hear throughout the rest of the album; heartfelt vocals, heart-racing guitar and heart-breaking organ swells. If the opening track didn't get your attention, "Thank you" kicks off with some Hendrix-y hi-jinx and turns into a fist-pumping, unapologetic and sneering "good riddance" to a bad lover. A taste of old school groovy 70s flavor comes through in their cover of Bad Company's "Ready for Love," The band dials back and plays it straight, while Schorr's vocals take flight. If you're wondering why so few people have covered Bad Company, it is because it is nearly impossible to find anyone, male or female, brave enough to really tangle with a Paul Rogers vocal line, but Schorr crushes it, seemingly without even breaking a sweat.
Album standout "Valentina" sounds personal to me, like everyone in the band just put a little something extra behind every beat and measure in this tune, from the slam-happy drums to a standout lead break from Ash Wilson. It sounds like a perfect set-closer that I'm sure will blow the roof off a few live venues this year. Next up "The New Revolution" gives us a little Marc Bolan feel with its organ-powered, song carrying riff, swiveling 70s tempo and super-tight bass and drum work. In spite of sounding "old school" in some ways, the tune is also a tribute to the likes of Martin Luther King Jr and a declaration for change.
The expected mid-album ballad "Beautiful" rolls up next, and even if you were expecting it, you weren't expecting this. Over spare, sweet and spacious instrumentation, Schorr, once again, pierces hearts with her sincerity and otherworldly vocal mastery, and even when the band is laying back a bit, like you have to on a ballad, the musicianship is still pretty staggering. I can see this song being played as a first dance at more than a few weddings… probably second marriages, when the scars are harder to hide and where the love and hope for the future are more well-earned and hard-won. The tempo stays slow, but the mood shifts a bit on "Turn the Radio On." A song of longing and regret for what sounds like the right guy at the wrong time, the drums stay in the background, like a heartbeat, while Schorr swerves closer to Kim Carnes than pretty much anyone else could and still manages to sound like no one but herself.
The rock rolls back with the rollicking "Maybe I'm Fooling." Bouncing on one of the funkiest bass lines in the collection and held together by the sweet embrace of those Fridzema organ chords, Schorr's vocals shout empowerment. Sounding especially AOR radio friendly, "Back to LA" has a Tom Petty & the Heartbreakers mojo going for it with its pulsing beat, almost conversational verses and a casually perfect guitar break that lasts just a few bars and sounds as much Elliot Easton as it does Mike Campbell. The most honkytonk-ready rocker in the bunch, "Freedom" finds Schorr veering from her usual personal and confessional lyrics to the bigger issue of a gun violence in America.
The album closes with a rarity: a cover that also happens to be the album's title song. It is also a final offering of hope for listeners who've followed Sari and the band through the previous songs of personal struggles,  difficult truths and hard-won peace. Ian McLagan (Small Faces/Faces) wrote "Never Say Never" as part of his grieving process after the tragic death of his wife. The song is as close to an expression of pure and easy love as you're going to find in this collection. Given that subject, and the pedigree behind the lyrics, you can bet that Schorr is going to mine this song for every gram of emotion it'll yield. If "Beautiful" is going to be played at 2
nd
weddings, then this song is going to find its way into a lot of Valentine's Day playlists. Including mine.
The bottom line is: This album was well worth the wait. The band shines while it does great work in service to "the voice" that brought everyone together in the first place. I've tried, not always successfully, to avoid the name-dropping comparisons to other singers of note, but when the instrument is that powerful and is the whole reason we're all here listening, it is impossible to avoid comparisons entirely. Kim Carnes was pretty obvious, but I also felt the spirit of Beth Hart and Ann & Nancy Wilson in the tracks and also, of course, Janis. Sari Schorr doesn't think she's Janis Joplin, she knows she is Sari Schorr, and sooner or later (probably sooner) everyone else is going to know too.
For more information on Never Say Never by Sari Schorr: