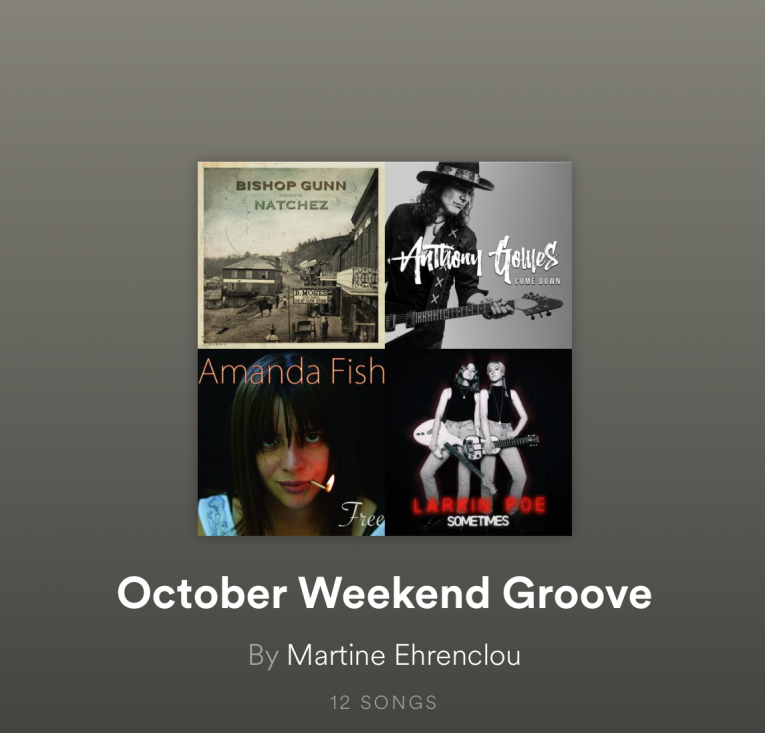 By Martine Ehrenclou
Get your groove on! Here's my "October Weekend Groove Playlist" for your listening pleasure. I hand picked my favorite tunes that were released over the last four weeks or so.
I pay for my Spotify subscription.
Please leave your comments or suggestions below. Follow my playlists to keep up with all the exciting and truly great artists. 
Here's the link to the playlist https://open.spotify.com/user/rockandbluesmuse/playlist/1DPMG4ahmpNcJG4WBIlMMT?si=MwrQ1_5bThSlWurA2gArhA
Come Down by Anthony Gomes
Sometimes by Larkin Poe
Anything You Want by Bishop Gunn
2020 by Amanda Fish
Homesick by The Marcus King Band
Pick Your Poison by Selwyn Birchwood
Down To Memphis by Alastair Greene
Thank You by Sari Schorr
Let Me Take Care of You by Josh Smith
Just 'Cos You Can Don't Mean You Should by Joe Bonamassa
Blues for Antone by Kirk Fletcher
Point of View by Henrik Freischlader
Enjoy!
Follow me on Spotify. And leave comments and suggestions below.
Have a great weekend.
Martine