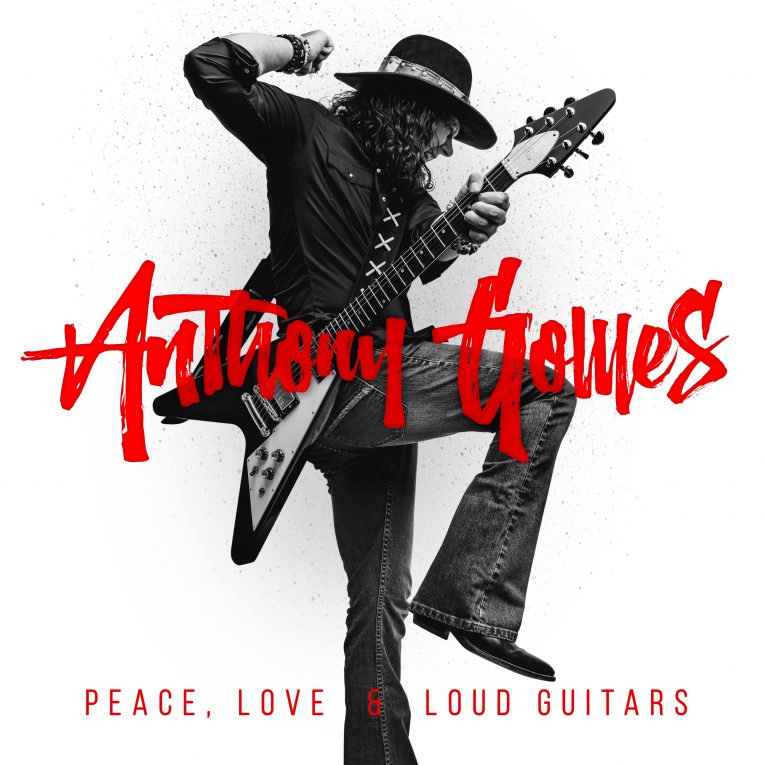 By Dave Resto
Peace, Love & Loud Guitars is the hotly anticipated new album by master blues/rock guitarist and vocalist Anthony Gomes. It was produced by Peter Carson and Anthony Gomes for release via the Up 2 Zero label and will arrive on October 19th.
The Toronto native has been a successful recording and touring artist for 20 years. In 2017, he won the European Blues Award for Best Musician/Live Performance. Gomes is also a respected blues scholar; author and the founder of the Music is the Medicine Foundation. For his 13th album, Gomes recorded 12 tracks in St. Louis, Nashville and Memphis with his bandmates – bassist Mike Brignardello, drummer/percussionist Greg Morrow, keyboardist David Smith and acoustic guitarist Chris Leuzinger. It features backing vocalists Angie Primm, Gale Stuart and Devonne Fowlkes, plus Amanda Fish, Albert Castiglia and a host of other 'gang vocalists.'
The opening track, "Come Down" was a featured video on Rock and Blues Muse on October 5th. It's set up by some robust gospel singing, propelled by a tribal, tom-thumping drum beat. Gomes beckons to the late B.B. King with his grinding guitar rhythm and soulful singing, "Come down from Heaven, B.B. King/'cause this kingdom has no king/There's no one here that can wear your crown." Gomes shreds with no holds barred, paying tribute to the "King of the Blues" by inserting a few of B.B.'s signature 'swoops' into the outgoing solo.
"White Trash Princess" is a full throttle blues/rocker about a "Sweet little thing from Texarkana" who "Drives a pick-up truck and wears a pink bandana." Gomes, who is always an interesting and inventive axman, creates a cool undercurrent during the choruses using some understated wah-wah pedal. Equally inventive are his lyricist skills with narrative and double entendre.
Gomes, a blues historian who holds a master's degree in his field of study, possesses a deep understanding of how and why the genre works. Combined with his skillset as a musician, he knows how to build songs that are concurrently traditional and modern. Several examples of this are found on Peace, Love & Loud Guitars.
On the powerful "Blues in the First Degree," Gomes channels B.B. King's unique vocal style; he also plays a thoroughly contemporary rock guitar solo that features elements of Joe Satriani and Eddie Van Halen.
"The Whiskey Made Me Do It" is a bar chord shuffle showcasing Gomes' skill at traditional slide guitar. The band establishes an old school feel while the production presents the song as fresh and new.
Gomes sings of blues legend, Robert Johnson in "Stealin' from the Devil." It's a punchy, present-day blues/rocker, where in Gomes promises, "Robert Johnson, I'll take your soul back/I'm gonna rip up the Devil's contract."
"The Only Woman I've Ever Loved" is a classic, slow, gut wrencher one would expect to hear in a blues club in decades past. Once again, Carson and Gomes' production skills are what keep it sounding fresh and of our time.
The frenetic "Peace, Love & Loud Guitars" rocks from the moment it comes out of the gate and doesn't wait for you to catch up. Leading into the chorus, Gomes declares, "We're here to make music, not war/There's three things worth dying for!" The chorus, sung in call-and-response between Gomes and a room full of 'gang vocalists' is an anthem.
Gomes co-wrote two songs on the album: "You Are Amazing" with Mark Selby and the closing track, "Take Me Back Home" with Jim Peterik. Both songs slow the pace to allow Gomes the opportunity to pour himself into heartfelt vocal performances, supported by scorching, soulful guitar solos.
Anthony Gomes is thrice blessed as a singer, songwriter and guitarist. As he celebrates 20 years as a successful blues/rock artist, he continues to draw from a bottomless well of creativity and we are all fortunate to sip from his cup.
For more information on Peace, Love & Loud Guitars by Anthony Gomes: