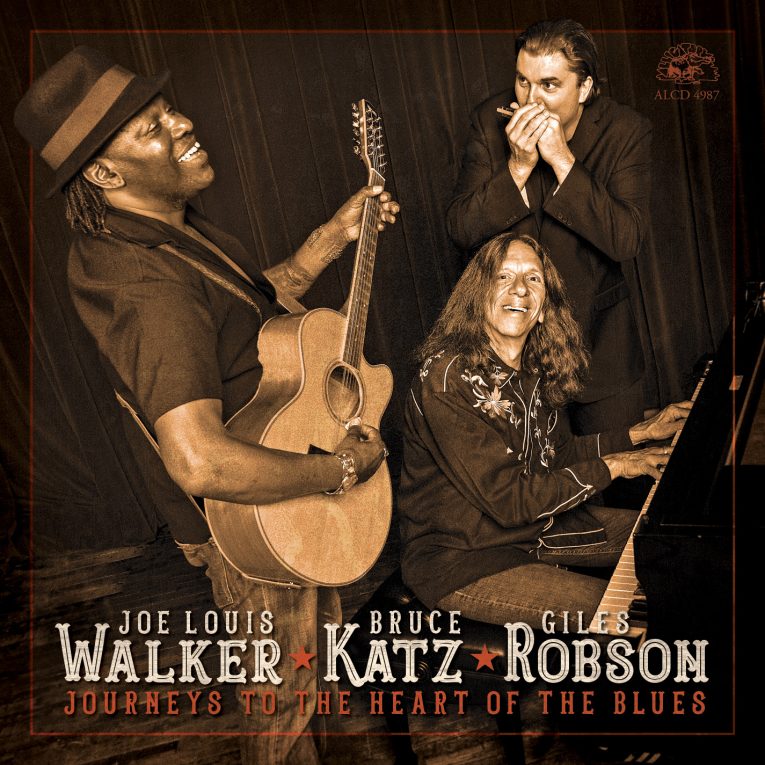 By Tom O'Connor
Alligator Records once again reminded us why it is the top blues label on the planet with the release of Journeys to the Heart of the Blues, a mostly-covers collection by a trio of virtuoso blues performers that'll reawaken your blues soul and leave you feeling baptized in the spirit.
You won't hear any horns, bass or even drums in this collection and I can promise you, you won't miss 'em for a second. Grammy-winner Joe Louis Walker comes to play hard with his heart-searing vocals and rock solid guitar. Matching that passion and craft is the ridiculously talented, and equally legendary, Bruce Katz on piano and keys and relative newcomer/legend-in-the-making Giles Robson, bringing his bonafide blues harmonica all the way from the UK. It is extraordinary to me that three heavy-hitters like these can come together on a project, and you won't hear a single extra showboating note or moment of musical one-upsmanship. Instead, they have chosen some meaningful and willfully obscure covers, that really do cut to the heart of the blues and, working together, play in service to the songs and to each other.
Opening with Papa Lightfoot's "Mean Old Train" Giles' harmonica sets the tone while Katz' piano holds down the rhythm and Walker's vocals lead the way. The high-stepping blues of "It's You, Baby" (Albert "Sunnyland" Slim) follows with a classic tale of a no-good lady. By the time they get to Sonny Boy Williamson's "I'm a Lonely Man" you can almost see the smoke from a thousand untended cigarettes hanging over the kind of mostly empty bar where lonely men can be found. The trio then immediately pops the tempo back up with Washboard Sam's "You Got To Run Me Down" with a rolling piano rhythm and the first real taste of Joe Louis' lead guitar adding punctuation to his vocals.
The tempo slows and the mood shifts darker with the relentless stomp of Blind Willie McTell's "Murderer's Home." When Walker says "Now listen to me…" you don't have to be told twice. In a collection of winners, this song absolutely cuts to the bone of the blues; bad times, dark alleys, heavy dues and the menace of the chain gang. By the time the spare but devastating guitar lead comes in, you're already so far down the road you know home is a long ways away. Good god. This song.
The trio shows their extraordinary respect for the songs, and each other on the 1-4-5 stroll of "Feel Like Blowin' My Horn" (Roosevelt Sykes.) In a collection with no drums or bass to lean on, it is especially clear in this tune that everyone takes their responsibility to keeping the beat and serving the song very seriously. You never get the feeling that anyone is just killing time waiting for their turn at lead – even though each of their lead breaks is pretty stellar, especially Katz' piano exploration on this track. That piano keeps rolling as it carries St. Louis Red's "Hell Ain't But A Mile and a Quarter" leaving Walker free to lay on a vocal tour de force.
The only original in the collection "G & J Boogie" is a well-earned instrumental harmonica showcase for Giles Robson. Once again, you can hear Walker's commitment to the song in his straight-ahead rhythm guitar playing as he leaves plenty of room for his bandmate to run. It is such an intimate recording, you don't need headphones to hear the breath and feel the pulsing heart behind that harmonica. The harmonica clinic continues on "Poor Kelly Blues" (Big Maceo Merryweather) and yet, again, none of it feels indulgent. There is still room for flourishes from both Katz' piano and Walker's guitar. "Chicago Breakdown" then puts Katz' piano front and center. Next up Walker's vocals and guitar are featured on the broken-hearted blues of Son Bonds' "Hard Pill to Swallow," but then (at the risk of repeating myself) once again, everyone gets their moment and there is still space for a long, sustained single note swell during Giles' harmonica break that will raise the hairs on the back of your neck.
The album closes with the bouncing honky-tonky "Real Gone Lover" putting a spring back in your step before sending you back out into the world. But you'll be back. No one is going to listen to this album just once.
There is zero pretention as well as a vibe and ease with the material that goes beyond the standard muscle memory of virtuoso musicians and touches on something deeper and connected that feels like a genetic memory. I couldn't think of a better title for this collection of subtle but remarkable performances where no one is trying to wrestle the song away from anyone else. Instead, they work together at every instant to lift these songs as high as they could possibly go.
I needed to hear this album this week. I'm willing to bet you need it too.
To order Journeys To The Heart of The Blues:
Alligator Records https://www.alligator.com/albums/Journeys-To-The-Heart-Of-The-Blues/
Apple/iTunes https://itunes.apple.com/us/album/journeys-to-the-heart-of-the-blues/1436963418