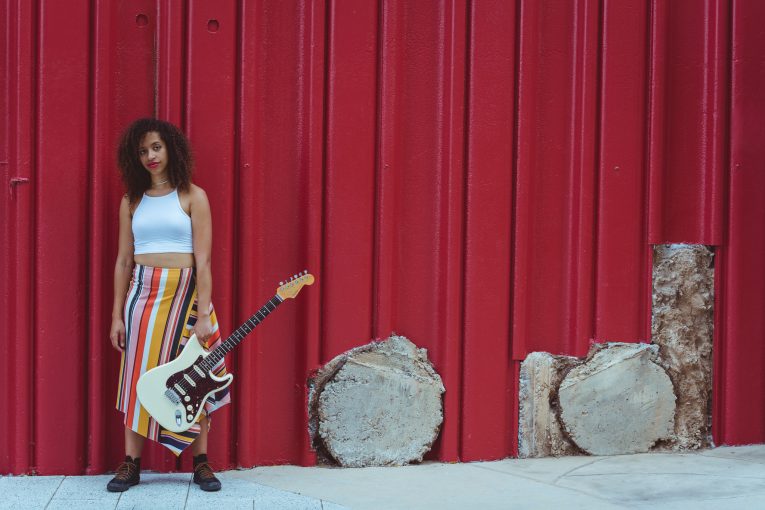 By Martine Ehrenclou
Hot off a European and U.S. tour, rising talent Jackie Venson, guitarist, multi-instrumentalist, singer-songwriter, is known for her soulful grooves, insane blues guitar chops and smoky vocals. Born in Austin Texas, Venson is a classically trained pianist and picked up guitar when she attended Berklee College of Music in 2011.
Jackie Venon's music is more than blues—it's a contemporary take on raw blues and soul, with echoes of rock and R&B. Her introspective lyrics, like many artists, take on current issues in American culture. Her music has been described as an "astonishing mix of raw soul, superb musicianship and laid back grace." Her live performances are all about emotion and passion. Venson has been compared to Joss Stone, Amy Winehouse, and Gary Clark Jr. Venson has toured with Gary Clark Jr.
Jackie Venson was hand-picked by NPR for their "Tiny Desk Entries We Love" and has released Light In Me (2015), Jackie Venson Live (2016) and Transcends (2017,) which landed Venson a nomination as "Artist of the Year" by the Austin Music Awards. She also releases singles with videos on a monthly basis and is at work on her next album.
Martine Ehrenclou: You've been described as a blues-rock guitarist and singer but your music encompasses more. How would you describe your music?
Jackie Venson: I would describe it as a mixture of blues, R&B, rock, soul, and reggae.
ME: You are a classically trained pianist. How did it come about that you switched to guitar?
JV: I played the piano for over a decade and essentially got bored. I was about to graduate Berklee, knew I wanted a change in my life, and decided to switch to guitar. Boy did it work!
ME: You excelled and became so good so quickly on guitar. Can you tell me how that happened?
JV: I already had a deep understanding of both music theory and learning how to play an instrument. All I had to do was put the hours in listening to guitar players, jamming, and getting the muscle memory.
ME: How did you gravitate toward the blues with your music?
JV: The blues is the roots and everything else is the fruit. Blues is the basis of all modern music so unless you're doing classical or medieval music, it's impossible to escape.
ME: You blend blues, rock, R&B, and soul into your music. Who are some of your influences and how did that combination come into play?
JV: Honestly, the mixing and hopping of genres I do can be tracked way back to when I was a kid and almost exclusively watched Disney movies. It was always a different genre and songwriter on every movie and it was always so well done. It still is! Other than that, I watched a ton of Broadway musicals and have also listened to thousands of hours of all different types of music.
ME: Tell me about your singles that you've been releasing this year.
JV: I am releasing a new single and video every single month this year. For August the single was a private release to patrons who support my Patreon. These singles are mostly new songs with a few that are remixes of songs I have already written. At the beginning of next year I will compile them onto an album and release the title "Joy" in April 2019.
ME: That's exciting. I know fans will be looking forward to that. You play both acoustic and electric guitar. Do you favor one over the other?
JV: Electric is my preference, I love playing burning solos and I love the tonal options as well as the options for effects. What draws me to electric guitar solos is the ability to make the electric guitar sound like a human voice.
ME: Which genre inspires you most to rock out on a guitar solo?
JV: Oh, there is always room to rock out on a solo. As for my playing style I try to be a chameleon to whatever genre I'm playing. I'm down to hit a clean electric solo to a slow 12/8.
ME: When you write songs do you use electric guitar or acoustic? Is there something about one that enhances your songwriting?
JV: I use electric because I hunt for melodies when I solo. But I've been on the road so much lately that writing on the acoustic in a hotel room has been something that's been more and more of a requirement.
ME: Please tell me about your songwriting. Do you write regularly? What's your process like?
JV: Lately I have started writing a song by drumming around with different beats, looping said beats, and building from there. I used to build on guitar loops but I've since added more instruments. I prefer to write at home but I have written on the road or in a studio before.
ME: Do you still play piano or has guitar taken over?
JV: I use the piano as a writing tool and I have been thinking about adding it back into my show.Recently, I rewrote and re-recorded a song completely on the piano so I feel as though it will find its way back into my repertoire.
ME: Tell me about your Patreon page.
JV: I created it to give supporters an opportunity to directly help me with creating the content they love. In real life, at my shows and stuff, people have often asked me how they can help out. Considering I'm an independent artist, Patreon is the answer to their questions. It will directly assist in creating new recordings, music videos, supporting tours or all of the above hopefully!
ME: What can people expect from your live shows?
JV: Lots of smiling and dancing as well as thick grooves and of course, hella guitar solos. Depending on the show you might catch some electronic elements as well as looping but no matter what, the groove is always present.
ME: What's coming up for you?
JV: I will be touring until November and then taking a break to finish the singles and album I will be releasing next year. I will be going on tour again starting April 2019 and then dropping a live album in summer 2019.It's going to be a wild year!
ME: Sounds like a busy one for sure. Thank you for taking the time to talk with me.
JV: Thank you.
For more information about Jackie Venson: