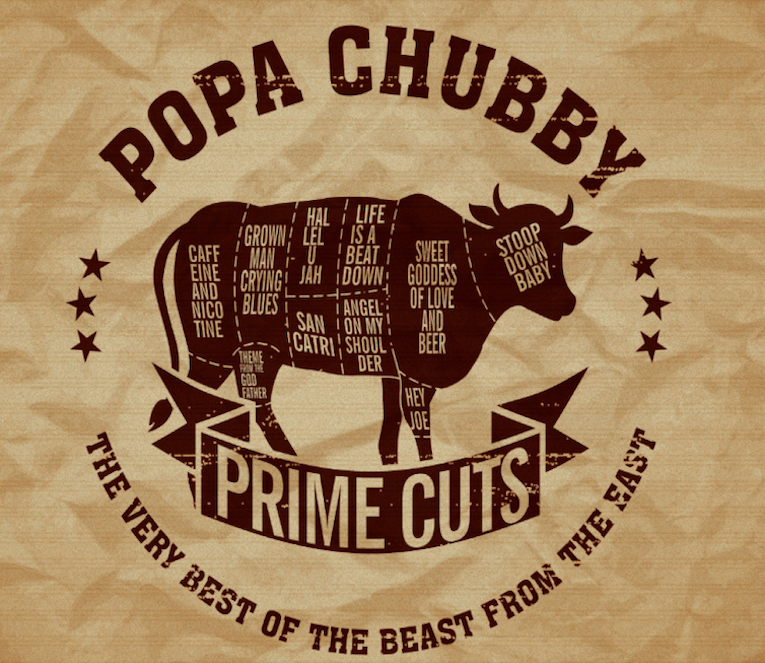 By Tom O'Connor
NYC-based blues/rock stalwart, Popa Chubby, will release Prime Cuts – The Very Best of The Beast from the East in the U.S. on November 13, 2018. This self-selected "greatest hits" collection includes favorite cuts from his nearly three decades of bringing his version of the blues to the people. No one can accuse Ted Horowitz (aka: Popa Chubby) of taking the easy route on his long musical journey, but in doing it "his way" he has managed to gather plenty of fans along the way. This collection is as much for them, as it is for Popa Chubby.
Opening track, "Life is a Beatdown" is a meditation on the battle of life, delivered by someone old enough to have gone more than a few rounds. The patter and flow in the verses almost qualifies as a Blues/Rap kind of hybrid. I don't want to seem willfully obscure here, but this track reminds me of the foreboding fear of a good MC 900 Ft. Jesus song/rap. As if to prove his versatility and long-earned props, "Angel on my Shoulder" is a straight-ahead Gospel-tinged blues walk with some heartfelt vocals riding on the steady rolling rhythm section.
The inclusion of covers is always an interesting choice on a "greatest hits" album, but Popa Chubby makes a few good choices here, including a solid run at "Hey Joe" that includes some of his always expressive guitar work in just the places you would expect to find them. Things get funkier in "Stoop Down Baby," as a mellow organ-driven open lays down a groove that the band easily slides into with no one in a hurry to leave it. Added horns and a sly organ-break fill out the sound as the guitar and bass stay securely in the pocket.
The heart-felt "Sweet Goddess of Love and Beer" is an album standout. This ode, likely to a beautiful bartender, glides on a syrupy melody that leaves plenty of room for saxophone solos and a roomy chorus. Speaking of roomy, "San Catri" is an epic eight-and-a-half minute instrumental that showcases Popa's guitar playing from introspective quiet riffs to full-bore emotional roars. This is another album standout, that takes you on a journey through several emotions and musical colors.
Popa and the band dabble in rockabilly riff-age on the toe-tapping live recording "Caffeine and Nicotine." As the walking bass line struts alongside the snare drum, Popa again dazzles in the guitar solos with some fast, but effortless sounding runs. The vibe turns back to the serious side on the atmospheric slow blues of "Grown Man Crying the Blues." This is another extended eight minute exploration that is in no hurry, and you won't be either, as you hang on every new verse. In spite of the gratuitous title (and chorus) "Go Fuck Yourself" is a worthwhile addition to the collection with its defiant and darkly moody feel. This isn't a party song, it is a declaration and a calling of bullshit on the world, told in an undertone of menace.
Taking on the weight of another well-known cover, Popa lays out his version of
Leonard Cohen's
formidable "Hallelujah." Even if this interpretation doesn't take the song to any new places, driving the song's existential pain with guitar, instead of the usual piano, definitely works. Because Cohen's song was/is closely tied to the tragedy and aftermath of 9/11, it is fitting that the next song "Somebody Let the Devil Out" chronicles Popa's personal experience, as a NYC denizen, of that terrible day. The slide-driven central riff and 'blues/rap' lyrics combine with some searing harmonica runs to capture the fear, anger and difficult-to-find hope in the aftermath of madness. The heavy blues continue on "I Can't See the Light of Day," a tale told with a slow 'tick' on the snare, some lap steel licks and a Muscle Shoals-adjacent vibe that echoes across the decades.
The swaggering blues/rap returns, along with a little "Voodoo Child-by-way-of-SRV" funk on "Dirty Lie." Once again Popa and the band take all the time they need (over six minutes) to get their point across, and you're happy to take it all on. The childhood-inspired tale of "Daddy Played the Guitar (and Mama was a Disco Queen)" rolls out on a traditional bed of slide guitar and bayou-porch stomp rhythms before Papa injects his now familiar blues/rap style to move the story even further along in time. You get the feeling this is the kind of stuff Beck was listening to before he wrote "Loser." The album closes with the previously unreleased "There for Christmas," an unusual choice on a 'Best of' collection, but the tune does strike a chord of genuine Holiday sentiment, and might well be seen, in the future, as one of his prime cuts.
After nearly three decades of paying dues, playing gigs and putting out good records for his many fans, this collection is a well-earned victory lap for an artist who has stuck to his guns and pursued his blues truth.
Much Respect.
For more information on Prime Cuts by Popa Chubby: