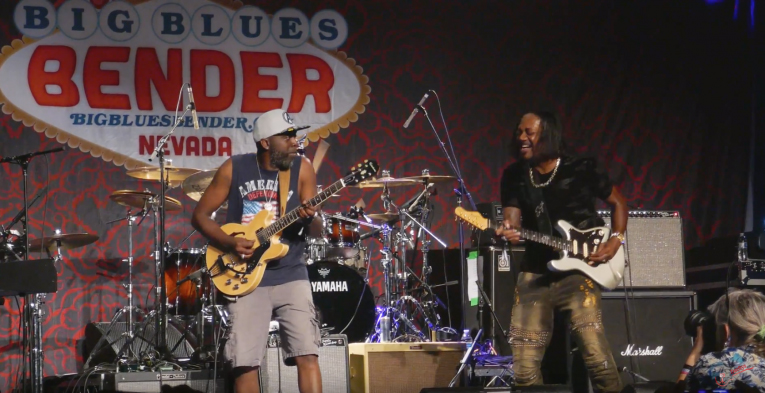 Watch "Smokestack Lightnin'" with Eric Gales and Mr. Sipp at the Big Blues Bender, September 8, 2018 and you'll know exactly why we chose this for our Video of the Week. Nicely shot by datflys on YouTube.
This musical conversation between Gales and Sipp is too much fun. Check out this wonderful performance and musicianship by two great guitarists/musicians.
Eric Gales is a blues-rock guitarist, singer-songwriter originally hailed as a child prodigy. Gales has record 17 albums on major record labels. His latest album, Middle of the Road hit the Billboard Blues charts at #4. Middle of the Road features Gary Clark Jr, Lauryn Hill and others.
Mr. Sipp (Castro Coleman) puts his modern spin on the Blues and is a guitarist, singer. In 2014 Castro won the International Blues Challenge (band), The Albert King Gibson Guitar award,  The Bobby Rush Entertainer of the Year award, BMA Best New Artist Album Winner 2016, and the Spirit of Little Walker Award 2016. His latest album is Knock A Hole in It.
For more information about Eric Gales and Mr. Sipp:
Mr. Sipp
Facebook