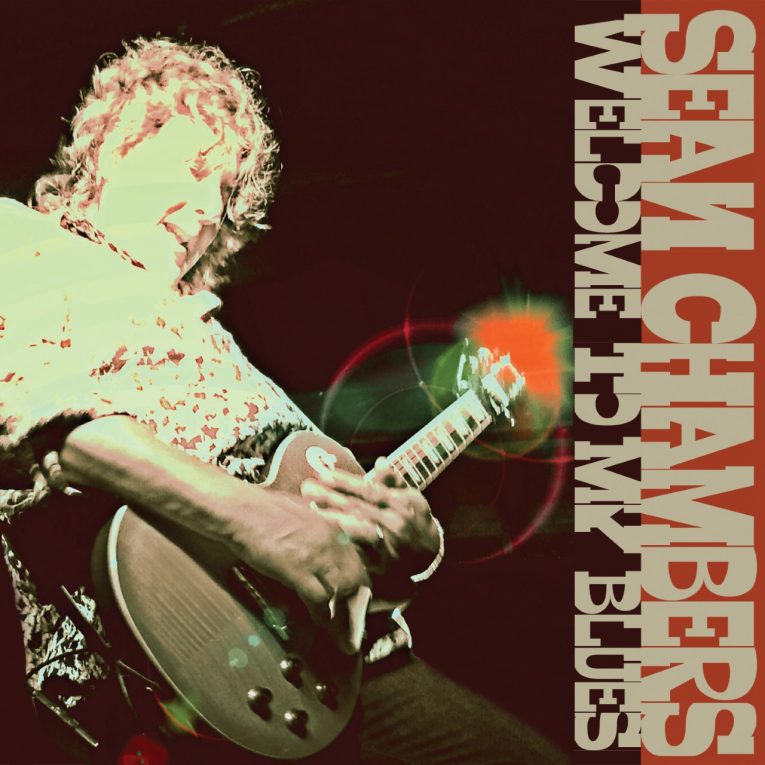 By Mike O'Cull
Guitar slinger, singer-songwriter, Sean Chambers, is one of the leading lights of guitar driven blues-rock in the 21st Century. Since his stint as guitarist and band leader for the legendary Hubert Sumlin from 1998-2003, Chambers has established a career based on his command of blistering guitar chops, strong songwriting, and a forward-view creative vision. Chambers' seventh and latest release, Welcome To My Blues, released via American Showplace Music, is a powerful blast of high-intensity blues and rock and roll, dense with tasteful playing and memorable songs. He radiates the hypnotic can't-take-your-ears-off-him quality of legends like SRV and Jimi but maintains his own artistic vision, never falling into imitation.
The title track, "Welcome to My Blues," is a prime example of everything Chambers does well. He is a strong rhythm player and his unaccompanied intro riff instantly sets the groove for the whole track before anyone else plays a note. He is a Keef-level feel creator, which adds a lot of identity to everything he plays. Once the band kicks into its driving tomtom-based beat, Chambers shows himself to be expressive as both a singer and a soloist, spitting tough lyrics with a unique character voice and dealing out leads that mix classic influences with modern fire. It's easy to understand why this cut opens the record.
"Black Eyed Susie" is another of the eight Chambers original songs on Welcome To My Blues that gives us a taste of Sean's slower, swamp-funk-and-slide-guitar side. It's the kind of track that hits people deep in a live setting. Chambers clearly writes songs with more in mind than just blasting out guitar solos, and that effort to keep things changed up and interesting is one of the best parts of this record.
When Shuffle Time finally arrives, Chambers busts out "Cry On Me," yet another original that grooves nicely and is certain to be a dancefloor hit. Still, Chambers maintains his individuality by giving the song a rock turnaround and starting the solo section on the IV chord just to keep everyone paying attention. His soloing here channels a bit of Beano-era Clapton but with a smoother tone.
The musicians playing behind Sean on these sessions add much to the proceedings and are a big part of what makes Welcome To My Blues so much fun. The core studio band of John Ginty on Hammond B3 and keyboards, Todd Cook on bass, and Moe Watson on drums, responds intuitively to each of Chambers' twists and turns. Ginty even contributes one of his own originals, "Boxcar Willie," to the party. The two other cover songs included are "Cherry Red Wine" by Luther Allison and "All Night Long" by T-Bone Walker. The record was produced by studio veteran, Ben Elliott, known for his work with guitar stars like Billy Gibbons, Clapton, Keith Richards, and Steve Miller.
Closing out the album is "Riviera Blues" a slow blues instrumental written by Chambers and Ginty. Chambers' guitar is sweet with beautiful tone. This track is a melodic feast, featuring Chambers' mastery and soulfulness on guitar.
Sean Chambers has a lot to be proud of with Welcome To My Blues. His longtime fans will love it immediately but the record also has the strength needed to bring Chambers to a much larger audience and help move his brand of blues-rock back into the mainstream. He is one of a handful of current artists that writes and plays with the depth of the greats while also speaking the language of modern day music fans. The Blues doesn't need any more revivalists. The future of this kind of guitar playing depends on artists like Sean Chambers making it mean something to the fans of today. And he does. Highly recommended.
For more information on Welcome To My Blues by Sean Chambers: