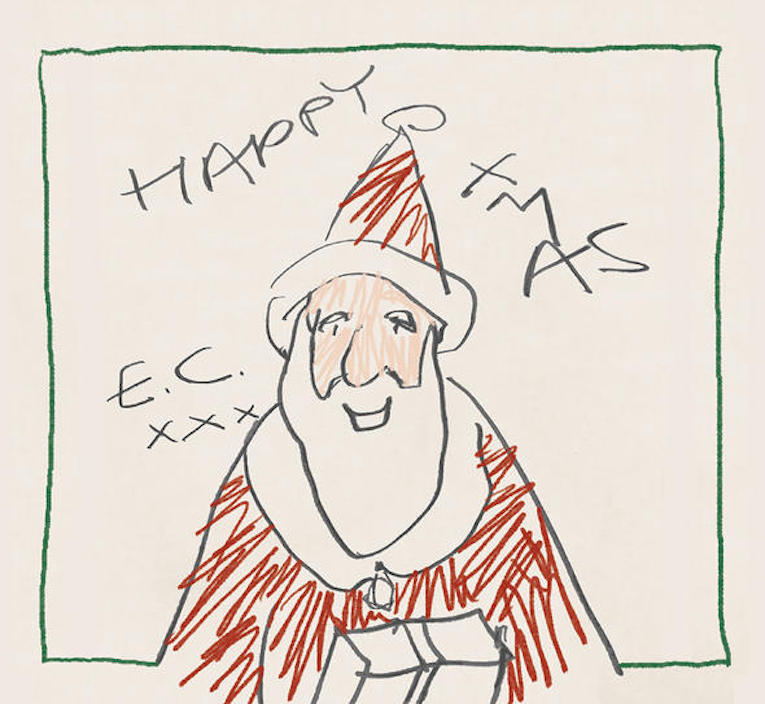 By Mike Elliott
Ever since Bob Dylan released the surprisingly traditional Christmas In The Heart in 2009, the idea of Rock Gods releasing Christmas albums didn't seem as far-fetched as before. One would have thought however, that Eric Clapton – no stranger to sentimental whims – would have entered the Christmas music market years before Dylan ever would. Slowhand had contributed to the A Very Special Christmas Live concert in 1999, but it wasn't until the 2018 holiday season, and 55 years into his career, that Eric Clapton released Happy Xmas, his first full Christmas album and one that features cover art by Clapton himself.
"I had in my head that these holiday songs could be done with a slight blues tinge, and I started to figure out how to play the blues lines in between the vocals," said Clapton.
Musically, Happy Xmas generally follows Clapton's post-Unplugged template, specifically the sound of his last couple of albums, including 2016's magnificent I Still Do, his reunion with legendary producer Glyn Johns. Happy Xmas was produced by E.C. and longtime co-producer (since the mid-90s) Simon Climie and is a mix of straight-up blues, soulful pop, R&B, a touch of country and reggae, and a jolt of EDM.  (More on that in a moment.)
Two songs that were recorded for A Very Special Christmas Live – the Freddy King blues, "Christmas Tears" and Charles Brown's oft-covered classic, "Merry Christmas, Baby" – make appearances on Happy Xmas in newly-recorded, faithful versions.  Those two tracks, along with Lowell Fulson's "Lonesome Christmas" represent the straight-up blues side of Clapton, and sound like they could have been recorded during his From the Cradle sessions.
Clapton dusts off the classic country chestnut, "Christmas in My Hometown," a holiday hit for Sonny James, and he delivers two Anthony Hamilton R&B tracks; the smooth and sweetly seductive "Home for the Holidays" and the easy-rock groove of "It's Christmas."
The more traditional cuts throughout Happy Xmas are sequenced around the lesser-known and more contemporary songs which makes the give the entire project a more fresh sound.  "Silent Night" drifts along on a smooth wave of reggae, while "White Christmas" is given the trademark Slowhand blues treatment.  A soulful "Away in a Manger" is sublimely paired with the chorus of "Once in Royal David's City."  Also in the soul department, the blues is amped up on William Bell's Stax soul standard, "Everyday Will Be Like a Holiday."
The lone original, "For Love on Christmas Day," is reminiscent of Clapton's
Pilgrim
era. Deeply melancholy and tragically beautiful, it deserves to become a mournful holiday classic, along the lines of "Please Come Home for Christmas" (surprisingly absent here, but not missed).
The outlier is the ultimate holiday standard, "Jingle Bells," but here rendered almost unrecognizable as it's given the EDM treatment as a tribute to Swedish producer and DJ Avicii, who passed away in April of 2018.  (Clapton has long been a fan of electronic music, dating back at least to 1997 when he and Climie released the bizarre EDM experiment, T.D.F.) While it may not make you want to snuggle up by the yule log with a cup of cocoa, the track is accessible enough to at the very least cause grandma to shimmy across the kitchen while checking on the ham.
The best moment comes at the end, as piano maestro (and former member of Tulsa, Oklahoma's country-rock heroes, The Tractors) Walt Richmond leads Clapton through a truly beautiful take on "Have Yourself a Merry Little Christmas."  Now here's where you can break out that cocoa.
Happy Xmas is more than just a fine holiday album – which it most definitely is – it's also a welcome addition to E.C.'s peerless oeuvre, and the Christmas album we didn't know we wanted, but are truly thankful it exists.
Today only, Cyber Monday, you can get 15% off storewide see here https://store.ericclapton.com
For more information on Happy Xmas by Eric Clapton: