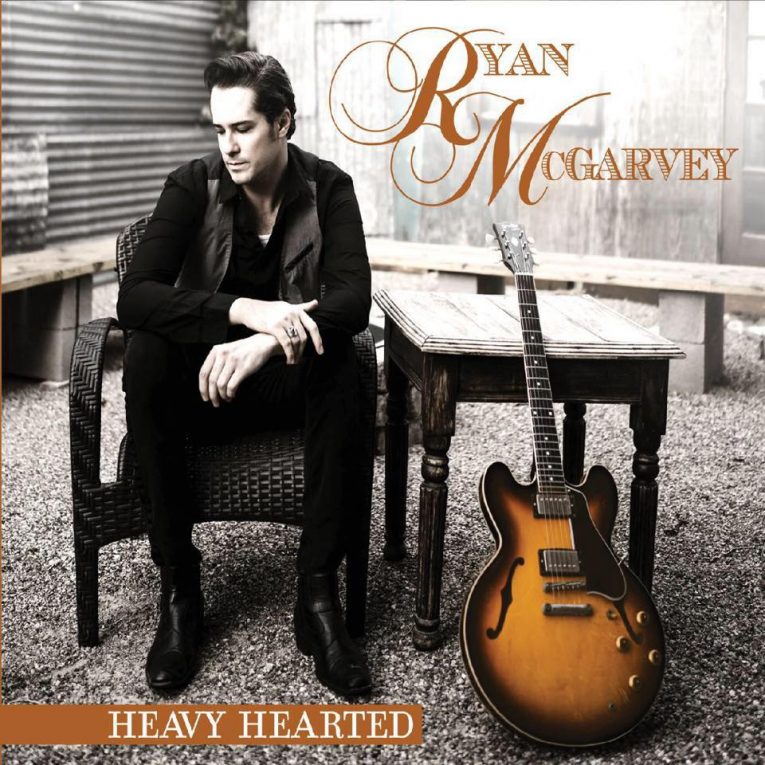 By Dave Resto
Next generation blues-rock sensation Ryan McGarvey is back with his fifth album, Heavy Hearted, set for release on November 27th 2018. It is the follow up to his successful Live at the Swinghouse (2018).
A native of Albuquerque, New Mexico, Ryan McGarvey is a rising guitarist, singer-songwriter who began earning recognition and accolades early in his career. In 2010, Eric Clapton selected McGarvey to perform at his Crossroads Guitar Festival in Chicago, and his lengthy list of awards include: Best New Talent – Guitar Player Magazine, 2013; Best Guitarist – European Blues Awards, 2014; Best Guitarist – European Blues Awards, 2016; Best Solo/Acoustic – European Blues Awards, 2017 and many more.
Heavy Hearted features McGarvey living up to the hype. He's joined by veteran bassist Carmine Rojas (David Bowie, Joe Bonamassa), keyboardist Brant Leeper (Coco Montoya) and drummer Logan Miles Nix (John 5 and the Creatures).
The album artfully begins and ends with two short acoustic slide pieces. "Prelude" has the gentle warmth of a sunrise; "Conclusion" sounds like a soulful last sigh. What we hear in between is a fiercely energetic collection of songs with killer guitar chops and vocals from McGarvey.
"Feelin' Like I Do" jumps off with McGarvey tearing through the blues-rock intro, enticing the keys and finally the rhythm section into a dramatic, dynamic swell. McGarvey's vocals sound as fresh and powerful as his guitar licks, with Leeper's keyboard solo rooting this song firmly in the blues.
The country/blues-rocker "Right Side of the Dirt" has the blues-man's perspective of seeing the best of a bad situation. The clever chorus reminds us that, "I might be broken but it could be worse / At least I'm standin' on the right side of the dirt." The extended riff that McGarvey inserts between those two lines is tasty and well executed, as is his solo. Rojas and Nix drive a bouncing pocket that will have you kicking up your boots.
Starting with a burning guitar intro, McGarvey gives us a jaw-dropping performance on the Chicago blues-flavored "I Should Have Known Better."  It begins as a faithful juke-joint 'done me wrong' number that doubles down on the punch during the solo section. The keys, bass and drums respond to the ferocious flurry of notes from McGarvey, who walks the line between chaos and control.
"Ain't Enough Whiskey," is another good example of McGarvey's masterful blues guitar phrasing. While his tone still has bite, there's slightly less fury and a touch more finesse on this track.
The instrumental "Houston" is a fine addition to the guitar boogie genre. It's inventive and enjoyable and will be sure to please during live performances.
The acoustic guitar-driven "Six Feet in the Ground" is notable for McGarvey's finger picking and slide work. He resists the opportunity to turn this into another electrified rocker following the intro and instead makes it a straight ahead, front porch foot-stomper.
"A Walk in the Rain" is a slow, hard blues-rocker. Built on a likable, repetitive riff, it breathes naturally, allowing for relaxed, yet powerful performances all around. McGarvey's vocals start at a whisper and end on a wail, as his lead guitar finds momentum during the solo and going into the fade out ending.
Close to the end of the album comes the beautiful blues-rock ballad, "Who Would Have Thought." Once again, McGarvey's singing is sometimes gentle, as it is during the opening verses, "I was standing at the Pearly Gates / But I could not go inside." At other times, he's commanding, as he sings the chorus, "Who would have thought it, baby, after all this time? / It would be your love keeping me alive?" This is the last full band track on the album, and they attack this final take hard. Leeper's lush piano lends the song a lovely elegance, as Rojas and Nix tastefully drive it home, led by McGarvey's closing electric guitar attacks as it fades.
Since first gaining recognition, Ryan McGarvey has been steadily climbing toward the top of the mountain of contemporary blues-rock talent. Heavy Hearted has put him that much closer to the peak.
Ryan McGarvey is currently on tour including several Keeping The Blues Alive At Sea cruises.
For more information on Heavy Hearted by Ryan McGarvey: