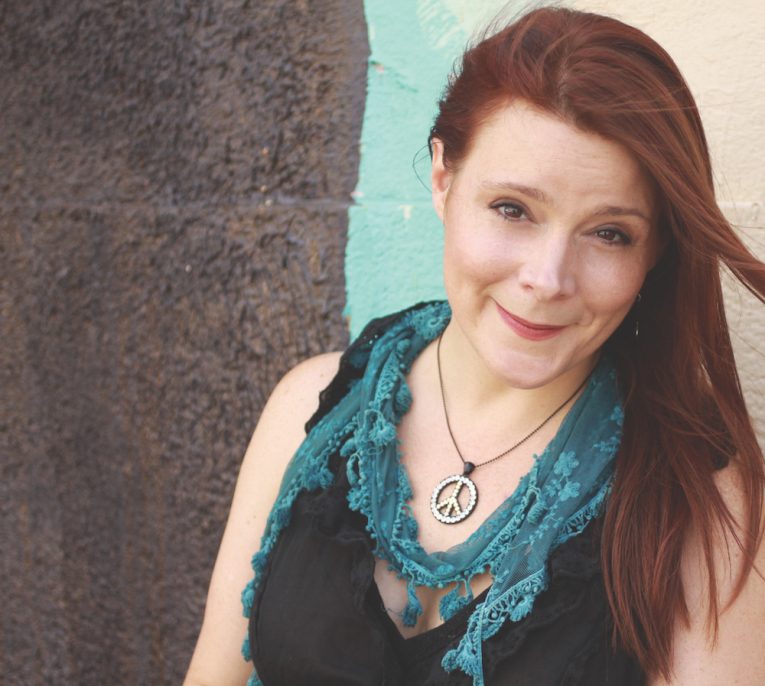 By Martine Ehrenclou
Currently on tour with the legendary John Mayall, Texas guitar slinger Carolyn Wonderland is the first female lead guitarist to join any of Mayall's band lineups. She also joins the band on John Mayall's upcoming album, Nobody Told Me out Feb. 22nd, 2019.
Carolyn is a multi-award-winning artist from Texas. She won Best Female Vocalist at the 2011 and 2012 Austin Music Awards. She and her band were named Austin's Best Blues Band at the 2009 Austin Music Awards where Carolyn won the award for Best Female Vocalist. She has won several  awards from the Houston Music Awards (Best Guitarist, Musician of the Year, Release of the Year, Single of the Year, Best Female Vocalist, Best Blues Band, and more.) Carolyn was recently featured on PBS' Austin City Limits with Sharon Jones and the Dap Kings. Carolyn is an activist for world hunger and donates 10% of her proceeds to WhyHunger.org.
Wonderland has performed with Bonnie Raitt, Bob Dylan, Marcia Ball, and toured with Buddy Guy and Johnny Winter. With eight releases, Wonderland's music has been featured on TV shows such as "NBC's "Homicide", "Time of Your Life" on Fox, and many more.
Martine: Hi, it's Martine with Rock and Blues Muse.
Carolyn: How're you doing my friend?
Martine: I'm good and you?
Carolyn: I'm alright, just inventing cuss words because I just dropped a can on my finger. One rhymes with truck (laughter.)
Martine:  That word's not a new invention (laughter.)
Carolyn: Yeah, sadly. (laughter.)
Martine: Do you need a few minutes to recover?
Carolyn: No, I'm okay
Martine: Our followers turned me on to your music. Your song, "I Live Alone With Someone," knocked me out.
Carolyn: Well, thanks, I'll remember that.
Martine: It's not that common for someone to have kicka** vocals and kick a** guitar chops. I'm curious how you started playing guitar.
Carolyn: My mom played so there was always stuff around the house. We were a flea market kind of family so that's how we got the first house piano. My mom played a little but mostly at pizza shops, coffee shops kind of stuff. I grew up playing her Martins and then I borrowed her Strat for a few years and then traded it back for the Martins. There were a lot of players too and I had the great fortune to play with Townes Van Zandt as a kid. Folks like Jerry Lightfoot, Little Screamin' Kenny–the blues players in town were amazing-Joe Guitar Hughes, Little Joe Washington–a lot of great players.
Martine: You played with them when you were a kid?
Carolyn: It was the few places I could go without getting ID'd as a kid, so I'd borrow a car or get someone's older sibling and say, "Let's go out to this place."
Martine: So, you got in and just started jamming?
Carolyn: Yeah, just make up stuff with whoever was there. You walk in with your guitar and they let you in. You gotta get up there and play at some point, make a fool of yourself. And I did for several years.
Martine: I can't believe you made a fool of yourself.
Carolyn: Oh, I don't know, those first few, whew.
Martine: Hopefully there's no early recordings to come back and haunt you. (laughter.)
Carolyn: Glad I'm as old as I am. (laughter.)
Martine: When did you start singing—at the same time as you played guitar?
Carolyn: I had always kind of sang. At our first gig our singer chickened out so I jumped in. A couple of years later I'd be at blues jams and it was useful that I could just make up stuff about whoever's hat that was or whoever was sitting in front of me.
Martine: Did you have early influences for singers?
Carolyn: Most folks that I'd go out and see, and then there was Lavelle White who was one of my heroes. She's got to be 88 now. And Trudy Lynn. Allison Fisher, she is one of my favorites. She turned me on to all kinds of music.
Martine: What drew you to the blues?
Carolyn: Probably the fact that you could play it with just about everybody. You get up there with a certain format that can be followed, and you can always stray off but eventually, you're leading people into bizarre changes just because you have that foundation. It's where it's at and really anybody can play it. Trying to interject your own personality into it or your own thing, is where the challenge is.
Martine: I read that you love performing. What is it about performing you love the most?
Carolyn: I like it that it's such a risky endeavor. It doesn't matter if it's five people or 50,000 people. You're always nervous. You get up there and you close your eyes and go into it and after a couple of songs you know whether or not you are in the ether of the flow. That's where new ideas come from. I enjoy that risk.
Martine: You're on tour with John Mayall. How did that come about?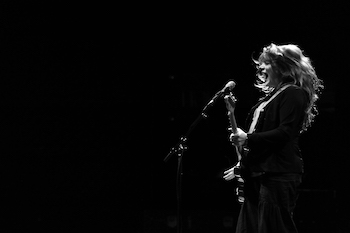 Carolyn: We ran into each other over the last couple of years at different festivals. He was recording for the new record and they called.
Martine: You just said yes?
Carolyn: Yeah, I said, sure thing. The only magic trick is figuring out what tour dates I'm moving around because I want to keep my band working too, it's what we do.
Martine: I read that you love to tour. Can you tell me what it is you love about touring?
Carolyn: I like being able to see stuff. If I didn't play music, I never would have gone to Japan. I never would have seen half the stuff I've seen. I like to enter through the kitchen, so to speak. I prefer seeing how everything is done and getting to meet the folks who do it instead of just the presentation.
Martine: How's life on the road?
Carolyn: It's great, Man, especially with my band, we always have a great time. There's four of us and sometimes we bring Shelley King into the mix. I dig it. The only magic trick is you got to stay out long enough where you want to come home and not make it so much that you go crazy.
Martine: You seem so comfortable on stage and performing live. Do you get nervous every time?
Carolyn: Oh yeah, right before we play. Sometimes I feel like I'm going to throw up and sometimes you do–just gotta make sure you have water next to you.
Martine: After a couple of songs you get into the groove?
Carolyn: Sometimes it's fairly spontaneous and it's alright after you hit a couple of chords. And other times, it's like Man, does that person still have their arms crossed at me?
Martine: Did you feel nervous playing with Bonnie Raitt?
Carolyn: Yeah, but I didn't really know what was happening so I didn't have much of a chance to get that freaked out. It was a concert we'd done for a mutual friend of ours and he brought all these amazing people together and it was  a big concert for him and we played together. It was a very pleasant surprise. (Bonnie Raitt) is super cool and an incredibly gracious person.
Martine: Let's talk about your guitars. You mostly play a Tele Thinline. Is that right?
Carolyn: Yeah, that's my number one, she's my girl. I bring others with me on the road. It's a Tele so worst-case scenario if something did happen, I could throw a neck on it and I'll be alright. I learned how to do everything with a Tele. At the house, I got a parlor guitar from my mom, and then a 36 archtop of hers as well. They're both old Martins. One she found in the trash and one was being used as planter. They are both perfectly fine guitars. I never understood that.
I got a whole collection of lap steels, different ages and varieties. I'm not super well versed on it so I'll call my friend Cindy Cashdollar and ask, "Hey, what are those gauges, how do you play something, I have this major tryout."
Martine: I haven't seen you play with a pick. Do you ever use one?
Carolyn: No, that's from my mom. I scratched up one of her Martins, the 41, and that's her baby. I got all into The Who and I was doing The Windmill and that was it. No more pick.
Martine: Do you write songs on acoustic or electric?
Carolyn: All of them. A lot of times there won't be an instrument involved. The songs often times will just form like when I'm driving in the middle of the night, with everyone asleep. It's just the sound of the wheels on the road. That's when a song starts for me often times.
Martine: The melody comes first or the lyrics?
Carolyn: Each song is different. Sometimes it's different melody structure and other times it's like this undeniable risk, this thing is going to have to happen so you have to hammer the words to fit like some musical haiku. Sometimes I just write them down in books and see what happens. Sometimes you go on a recording and they come then.
Most of the good ones kind of write themselves. It's more like fishing—throw your angle out and see what happens. Like the (Bob) Dylan song. I wrote the answer verses because he asked me to and I heard it and said I better go ahead and record it while I remember it before it goes stale in my head.
Martine: Do you write mostly alone or more with other people? Along with Bob Dylan, I noticed you wrote a song with Ruthie Foster.
Carolyn: That one came out really funny too. We had a TV appearance we were both doing. I assumed I was there to back her up and she assumed she was there to back me up. We both were just laughing and like well, it's for the same show we are doing so I asked if we should do a gospel song together and she said okay. It was cool. It doesn't usually happen that quick with other folks so I was into it. The stuff with Ty (Ty Taylor of Vintage Trouble), I love it. My main problem is just finding time.
Martine: You're pretty busy.
Carolyn: I'm always happy about that part but there has to be a balance to be reached somehow.
Martine: When you find the answer, let me know. (Laughter)
Carolyn: I want to bottle that shit. (Laughter)
Martine: (Laughter) How did things come about with Ty Taylor and Vintage Trouble? I'm a big fan. I saw Vintage Trouble live and was wowed by them.
Carolyn: Yeah, they blew my mind. Vintage Trouble was at our sound check years ago at a festival and Ty was like, "Hey, Man, I got this song I'd like you to sing with us." I went on their tour bus and everybody's dressed in their nice clothes and it's acoustic on the tour bus to rehearse so I assumed it was this very nice, groovy, dapper-dressed, amazing acoustic band. This will be something fun for sure. They got up on stage and my jaw hit the damn floor.
Martine: I hear that.
Carolyn: What in the hell did I just see (laughter). I'm going to get up and sing with this guy? Holy crap. I thought it might be weird, but they were so awesome, so inviting and there is not one spoiled or upset person in that band. Everybody in that band is so appreciative and cool.
Martine: Nice. What's next for you aside from touring with John Mayall and your own band?
Carolyn: Always writing for the next one.
Martine: Great talking with you. Thank you for making the time to talk with me.
Carolyn: Thank you.
For more information on Carolyn Wonderland:
Website: http://carolynwonderland.com
Facebook: https://www.facebook.com/wonderchicken
For information on John Mayall's tour with Carolyn Wonderland in the band: 
Website https://www.johnmayall.com 
This interview was condensed, edited and republished because John Mayall's tour that includes Carolyn Wonderland was delayed for several months.