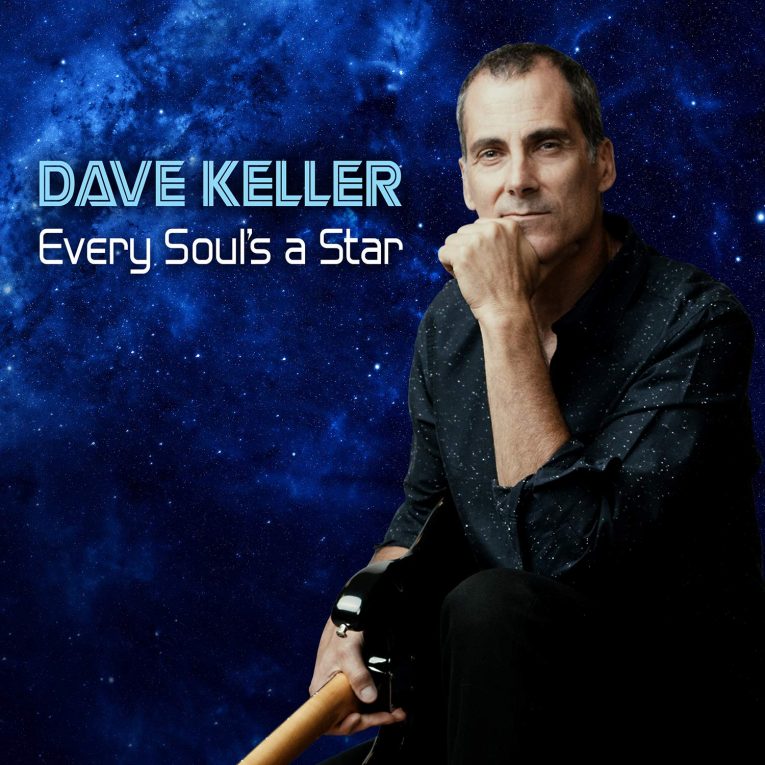 By Mike Elliott
Soul/blues singer and guitarist Dave Keller debuts his latest album, Every Soul's a Star, on Catfood Records, a breakthrough for Keller since the renowned guitarist, Ronnie Earl chose Keller to sing on his album. Keller has been nominated for a Blues Music Award for Best/Soul Blues Album, won the International Blues Challenge Best Self-Released CD Award, and was chosen for Downbeat's Best Recording of the Year.  Every Soul's a Star was produced by the legendary, Grammy Award-winner, Jim Gaines (Santana, Stevie Ray Vaughan, Luther Allison) and recorded at Sonic Ranch in Tornillo, TX. The album features ten originals by Keller and one cover.
Catfood label head Bob Trenchard calls Dave Keller, "The most talented songwriter I've ever worked with."
Soul/blues music at its best is primal. It digs down into your emotions – your soul– and forces you to react, either through heartbreak or sheer joy. Dave Keller understands this and his new release is a horn-punched, organ-drenched, blues guitar-filled groove of a mission statement.
Every Soul's a Star features the Catfood Records' house band, The Rays, including legendary guitarist for Marvin Gaye, George Duke, and Natalie Cole, Johnny McGhee. Rounding out The Rays is bassist Bob Trenchard; Dan Ferguson on Hammond B3, Wurlitzer, and keyboards; Richy Puga on drums; Christopher Serrano, percussion; Mike Middleton, trumpet, and Nick Flood on tenor and baritone sax.
As solid as the band is, and they definitely are, the star is Keller's soul-soaked voice and biting Stratocaster. At times channeling a young Robert Cray on the smooth funk of "It's All in Your Eyes" and the seductive soul of Tyrone Davis with the playful "Kiss Me Like You Miss Me," Keller draws hard from his Texas surroundings and lets his band of rhythm and blues aces push him to greater heights.
Consider the moxie it takes to attempt Aretha Franklin's "Baby, I Love You" – the album's lone cover. Wisely, Keller and company reconstruct the tune instead of trying to faithfully recreate it, stretching out the groove and finding the funk underneath. Backing vocalists, Janelle Thompson and Shakara Weston, slyly recall Carolyn and Erma Franklin's iconic shouts, call and response, and counter-vocals on the classic original.
Every Soul's a Star is a groove album. No wasted notes. Tight, slinky rhythm and blues that allows Keller to truly shine in the vocal booth. Tracks like the clever "Old Tricks" ("looks like I'm up to your old tricks again") recall Texas soul man Delbert McClinton, while the spirit of Memphis and Muscle Shoals is called upon for a pair of heart-wrenching and soul-stirring ballads; "You Bring the Sunshine" – a simple yet poignant declaration of love – and the organ and horn-driven "When Are You Gonna Cry," where Keller's voice gets the chance to stretch. Even then however, he never resorts to the melismatic, preferring to rely on the song and lyric to dictate the passion in his performance. No effort is needed, or at least noticed.  Keller's soul seems to come naturally.
For those who have followed Dave Keller's career trajectory over the past decade, Every Soul's a Star is his best yet. For those who aren't familiar but are hungry for groove-heavy soul and rhythm and blues that honors the past without relying on nostalgia, Keller's latest is the perfect entry point.
For more information on Every Soul's a Star by Dave Keller:
Website  https://www.davekeller.com
Facebook https://www.facebook.com/davekellerband