By Kevin Porter
Perhaps one of the most pleasant surprises in music for 2018 is the album Journeys to the Heart of the Blues by blues masters Joe Louis Walker, Bruce Katz, and Giles Robson released October 26, 2018 via Alligator Records. The album was recorded over a few short days in upstate New York at the beginning of the year and is a tour de force of acoustic blues. The joy amongst the three musicians is palpable, and it's nearly impossible to listen to the album without breaking into a smile.  All three musicians are well known and accomplished purveyors of their craft.  Guitarist/singer Joe Louis Walker is a Grammy Award nominee, a member of the Blues Hall of Fame and a four-time winner of the Blues Music Awards. Including Journeys to the Heart of the Blues, Walker has released 25 albums and his distinctive vocals are instantly recognizable to blues fans around the world.
Keyboardist Bruce Katz is also a fellow member of the Blues Hall of Fame and has been nominated four times for the Pinetop Perkins Piano Player of the Year award that's sponsored by the Blues Foundation of Memphis, Tennessee. Besides maintaining an active recording, touring and teaching schedule, Katz has played on over 70 albums and has played with such musical luminaries as Gregg Allman (was a member of Gregg Allman and Friends), Ronnie Earl, Delbert McClinton, Duke Robillard, Butch Trucks and Joe Louis Walker himself, among many others. Katz has released 10 albums and his primary focus over the last few years is The Bruce Katz Band.
Giles Robson is considered to be one of the finest harmonica players in the world and has won fans such as harmonica legends Sugar Ray and Paul Jones. In addition to headlining shows throughout Europe with his own band, Robson has also shared the stage with Magic Dick of J. Geils fame, James Harman, Billy Branch and many others from his Harp Explosion show.
All three musicians graciously took time out of their busy schedules to talk with Rock and Blues Muse at the same time.
Kevin Porter: Well, thanks to all three of you for taking the time to do this. This is really fun. And congrats on the album, Journeys to the Heart of the Blues. It's a great album, and our readers really like it, too. I understand the reason for doing this took hold when Giles' band was with Joe at a Blues festival in Holland in 2015. Tell me about that. How did it all come about?
Joe Louis Walker: We had a good time playing, and he contacted me later on to talk about an idea he had.
Giles Robson: I really wanted to record a project of some sort of older blues musicians because I thought that there was a lot of lyrical treasures in there. I thought of someone like Joe because I just love to hear his voice, and his guitar playing with all of the space around it that an acoustic recording would give. He and I talked about blues and other sorts of music at the festival that we met at and the idea sort of formulated after that. As all musicians do, I had a lot of long trips, and I started listening to lots of acoustic stuff just to relax. I fell in love with recordings of people who usually had electric bands like Muddy Waters and Junior Wells but who did some stellar acoustic recordings and I just thought it would sound great.
KP: You mention the lyrics of these tunes grabbing you in some way. Can you say more about that?
GR: I guess it's just that blues lyrics are rooted in everyday life and have a wise and humorous and ironic stance on everyday life and survival. When I listened to some of the older tracks, the lyrics were just as valid back then as they are today, like good literature.
KP: Bruce, how did you get involved?
Bruce Katz:  Well, Joe got in touch with me after Giles got in touch with him. I had been on a couple of Joe's records that Duke Robillard produced about ten or 12 years ago. We both live in the Hudson Valley fairly close to each other and he thought that I'd be a good compliment to this album. I actually love 20's and 30's blues, not only like the classic blues singers like Bessie Smith and people like that — Fletcher Henderson and people playing the piano – but I really love the Bluebird 1930's stuff with Blind John Davis and Leroy Carr and Maceo Merriweather.  The older I get, the more I listen to that stuff. When I was younger, I only listened to electric blues, for the most part, and early jazz. I loved hearing the Delta and early pre-war Chicago stuff. It was great for me to be involved and play piano and digging that style of real acoustic blues.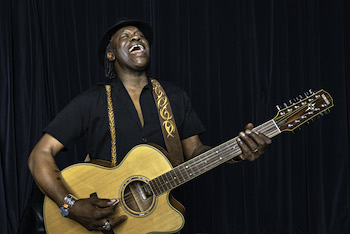 KP: What is it about the acoustic blues that appeals to you now that may not have appealed to you when you were younger?
BK: That's a good question. I still like electric blues, obviously. I guess when I was younger, I used to listen for the flashy solos, the kind of technical virtuosity that some guitar players and even piano players would exhibit. But when you're listening to Son House and Charlie Patton, Big Bill Broonzy in the 30's, there were no solos. What I love about that stuff is the intricacy and the subtlety of the rhythms, and the way the music breathes and just is really soulful in different kinds of ways than electric blues.
With acoustic blues, I zero in on the vibe a little bit more and the rhythm, actually. The guitar rhythms are complex and really cool when you sit down and really listen to them.
KP: Joe, what was your goal in making the record and what kind of sound where you looking for?
JLW: My whole thing with making music is that if I make a record and I like it, then maybe other people will like it. I thought the idea that Giles had was good. I'd been in the format several times. I started off playing acoustic and electric music at 16 or 17 years old, playing with Mississippi Fred McDowell and people like that. A lot of people don't know it, but that's basically what I came out of, acoustic stuff, so it was a way for me to go back and test myself and see how good I was at it. There's nowhere to hide when you're playing acoustic. You can't hide behind a wah-wah pedal or six amps or a harmonica, if you're a singer. It's only emotion and feeling, and I think the record came through in that category.
KP: Giles, let me turn to you. What were your goals and sound in making the record?
GR: With this sort of record, you never really force anything upon it, you just let it happen organically and obviously, with the level of musicians involved, it really was just about getting everybody into the studio and just play and see what happened. I think that organic, no pressure feel came across in the record. Everyone had a quality space to work in and express themselves and everyone had equal say on what went on the record. It was a very relaxed and sort of democratic session, and I think the way it turned out as a conversation between the three of us musically is a testament to that.
KP: Last, but not least, Bruce, what was your thinking and goals in making the record?
BK: I agree with the other guys. My goal was to try and be myself.  Honor the country blues tradition by playing it "right," but be myself at the same time and to interact with the other two guys, with no bass and no drums. There was a lot of opportunity for us to play off each other and listen and react. I guess that's how I went into it, not knowing how it would come out. I've played like that, but I've never recorded like that before. I was real happy with the way it came out.
KP: How were the songs selected? Did each of you bring some in, or was it decided in the studio and you went off and did it?
JLW: Each of us brought songs in. I think Giles brought in the lion share of the songs, as he had a pretty good idea of where he was going. If you listen to the album, you'll hear songs that you don't hear every day. You won't hear "Dust My Broom" and "Sweet Home Chicago," you'll hear some different songs. I really enjoyed singing the songs that he brought to us because you know, as a singer, if you have a good subject, you can do some things. Giles brought songs with all different types of textures to them. With me, as a singer and player, I like to test myself. You can do so much with your voice, more than you can do with any instrument. It was a good challenge for me. I don't think if you listen to the record, you'll get bored.
GR: For me, it was great to get the Sonny Boy Williamson track on there, "I'm a Lonely Man." I've always been a big fan of that song. He never recorded it. The only version is a version that he did for a Belgian TV show that's on YouTube. It's great to have someone like Joe sing it and getting the power of that song and the lyrics out.
BK: Joe did all the singing on the album and they suggested almost all of the tunes. I knew all of the artists, but I hadn't heard of these tunes before. They dug up some really cool tracks.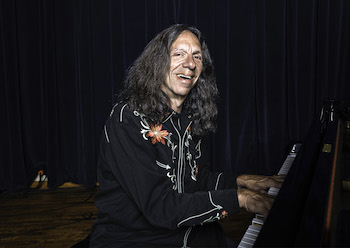 KP: Tell me about recording the record. First of all, it sounds like all three of you were in a studio, and it sounds very live and very spontaneous. It almost sounds like it was in my living room. I also understand that this was recorded in February during a very cold wintry snow storm in Woodstock, New York.
GR: It was in January and it was an incredible experience. I flew into New York right before the bomb cyclone hit. So, we had a bit of drama to add to the equation in terms of the weather. Bruce suggested a great studio and a great engineer by the name of Scott Petito at NRS Studios in Woodstock.  The studio is a very warm wood cabin and we all just sort of sat around and played and Scott recorded. Scott is used to high profile jazz groups so he understood how to get intimate sounds, and he did a great job.
JLW: If you go back to some of the old records like "Great Balls of Fire" and "Tutti Fruitti," they were done direct to disc. Direct to disc is when they're making the disc while you're recording. A lot of the things that you hear on our record, the spontaneity that you hear, is because we're all in the studio at the same time. That's why you'll hear a guitar that might sound different, depending on where the mic placement is and what's going on.
But, the coolest thing to me about the record is that everybody's in the room together, for the most part. When you get everybody in the room together, you do get an organic record and you get a certain shot of energy. For me, that's real important.
BK: The studio is like a big beautiful warm room.  There were no booths to see through, people weren't blocked, and we could all just see each other and we're playing in the same room. It made exactly for the kind of recording experience that we all wanted. It felt real natural. It's like you said, like we're sitting in a big living room, cause that's kind of where we were.
KP: Let me ask about some of the songs like "Chicago Breakdown." Bruce, I understand you've been wanting to do this song for a while. Is this one you brought in? What drew you to this song in particular?
BK: It's one of the great performances in piano blues. Big Maceo Merriweather was just a sensational and virtuosic pianist and it is something that I had heard forever, but I never really sat down and tried to figure it out. I think it was Joe or Giles that suggested it as a piano feature, but it was a great idea and I learned some things about piano boogie woogie just from doing that.
JLW: It sounded great. I grew up on piano music with my dad, and knowing that Bruce was a great piano player, I wanted to hear him play it. I am a boogie woogie fanatic. I'd rather hear piano boogie woogie than anything in the world. For me it's infectious, it puts a smile on my face. I did think that it would be great to have Bruce do one of those things. It's probably one of my favorite cuts on the whole thing. There's just so much you can do with it. You can stretch it out.
GR: I've always been a big fan of Big Maceo and to hear Bruce tackle that was just fantastic. I think that boogie woogie and the piano side of blues is definitely something that has faded over time because of the prevalence of the guitar. It's nice to hear a bit of that back on the record.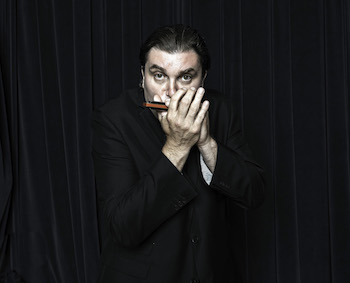 KP: What about the opening track, "Mean Old Train" by Papa Lightfoot. Giles, you did some nice work on the harmonica on that. Was this one that you brought in?
GR: I brought this one in. It's always great to have a train song because they're so evocative and fun. I've always been a fan of that track and I think it came out pretty well. Joe's rhythm guitar and the piano worked so well together, and the way that Bruce sort of hangs back on the first verse and then comes in made the whole thing meld really well. One of the first things that blues musicians tried to do with the harmonica was to make something out of the instrument, because it really wasn't and isn't perceived as a legitimate instrument. One of the first things that blues musicians did was impressions of trains in the 1910's and 20's so the harmonica has always been very well suited for train impersonations.
KP: Interesting, I never realized that little history about the harmonica. One track that I really liked was Washboard Sam's "You've Got to Run Me Down." Who brought that track in and how did that come about?
JLW: I like piano and guitar together. I like that song because it goes 1-4-5, it doesn't go 1-4 and back to the 1, it isn't your regular 12 bar blues. You really have to keep it up and you know, I think we kept it up pretty good. I got to pick a little guitar on the song, which I don't do a lot of picking on the guitar on this record because it's not the record for that. It's just two instruments: guitar and piano and it's a little bit of endurance test, especially for the piano player, because it's physical as well as melodic and musical. In that context, you try to get it done in one or two or three takes. I think we did a good job on it.
BK: I think the original recording was like 1947 or something like that when jump blues was really popular. This is stripped down, but I love that kind of feel of jump blues and playing that on the piano. I just got to laying down the boogie woogie bass line and rhythm of the jump blues in my right hand and just tried to be the whole band. But I do love that stuff and it was a real treat for me to record.
KP: If there was a song that you would like our readers to listen to that is in the spirit of this record, what would that be?
JLW: Well, I think a lot of records are guitar and piano and a lot of records are guitar and harmonica. I don't have a boatload of blues records with just acoustic harmonica, acoustic guitar, and acoustic piano. For the guitar and piano, I'd say Scrapper Blackwell, Leroy Carr, anything they did. And for the acoustic piano and guitar and harmonica, you'd have to do some of the Muddy Waters stuff that he did early on when it was just really guitar and bass.
BK: Joe talking about Leroy Carr, Scrapper Blackwell or even some of the things in the mid-to late 1930's like Jazz Gillum on harmonica and John Davis on piano and Big Bill Broonzy and others I think they were acoustic, they might have bass on them and might have drums on them. I know Giles was talking about the acoustic Muddy Waters album that isn't exactly what we were doing, but it was inspiration. Some of the Sonny Boy Williamson 1 stuff, he was recording with unamplified piano and guitar in the late 1930's. I think that's another kind of place to use for an example of our inspiration anyway.
KP: Yeah. Giles, what's your thoughts on that?
GR: Oddly enough, I was going to mention Sonny Boy Williamson 1 as well, not for the music so much but for the lyrics. I was on a train journey from Paris to where I live in Northern France, and just hit upon Sonny Boy Williamson 1 while I was streaming. And, as you know, we have Sonny Boy Williamson 2 and he sort of stole the thunder from Sonny Boy Williamson 1 who never really gets as much acclaim as Sonny Boy Williamson 2 who came across to Europe and was in film, and was sort of a blues god in the 1960's. Sonny Boy Williamson 1's lyrics in each song were full of wisdom and humor and he often gets overlooked.
KP: Is there anything else that we didn't talk about that you would like our readers to know?
JLW: We appreciate Alligator Records taking a chance on this record. I encourage people to check out Giles and his band, they play all over the world. Check out Bruce Katz and his band, they play all over the world. Check out Joe Louis Walker and his band, we play all over the world. Let everybody know that this record was a special thing. It's easy to think of something to have an idea, but it's really hard to get it to fruition, so for that, I think Giles should be very proud. We all should be very proud of the recording and it's just a feather in everybody's cap.
KP: I can't think of a better way to end the interview. I want to thank all three of you for your time.  I hope you all have a great holiday season and a fabulous 2019. I look forward to hearing more of the record and hopefully there will be a sequel. Thank you very much.
All: thank you. Appreciate it.
For more information on Journeys To The Heart Of The Blues:
Alligator Records https://www.alligator.com/albums/Journeys-To-The-Heart-Of-The-Blues/