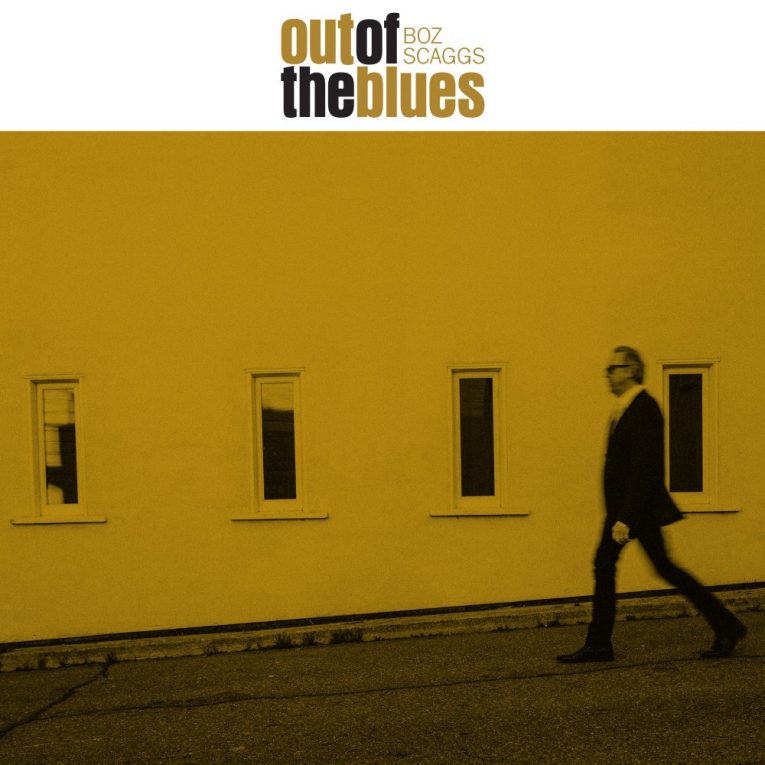 By Tom O'Connor
One of late Summer's best releases, Boz Scaggs' self-produced Out of the Blues (Concord Records,) proves that the venerable blues/soul man still has what it takes to make music lovers sit up and pay attention. Out of the Blues received a Grammy nomination for Best Contemporary Blues Album.
Although aided in this nine song collection of mostly covers by a phalanx of serious and deadly studio players, with bassist Willie Weeks, drummer Jim Keltner and guitarist Charlie Sexton at its core, there is still plenty of room for Scaggs to impress with his guitar playing in addition to his usual one-of-a-kind vocals.
Album opener "Rock and Stick," is also an album highlight. Written by Jack Walroth, who also does an impressive guest turn on harmonica, the tune sets up the entire album, letting you know you're in for some incredibly smooth and dialed-in musicianship and maybe, based on Boz' playful falsetto moments, a little bit of fun too. The cover of "I've Just Got to Forget You," best known for the Bobby Blue Bland version, serves as a reminder that even in his 70s, Boz Scaggs can still effortlessly break hearts just by turning a phrase in his own particular way. The swing and sway of Jimmy McCracklin's tear-jerker "I've Just Got to Know" rolls on a classic horn section vibe and an especially effective guitar solo from Charlie Sexton.
After the previous 60's soul-tinged tunes, "Radiator 110," with its boom-bap drums, angular, almost comic, central rhythm guitar lick, and from-the-gut harmonica , finds Boz Scaggs and the boys firmly and comfortably in blues-rock territory. The rocking rave-up continues on "Little Miss Night and Day" which shares DNA with everyone from Chuck Berry and Rockpile to the Georgia Satellites. Powered by Jim Cox piano, the tune also sees Sexton trading off some hot solo bars with guest Doyle Bramhall II.
When a timeless musical craftsman covers another timeless musical craftsman, chances are you'll end up with the centerpiece of the entire album. That is what happens with Scaggs' devastating six-and-a-half minute interpretation of Neil Young's "On The Beach." Boz digs deep into the lyrics here, letting you feel every drop of pathos and loneliness until eventually, the listener is given a tiny, elusive bit of hope. This song alone is worth the cost of the album.
Since he has been doing this for a few decades, Scaggs knows you've got to leaven things a little bit after all that heaviness. He accomplishes this with a smoothly shuffling version of Jimmy Reed's "Down in Virginia." Aided by another hot guitar break from guest Doyle Bramhall II, who also adds some spot-on harmonica, this is the kind of deceptive song that takes a lot of experience to make sound so effortless.
The collection closes strong with two tracks that both could have been album openers. The slinky and polished "Those Lies" rides mostly on the incredibly tight horn section and drums, and finds Boz' voice at its most familiar; bouncy, a little bit nasal and always welcoming, but with some shadowy attitude lurking behind it.
The album closes with a subtle tour-de-force cover of the Bobby 'Blue' Bland signature tune "The Feeling is Gone." The band takes its time with this lush and leisurely arrangement; no one adds even a single extra or gratuitous note, leaving room for Scaggs' expressive vocals to find their way to the core of the lyrics and the center of your broken ol' blues-y heart.
This is an inventive collection that shows a guy with nothing left to prove to anyone still has things he wants to explore in the music, and things he wants to say to the world about our eternal and universal struggles. Mr. Scaggs is clearly still connected, and committed, to this music.
For more information about Out Of The Blues by Boz Scaggs: