Watch "How Deep Is Your Love" (Bee Gees cover) by Tommy Emmanuel and John Knowles and you'll see why we chose it as our video of the week. Simply beautiful. The song is on Emmanuel's upcoming album, Heart Songs, out January 11, 2019 via CGP Sounds/Thirty Tigers. Emmanuel and Knowles are two of the three remaining Certified Guitar Players (an honor bestowed by Chet Atkins.)
The new full length album spotlights the players' proficient ability to capture and radiate emotion  through their instruments with special arrangements of "Cold, Cold Heart," the album's lead-off single written by Hank Williams; "Lullabye (Goodnight My Angel)" written by Billy Joel; and "I Can Let Go now" written by Michael McDonald, among other songs.
Tommy Emmanuel twice voted Best Acoustic Guitarist by readers of Guitar Player Magazine and John Knowles, a Grammy winner and member of the National Thumb Picker's Hall of Fame, know how to get to the core of a song and accentuate it's finest qualities.
The 14-track Heart Songs, recorded at EastWest Studios in Los Angeles, intertwines thoughtful arrangements of songs from other artists and their own compositions and live performances.
In support of the album, Emmanuel and Knowles will hit the road together with their first performance slated for January 8 in San Francisco, CA at Herbst Theater. Additional stops are set for San Diego, New York City, Boston, and Minneapolis, among others, before wrapping in Nashville, on February 26 at the Grand Ole Opry.
Click here
for more details and tickets.
HEART SONGS Track Listing:
"Cold, Cold Heart" (written by Hank Williams)
"How Deep Is Your Love" (written by The Bee Gees)
"I Can't Stop Loving You" (written by Don Gibson)
"Somewhere" (written by Leonard Bernstein from West Side Story)
"I Can Let Go Now" (written by Michael McDonald)
"Lullabye (Goodnight, My Angel)" (written by Billy Joel)
"After Paris" (written by John Knowles)
"Walkin' My Baby Back Home" (written by Roy Turk and Fred Ahlert)
"I Can't Make You Love Me" (written by Allen Shamblin and Michael Reid)
"Where Is Love" (written by Lionel Bart for Oliver!)
"He Ain't Heavy, He's My Brother" (written by Bobby Russell and Bobby Scott)
"Eva Waits" (written by Tommy Emmanuel)
"Turning Home (Live)"
"How Deep Is Your Love (Live)"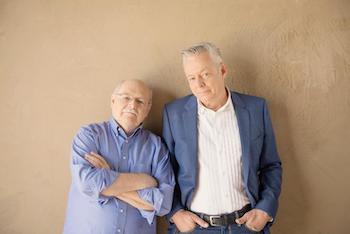 For more information on Tommy Emmanuel & John Knowles: