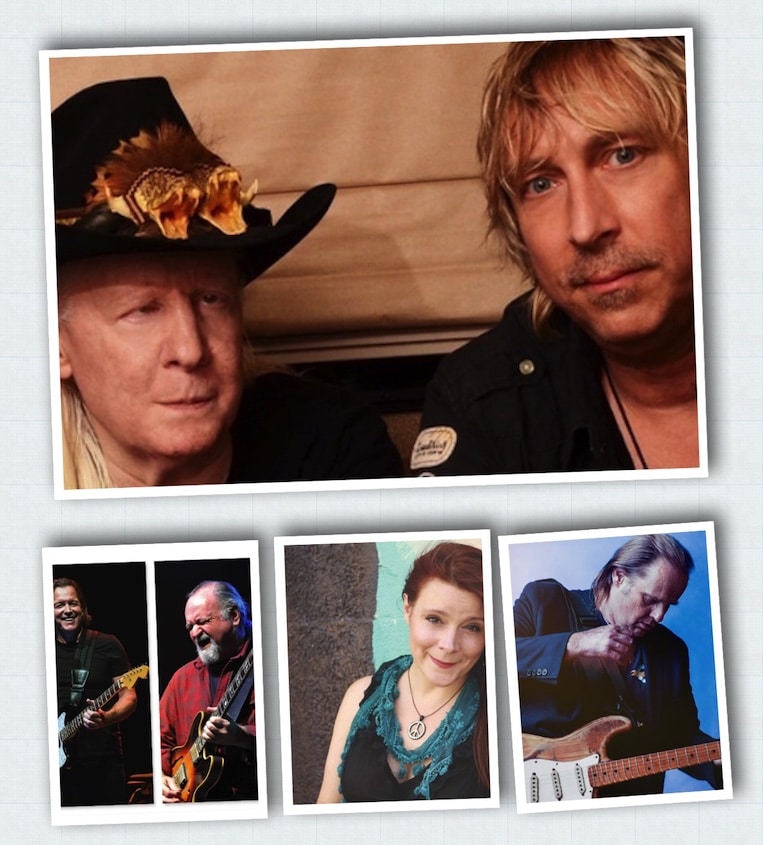 Five of Our Favorite Artist Interviews of 2018
As 2018 draws to a close, Rock and Blues Muse looks back on five of our favorite artist interviews of the year. We have the privilege of talking with some of the most interesting, talented blues and rock musicians. We get a window into their lives, their music and how they create it, what they love most about being professional artists, how they go about songwriting and how they grew into such great musicians. We chose interviews with Paul Nelson, Carolyn Wonderland, Walter Trout, Tommy Castro & Tinsley Ellis and Anthony Gomes.
We transcribe and edit each interview for you so you get the best gems of each one.
Wherever you are, kick back and read five of our favorites from 2018. This is by no means all of our favorite interviews, but we had to narrow this down to a manageable read for you. We chose these five because the artists are fascinating, funny, and just plain fun to chat with. We hope you enjoy the interviews.
Happy New Year! We want to thank you all for your support of Rock and Blues Muse. We wish you the very best for a joyous, healthy and musical 2019.

Paul Nelson
Grammy-winning guitarist, record producer, and songwriter, Paul Nelson was the guitarist for legendary blues-rock icon, Johnny Winter for many years. He produced several of Johnny Winter's albums, including Step Back which won a Grammy Award and Blues Music Award. Paul Nelson has worked with everyone from Eric Clapton, Joe Perry, Warren Haynes, and Billy Gibbons, to Robben Ford, Derek Trucks, Vince Gill, Joe Walsh and more. He received a Grammy nomination for producing Joe Louis Walker's album, Everybody Wants A Piece. He has received several blues awards and has appeared on Late Night With David Letterman and Jimmy Kimmel Live.
Paul Nelson's latest project, The Paul Nelson Band, released their album, Badass Generation and they are currently on tour.
Click here for interview 
Carolyn Wonderland
Currently on tour with the legendary John Mayall, guitar slinger, singer-songwriter Carolyn Wonderland is the first female lead guitarist to join any of Mayall's bands lineups and also plays on John Mayall's upcoming album, Nobody Told Me.
Carolyn Wonderland is a multi-instrumentalist who also tours and records with her own band and has released 11 albums. Her latest album, Moon Gone Missing, was released in 2017. Wonderland is a multi-award winning artist from Texas who has won many music awards for Best Female Vocalist, Best Guitarist, Musician of the Year, Best Blues Band, and more. She was recently featured on PBS' Austin City Limits and has performed with Bonnie Raitt, Bob Dylan, Marcia Ball, and toured with Buddy Guy and Johnny Winter. Her music has been featured on several TV shows.
Click here for interview 
Walter Trout
Blues guitarist, singer-songwriter, Walter Trout is known as a blues master, a prolific artist who began his career as guitarist for Canned Heat in 1981. He then became guitarist for John Mayall and the Bluesbreakers. His album, Luther's Blues was nominated for a Blues Music Award in 2013, and he released eight other albums under his own name, and more than five with Walter Trout and the Radicals. His 2017 release, We're All In This Together received four awards for Blues Rock Album of the Year. His upcoming album, Survivor Blues, will be out in January 2019.
Click here for interview 

Tommy Castro and Tinsley Ellis
Six-time Blues Music Award winner and BB King Entertainer of the Year, Tommy Castro is a blues, R&B, and rock guitarist and singer-songwriter. Tommy Castro has released 20 albums since 1994 and his latest album, Stompin' Ground (with the Painkillers, his band since 2011) features several guests including Charlie Musselwhite, Mike Zito, Danielle Nicolle, and more.
Tinsley Ellis is one of the most electrifying Southern blues-rock guitarists and vocalists today. Known as a guitar hero and prolific musician, he has released 17 albums since 1986 and his latest album, Winning Hand, was released in 2018. Ellis has shared stages with Warren Haynes, the Allman Brothers Band, Stevie Ray Vaughan, Jimmy Thackery, Albert Collins, and Buddy Guy.
Click here for interview 
Anthony Gomes
Canadian born blues-rock guitar maestro, singer-songwriter, Anthony Gomes has won numerous awards, including Best Musician and Live Performer Award at the 2017 European Blues Awards. His latest album, Peace, Love & Loud Guitars was released in 2018, and he has released 12 albums since 1998. Gomes is also a blues scholar with a master's degree in blues history. He founded the Music is the Medicine Foundation in 2010.
Click here for interview