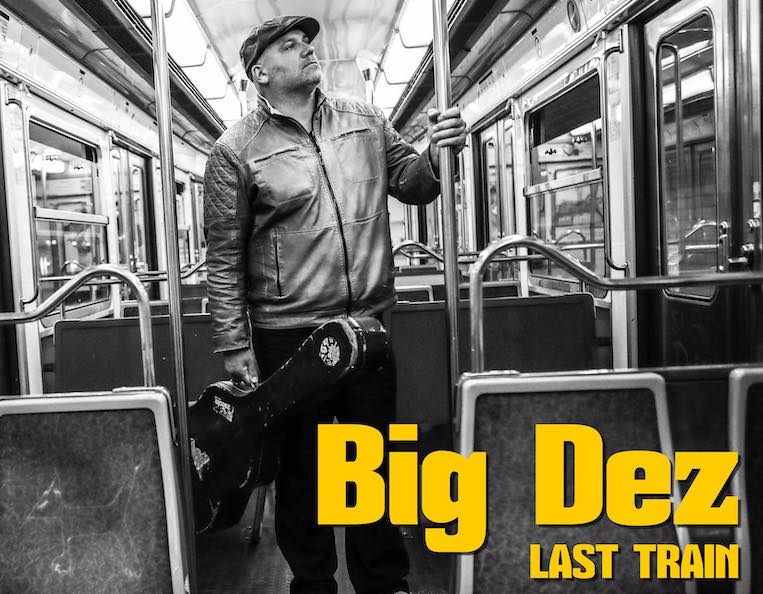 By Mike O'Cull 
Big Dez is an outstanding blues/rock band from France that many American listeners might not have discovered yet. Guitarist/vocalist Phil Fernandez started the group in Paris in 1996 and has been pursuing his vision of the blues ever since. Now, over 20 years into the life of the band, Big Dez has a new album out, Last Train, that is the culmination of all that time spent perfecting its blend of electric blues, soul, funk, and rock and roll.
It's a blast of an album that shows the band in top form and features American blues legends Lucky Peterson (Etta James, Bobby "Blue" Bland, Otis Rush) guest-starring on the Hammond B3 organ and Gordon "Sax" Beadle (Luther "Guitar Junior" Johnson, Matt "Guitar" Murphy, Duke Robillard) getting down on the tenor saxophone. As you might expect, this set gets hot!
The coolest thing about Big Dez is the band's ability to shift styles, grooves, and feels. All of the songs on Last Train are unique and the sound never falls into the "one trick pony" trap in which many roots music bands get stuck. The current lineup of Fernandez, bassist Lamine Guerfi, guitarist Rodolphe Dumont, drummer Steve Belmont, keyboardist Léa Worms, and harmonicist Marc Schaeller is long, strong, and well-versed in the blues and everything connected to it. This knowledge makes for an articulate and entertaining record that's packed with energy and never gets dull.
Last Train was tracked at Studio 180 in Paris and mixed in Austin Texas. The 12 songs included are all Phil Fernandez originals and display an infectious blues/rock sensibility that practically jumps out of your speakers and drags you out of the house to go party. The set opens with "'Bout You," a deliciously funky shuffle that features some terrific Clavinet playing from Worms and Lucky Peterson rocking the B3 like nobody's business. It's a great original blues song that has its own personality and will quickly gain your attention. "Back To Little Street" digs deeply into the soul/R&B bag, doing that Memphis-style thing with horns and vocals that no one gets tired of hearing. The song is lively and dynamic, sporting a classic sound wrapped around a skillfully-written structure.
Big Dez can rock with the best when it's time to turn up the heat, as "You Know What I Mean" definitively proves. The song comes off like a killer lost J. Geils Band track that should have been a 70's radio hit. Marc Schaeller's harmonica might as well be a flamethrower on this one and his playing recalls
Magic Dick
at his best. The fun continues with the Big Easy-inflected rock and roll of "Until The Broad Daylight," which is a certified, bona fide, and double-wide dancefloor sensation. One gets the feeling when listening that, if there were a party somewhere in the world that needed some rocking, this would be the band to call. The album closes with the upbeat Southern soul of "Memphis," a track that's short, grooves hard, and that can't help but leave you wanting more.
Big Dez is a band that came up the right way, honing its sound and craft on the road and in the studio. At this point, the group is a not-to-be-missed music machine on the way to a large global audience. It's as good a band as any of its peers on the international blues scene and is worthy of a night out if found playing in your town. For now, buy a copy of Last Train and show this bunch some love.
For more information on Last Train by Big Dez: