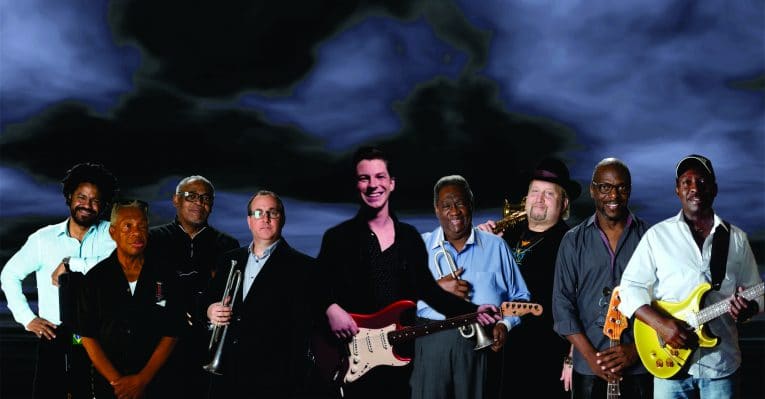 The BB King's Blues Band will release A Tribute to the King on April 12, 2019.
"The Thrill Is Gone" featuring Michael Lee, is the first digital single off the new CD. A Tribute to the King will be released April 12, 2019 and features artists Kenny Wayne Shepherd, Taj Mahal, Kenny Neal, Tito Jackson, Michael Lee and Joe Louis Walker.
The BB King's Blues Band is back. The legendary maestro can never be replaced but his spirit lives on in song and with the wonderful musicians who were his backbone.
Watch here and see if you aren't impressed by this soulful singer and guitar player. The single, "The Thrill is Gone" features Fort Worth newcomer, Michael Lee. Lee was discovered by band management upon seeing his performance of "The Thrill is Gone" on The Voice.
The members of BB's band are all lifers, some of the members clocking in at 35 years. Not only did they support King, but they would start each show by performing onstage before BB came out. After King passed, the band was naturally at a loss until they started playing some festivals and eventually got their footing back. The current lineup includes: Michael Lee (Lead Vocals. Lead Guitar,) James "Boogaloo" Bolden (Trumpet,) Russell Jackson (Bass and Vocals), Herman Jackson (Drums,) Eric Demmer (Saxophone,) Wilbert Crosby (Guitar and Vocals,) Lamar Boulet (Trumpet,) Darrell Lavigne (Keyboards,) and Walter King (Saxophone.)
Watch the album trailer below.
Track Listing
Irene
Pay The Cost
There Must Be a Better World Somewhere
Sweet Little Angel
Low Down
She's the One
Taking Care of Business
Becoming the Blues
Hey There Pretty Woman
Here Today Gone Tomorrow
Regal Blues (A Tribute To The King)
Pocket Full of Money
No News Just The Blues
The Thrill is Gone
Pay The Cost to be the Boss