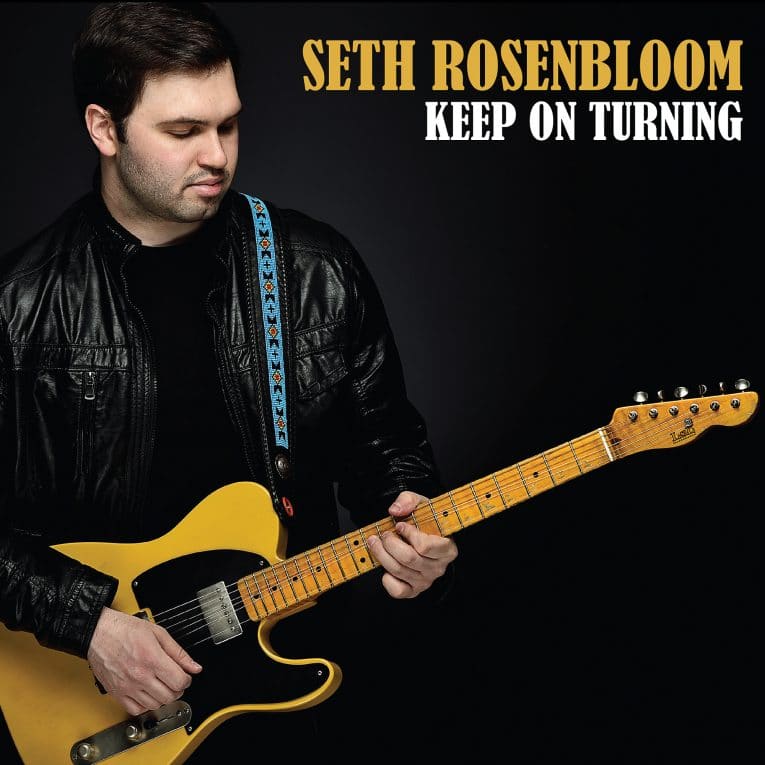 By Mike Elliott
By starting off on classical violin, switching to guitar by age eleven, and earning a performance merit scholarship from the Berklee College of Music at 16 years old, it doesn't sound like your typical blues guitarist's bio. But within the first few notes of Seth Rosenbloom's debut full-length, Keep on Turning (out January 18th on HOLMZ Music), you'll understand why he has been described as a "searing blues-rock guitarist."
"For me, playing the blues is all about expressing emotions," Rosenbloom has said.  "It allows for an extraordinarily wide range of emotion. That, I think, is the key to making great music overall, and great blues in particular."
Fueled by a top-notch group of musicians, including Travis Carlton (Robben Ford, Scott Henderson) on bass, Scott Kinsey (Tribal Tech) keys, and drummer Gary Novak (George Benson, Chic Corea), and produced by world-renowned blues guitarist Josh Smith (and recorded at Smith's Flat V Studios in Reseda, California), Keep on Turning finds Rosenbloom offering up six originals he wrote or co-wrote (with Boston-based blues guitarist Sonya Rae Taylor) along with three reworkings of blues standards from Elmore James, Freddie King and B.B. King.
Rosenbloom's talent is in his ability to slowly build his solos, never quite fully showing his hand, but giving you just enough to warrant the need to see him live; he gives off the vibe that he could burn down a stage. On Keep on Turning, he never overplays, showing a strong discipline and sense of dynamics usually reserved for the elder statesmen of the blues.  His vocals are clear yet forceful, with just enough blues bite to command authority of the material, sometimes sounding like a more aggressive Bob Weir.
Of his originals, the self-penned "Right About Now" is a highlight; a slow blues with a memorable hook and chord progression, the ache in its lyrics reflected in Rosenbloom's vocal and guitar. The shuffling "I Can't Help It" allows the band to show off some roadhouse swagger, while the oft-covered Elmore James warhorse, "Look Over Yonders Wall" is reimagined here into a funky Meters-style groove.
Elsewhere, B.B. King's "Heartbreaker" and the Freddie King classic "Palace of the King" features the horns of Josh King and Jamelle Adisa – giving an old-school big-band blues feel to the proceedings. It's a testament to Rosenbloom's powerful vocal and guitar that he not only doesn't get lost in a bigger band setting but continues to command center stage.
Another highlight is the burning "Broke and Lonely." Rosenbloom's guitar interplays seamlessly with Kinsey's organ, as the ebb and flow of the Carlton and Novak rhythm section propel the slow blues ahead while simultaneously anchoring the groove.
Following his self-titled 2017 EP, Seth Rosenbloom comes fully into his own with Keep on Turning. It's a testament to his (and Taylor's) songwriting that the originals here fit perfectly alongside the classic blues standards included on this full-length debut. Listening to Keep on Turning, one is reassured that the future of the blues is in very capable hands.
For more information on Keep On Turning by Seth Rosenbloom: