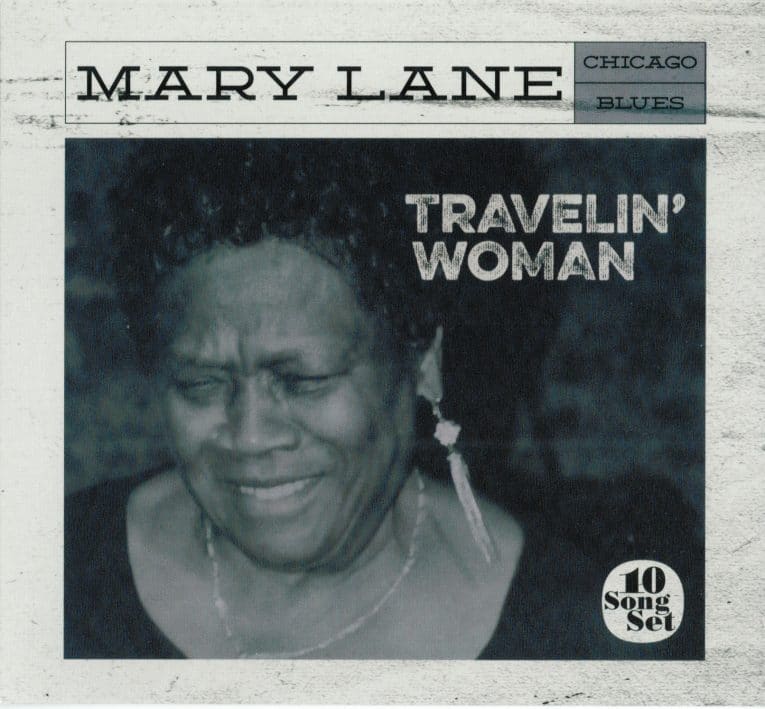 Chicago Blues Hall of Fame Singer Mary Lane Returns with Her First Album in 20 Years 
Travelin' Woman, released March 8 on Women of the Blues Label
New Moving New Film Documentary, I Can Only Be Mary Lane
The newly-minted Women of the Blues record label announces a March 8 release date for Travelin' Woman, the first album from Chicago Blues Hall of Fame singer Mary Lane in over 20 years. Produced by Grammy-winner Jim Tullio and recorded at Chicago's Butcher Boy Studio, Travelin' Woman showcases Mary Lane's expressive, soulful voice backed by a cadre of all-star musicians, as well as special guests including harmonica aces Billy Branch, Corky Siegel, late Howlin' Wolf sideman Eddie Shaw and Indiara Sfair; plus guitarists Colin Linden, Dave Specter and sax legend Gene "Daddy G" Barge.
The 83-year-old chanteuse's new album promises to take the blues world by storm. What's more, filmmaker Jesseca Ynez Simmons has just put the finishing touches on her documentary, I Can Only Be Mary Lane, which tells the riveting story of Mary's struggles and triumphs as a gritty blues singer on Chicago's West Side for more than half a century.
Mary Lane is one of the last legendary blues musicians that made the Great Migration from America's South. Although Mary is widely respected in Chicago, she has never gotten the wider recognition she deserves, and only recorded one album prior to Travelin' Woman.
The iconic Buddy Guy says, "Mary Lane is the last of the blues singers who came up from the South to Chicago. She is the real deal!" Adds Grammy-winner Bobby Rush, "Mary Lane is way overdue for what she planned to do. She is making a statement for all the blues women. At 83 years old, she still has the guts to get out there and sing the blues. This is a strong record, one of the best I have heard. She sounds like she is 33."
The new film documentary about Mary Lane's life and music, titled I Can Only Be Mary Lane, follows Mary as she records her new studio album. "Like many works of documentary, the story is discovered and transformed along the way," says documentary director Jesseca Ynez Simmons. "I Can Only Be Mary Lane began as a retrospective documentary about many of the blues clubs on Chicago's West Side that have had to shut their doors over the years. Mary Lane was someone who could speak with authority on this because that was her scene. The more time I spent filming Mary talk about her time on the West Side, a scene that has faded away almost entirely, I realized Mary's story was not only one of a kind but it was here and now and for who knows how much longer." Mary encompasses the spirit of the West Side and continues to pursue her dreams despite many obstacles. Mary's story is so rich and timely because she not only sings the blues, she lives the blues.
Watch the trailer for the documentary here
Although success on records proved elusive, Mary shared South and West Side stages with an array of Chicago immortals—
Elmore James
, Magic Sam, Junior Wells, and the mighty Wolf, by then a West Side staple. "I was somebody that he would call up to do things with him on his show," remembers Mary.
A favorite among peers for her dulcet tones, she nevertheless did not record again for several decades, remaining virtually unknown outside of the Chicago Blues faithful. Finally, in the early 1990s, Lane recorded her debut album, Appointment with the Blues, on the short-lived Noir label with Johnny B. Moore on lead guitar, pianist Detroit Junior, and her husband, Jeffery Labon on bass (Labon has successfully recovered from a recent stroke to anchor Mary's No Static Blues Band). Three of her daughters with Pejoe are singers, including Lynne Lane.
"The record label launched really because of Mary Lane," says Women of the Blues label co-founder Lynn Orman Weiss (with Allen Winkler of OWL Music & Media). "My Women of the Blues Foundation is a traveling exhibit which includes Mary. I was in the studio with Jim Tullio and on shoots with Jesseca helping create a dynamic story and media attention in hopes of getting this new album picked up by a label. While in the studio with Jim, we thought what better of a way to kick off the label than with a national treasure like Mary Lane. She has been under the radar for decades, while standing side-by-side singing with the blues masters. This is the story that Jesseca tells in her amazing documentary. I hope that this CD will take her into the spotlight as she well deserves. It was my mission to make sure her story was told."
A number of events are scheduled to celebrate Mary's new CD and her documentary film:
Monday, January 14 – "Second Monday Blues" performance at University of Chicago's Logan Center (7 pm – free) with Billy Branch https://arts.uchicago.edu/event/logan-second-monday-blues-mary-lane-hosted-billy-branch
Thursday, January 24 – Mary Lane's career will be recognized in a resolution from Chicago's Cook County Board of Commissioners
Thursday, February 21 – Screening of I Can Only Be Mary Lane film, followed by a performance at Fitzgerald's, 6615 Roosevelt Rd., Berwyn, Ill. (Time TBA)
Saturday, March 9 – Travelin' Woman CD Release Party Show at Buddy Guy's Legends, Chicago, Ill.
For more information about Women of the Blues Records:
Website