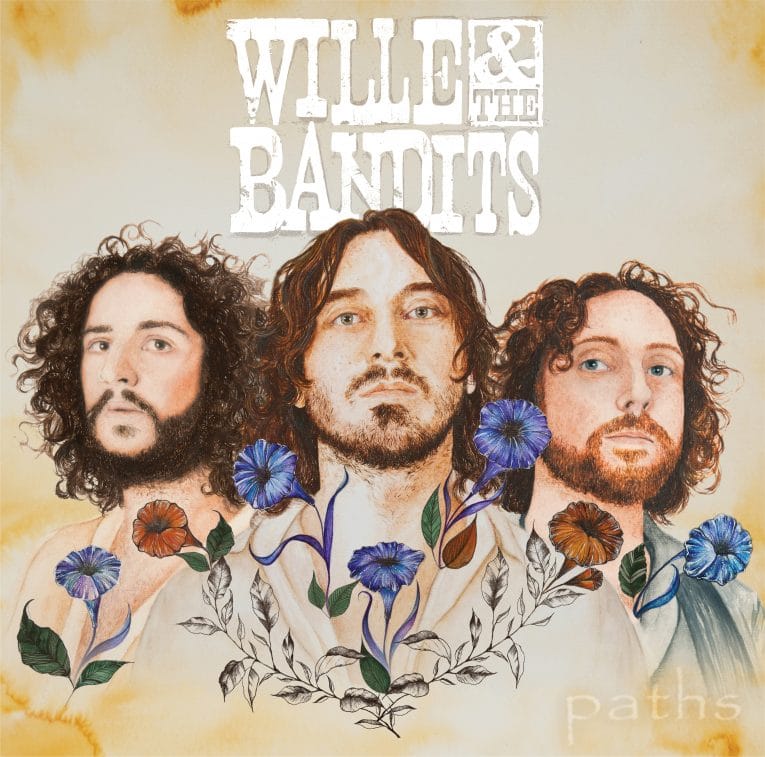 By Mike O'Cull
Wille & The Bandits is a powerful trio of musicians from the U.K. that's developed a style somewhere among blues/rock, the New Classic Rock movement, and the fire and energy of modern-day society. Their new release, Paths will be released February 1, 2019 via Fat Toad Records. Though most of the influences heard are beyond timeless, this is not another retread act playing to what's left of the 70s and 80s crowd, and rather a fusion of what's come before and what's happening now. The music is based in actual singing and playing that sounds like it's going down in the same room in which you're listening and lyrics that hit hard targets in the lives of today's global population. Taken as a whole, you could call Paths by Wille & The Bandits, true 21st Century blues.
The songs on Paths begin with a clear nostalgia for the groundbreaking guitar-based music of decades past but are also infused with touches of dance music, hip-hop, and world music, which makes this an exciting album from start to finish. Lead singer and guitar slinger Wille Edwards is a towering talent and easily combines multiple generations of inspiration with his own personal take on this music. The result is a batch of tracks that are memorable, well-executed, and unpredictable in the best way possible. Bassist/cellist/vocalist Matt Brooks and drummer/percussionist/vocalist Andrew Naumann match Wille step-for-step and the band can compete with any heavy band out there in terms of firepower yet still draw comparisons to The Allman Brothers, Free, Bad Company, and Lynyrd Skynyrd.
The set opens with "One Way," an almost headbanging anthem that will light up any house in the land. Wille's slide guitar playing is an attention-getter and the lyrics contrast the sketchy policies and propaganda of many current governments with the names of the leaders and teachers who have declared peace to be the "one way" forward. "Make Love" follows, which is gloriously funky groove topped with lyrics that question the eye-for-an-eye mentality in which our world is drowning. Like many of the songs here, the band used vintage 1950's tube gear and tape machines for that extra bit of organic vibe.
"Chakra" is a motivating song about the environment that features Andy's Hang Drum and Djembe skills mixed with Wille's performance on an electric Weissenborn lap guitar and brings world music ideas into play. "Keep It On The Down-Low" drops hip-hop tinged vocals onto the band's deeply funked-up pocket yet comes back home to a guitar solo that would make Derek Trucks smile. Wille and his pals also shift into acoustic sounds well, such as on "Four Million Days," a track with a practically Floyd-ian feel that displays the musical range of this talented crew. It features a beautiful string arrangement as well as an emotional lap steel solo from our man Wille.
Paths concludes with retro Southern Rock "Retribution," which again deals lyrically with the way governments have failed to protect their most vulnerable citizens and placed profits high above human-wellbeing. It shows Wille getting large on the lap steel again with a soaring, melodic solo reminiscent of Skynyrd's best moments. This isn't an homage, however, but a quality new work with deep roots.
Wille & The Bandits is a band that's easy to recommend to anyone looking for the spirit of the past but needing new records in their collection. The band's blend of tough-sounding rock, melodic wisdom, and socially-conscious songwriting will strike a nerve with fans wanting to see the sounds they love given new life and legs by young players with a forward-looking artistic vision. 2019 is barely underway but Paths is easily one of the best albums of the year.
For more information on Paths by Wille & The Bandits: