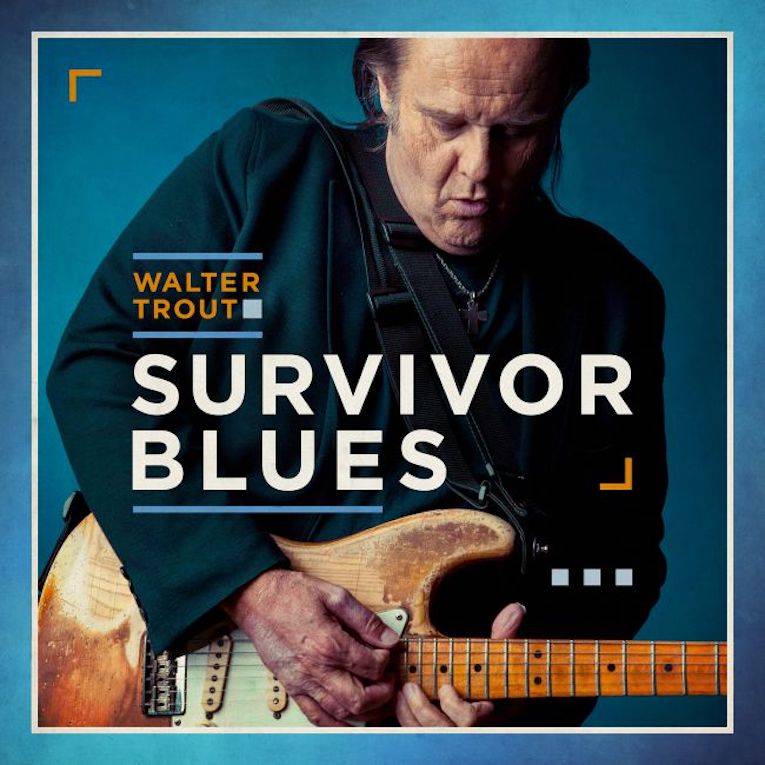 By Kevin Porter
Iconic blues-rock guitarist, Walter Trout returns with a new album, 'Survivor Blues', out on January 25th via Provogue Records/Mascot Label Group. The album, Trout's 28th in his long and storied career, is different in that it does not feature any original tunes. But this is no ordinary covers album. Trout did not want to do the Blues greatest hits. Survivor Blues features older, more obscure songs that have rarely been covered.
In planning and making Survivor Blues, Walter Trout made it his mission to harness the power and spirit of the originals, while putting his own unique musical stamp on each one. The album is a fascinating insight into the music that inspired and moved Trout and a chance to take a deep dive into some blues history. The album is a window into his true love of the blues, assisted ably by his fiery band, drummer Michael Leasure, bassist Johnny Griparic, and keyboardist Skip Edwards.
Kicking off the album is a scorching version of the Jimmy Dawkins tune, "Me, My Guitar and the Blues" a slow blues burner with exquisite guitar work by Trout and vocals packed with emotion. Trout's trademark explosive and soulful guitar playing lifts the song to new heights. His solos in the latter third of the song are particularly impressive, building in intensity up until the end, where Trout adds an exclamation point with some nice harmonics to close the song.
A rocking wallop ramps up the energy on "Be Careful How You Vote," a song that is perhaps timeless, regardless of your political views. Trout turns this Sunnyland Slim shuffle into a fast-moving stomper, and Trout belts out the lyrics, warning listeners not to trust the vote-seekers that make promises they do not intend to keep.
Joined by guest vocalist Sugaray Radford, Trout lays down some delicious funk with Luther Johnson's "Women Don't Lie." Rayford scoops the vocals with full-bodied soul and he and Trout trade lines in a joyous sing-off, in between Trout's rollicking guitar solos. This is pure fun and groove.
Scaling back a bit with Hound Dog Taylor's "Sadie," Trout and the band turn a relatively simple blues shuffle into a groove number, moody and sultry, with flavors of jazz but heavy on blues. Trout's guitar solo is inspired and Skip's skillful organ serves as a nod to the past.
As a past Bluesbreaker, it isn't surprising that Trout includes a song by mentor and blues legend John Mayall, "Nature's Disappearing" from Mayall's USA Union album, released in 1970. As the song title suggests, "Nature's Disappearing" is about environmental pollution and is all too relevant today. Trout largely stays true to the original, although with more of a jazz and soul vibe, and adds a scat-like guitar solo, akin to something you might hear from Wes Montgomery.
Trout dips into the Elmore James catalog, covering the Chicago blues tune, "Something Inside of Me," released in 1966. It's a classic Elmore James song, brimming with intensity and urgency in both the lyrics and the music. Trout kicks it up a notch with a soulful guitar solo, anchored by the fine keyboards of Edwards and Leasure's steady drumming.

Diving into the Delta blues of the south, Trout visits Fred McDowell's "Going Down to the River," with Robby Krieger of the Doors fame lending a hand on slide guitar. The original version was more country blues, but Trout re-arranged the song to emphasize the electric slide guitar, grounding it in more of Muddy Waters style of recording.
Trout closes the album with a completely jaw-dropping version of J.B. Lenoir's "God's Word," featuring Trout and Edwards playing off each other, reminiscent of the classic interchanges between Jimi Hendrix and organist Michael Finnigan on "Rainy Day, Dream Away." Trout is on fire on this tune on both vocals and guitar.
What a way to end a collection of blues songs you might not know were covers if you weren't familiar with them. Survivor Blues features formidable versions of hidden gems by a blues master backed by his masterful band.
Walter Trout is a true survivor. The album's title is a nod to Trout's well-publicized bout with liver failure and subsequent liver transplant in 2014, and to the band members' recovery from various health issues. Survivor Blues represents another triumph by the great Walter Trout.
Highly recommended.
For more information on Survivor Blues by Walter Trout: