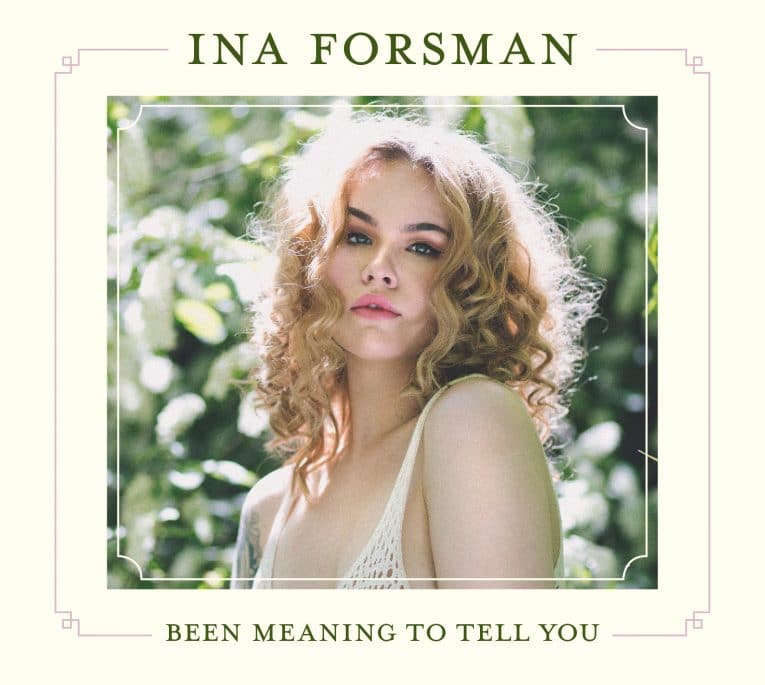 By Mike Elliott
24-year-old Finnish blues belter Ina Forsman has a voice that transcends genre.  While it's clearly blues-soaked, her voice floats effortlessly through many styles. Now for her fantastic follow-up to her critically acclaimed self-title debut, Been Meaning to Tell You (out January 25th on Ruf Records), expands both her sound and the content of her lyrics, taking two years to write the material, laying her soul bare.
Recorded at Austin's Wire Recording Studio with producer Mark 'Kaz' Kazanoff and featuring his Texas Horns along with Red Young and Jay Stiles on keys, Laura Chavez on guitars, Chris Maresh on bass, and Brannen Temple on drums, Been Meaning to Tell You continues Forsman's impressive run of all-original material that uses the blues as a strong foundation, but not as a crutch. On top of that base, she uses gospel, R&B, soul, jazz, and pop to propel her lyrics of empowerment, love, joy, heartbreak, and perseverance.
Been Meaning to Tell You kicks off with "Be My Home," a piano-led Gospel blues honoring the people she feels closest to. The song showcases Forsman's powerful voice and sets up the journey ahead perfectly.  Leading into the pop/R&B-based rave-up "Get Mine," Forsman's playful and sly delivery reveals a strong connection with the present as well as the past that keeps the arrangements fresh and unpredictable.
That point is driven home again and again on Been Meaning to Tell You.  From the retro-'70s sepia-toned soul of immensely catchy first single "All Good" to the emotional outpouring of "Figure," this diversity in approach never drifts too far from the blues at the album's roots.
Two songs, sequenced back-to-back on the album, touch on the struggle women face day-to-day with raw, honest clarity. From the devil-on-the-shoulder male perspective of "Whatcha Gonna Do" to the woman's response of 'Why You Gotta Be That Way," both are devastatingly concise with her two perspectives on sexual harassment.
Elsewhere, Forsman reveals that the tough "Who Hurt You" was written for her best friend "who spent a long time trying to leave an abusive relationship," while the bluesy, aching "Miss Mistreated" is told from the point-of-view of a domestic violence survivor.
While those four songs touch on the seriousness, frustration, and pain that often comes from dealing with issues that gave rise to the #Metoo movement, the unbridled joy that anchors the Latin-tinged "Every Single Beat" adds a welcome respite. Undoubtedly designed as a showcase for her incredible band, it begs to be experienced in a live setting, while "Chains" flaunts her independence and determination clearly. Take her as she is or move on. Fueled by Forsman's passionate growl along with backing vocal chants, it's one of the strongest performances on the album.
The acapella "Sunny" – a beautiful tribute to Ina's sister – closes the set with a jaw-dropping soulful performance that will leave you anticipating Forsman's next move. Been Meaning to Tell You is not only a solid follow-up to Forsman's debut, it cements her credentials as an artist to watch, both in the blues genre and beyond.
For more information on Been Meaning To Tell You by Ina Forsman: