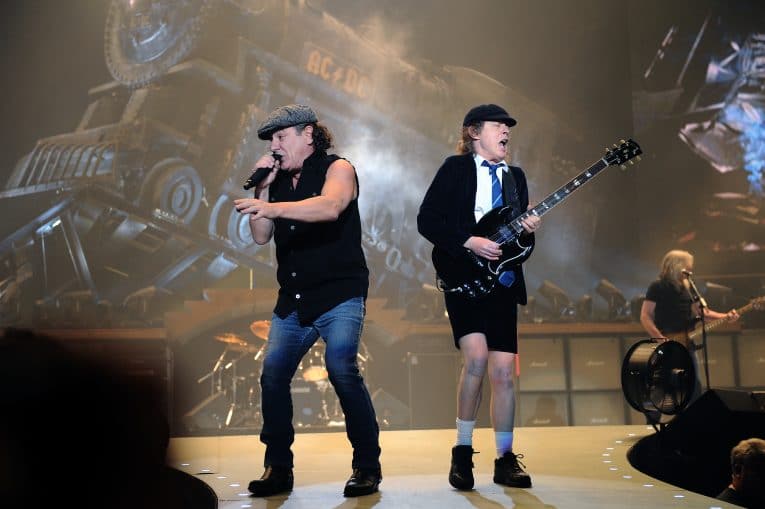 Brian Johnson reportedly confirmed that he'll be singing on a new AC/DC album.  The singer of the band, Terrorizer, said he talked to Johnson in a Florida airport on January 28, 2019 and Johnson confirmed his return to AC/DC and the band's new album.
Check out the Terrorizer statement on Facebook about Brian Johnson's return to AC/DC.
"We ran into Brian Johnson from AC/DC at the airport today after the flight home and we asked him about the rumors of him being on the new AC/DC album. He said "Yes" and that he is 'Sick of denying it.' So that was a cool surprise ending to the tour."
Last year, it was reported that the iconic rock band, AC/DC was working on a new album that features their late rhythm guitarist, songwriter and co-founder, Malcolm Young on every track. Young died in November of 2017 after retiring from the band due to early onset dementia.
After suffering hearing loss, lead singer Brian Johnson quit the band in 2016. He was replaced by Axl Rose, singer for Guns N' Roses. Johnson has since worked with audio experts Asius Technologies on a solution to his hearing loss.
The rumors began when photos surfaced of Brian Johnson, Phil Rudd, Angus Young and Stevie Young outside of The Warehouse Studio in Vancouver in August of 2018. This is the studio where AC/DC recorded their last three studio albums.
Several news outlets have reported this news including Blabbermouth, Loudwire and Planet Rock.
AC/DC is an Australian rock band that was formed in 1973 by brothers Malcolm and Angus Young. Their music is described as hard rock and blues-rock, but they define themselves as a rock and roll band. AC/DC has sold more than 200 million records worldwide, including 71.5 million in the United States, making them the tenth highest selling artists in the U.S. and 14th best-selling artists worldwide.
Let's hope this news about Brian Johnson and AC/DC is really is true. We'll keep you posted.