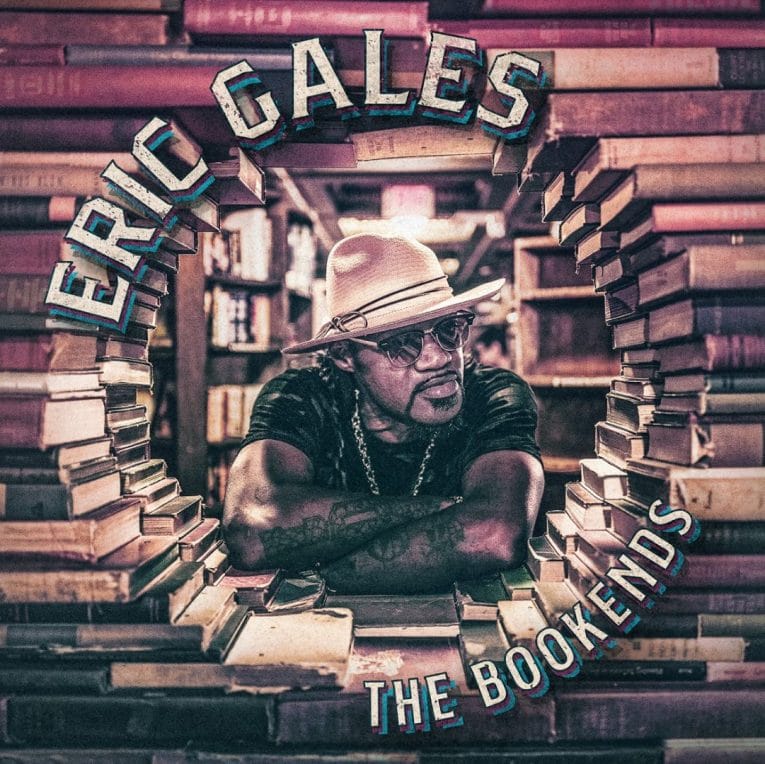 By Martine Ehrenclou
There are certain albums, as well as the artists who create them, that are so outstanding musically, you can't help but jump up and down when you hear them. The Bookends by Eric Gales, out February 8, via Provogue/Mascot Label Group and produced by Matt Wallace, is one such album.
A mix of blues-based rock, gospel and jazz, The Bookends by virtuoso guitar player and singer-songwriter, Eric Gales, is a modern blues triumph for this musician whose vocals and guitar have never sounded better. The original tracks are fun with great groove, edgy with rock stomping beats, and fluid with jazz flavors.
Known as a guitarist's guitarist, and as a forerunner in the genres of blues and rock, Eric Gales' new album, The Bookends delights and surprises with beautifully crafted songs by Gales (one cover) and each invites the listener into his personal story that packs an emotional wallop.
With 18 albums behind him, Gales' last album Middle of the Road (2017) revealed a new beginning. The Bookends is clearly the next leap forward into what Gales is truly capable of. He brought on board such notable guests such as B. Slade, Doyle Bramhall II and Beth Hart. And the result is raw emotion, exquisite musicianship and a slam dunk for popular appeal.
Having performed with Carlos Santana, Gary Clark Jr. Gov't Mule, Zakk Wylde, Eric Johnson, Bootsy Collins, Robert Randolph, and many more, Gales has hit his stride with The Bookends. It's no wonder he is now headlining tours not just guitar geeks, but for the general public who loves him.
Gales is wild, he's controlled passion, he's funky groove, and rock solid. You can't listen to any of the 11 tracks on the album and be a passive listener. Gales puts forth so much energy, so much intensity into each track, that just listening to his guitar chops alone, would drop your jaw. But more than that, he's created an exciting, downright fun and moving album with the help of his outstanding band members—MonoNeon on bass, Aaron Haggerty on drums, LaDonna Gales on backing vocals and percussion, and Dylan Wiggins on organ.
After an edgy, rock intro that blasts the roof off any rock jam, "Something's Gotta Give" opens with rhythmic acoustic guitar and Gales' soulful vocals that are better than ever. Syncopated rhythms with flavors of jazz give way to the band and a full on rock/R&B stomper. B. Slade's vocals soar with beautiful tone and emotion. This is an up-tempo feel-good number with a contemporary gospel feel but unlike most contemporary gospel, this has a guitar player who rocks. Gales guitar solos are downright beautiful. The backing vocals add a rich layer to this standout track.

With a harder edge that surfaces several times on the album, "Whatcha Gon' Do" rocks with a foot-stomping beat. Bass player MonoNeon (Prince) pops a mini bass solo that kicks off Eric Gales' stunning, scorcher of a guitar solo. The hair on my arms and neck stood on end.
The Bookends is sophisticated musically. That surfaces in all of the original tunes on the album, including standout, "Southpaw Serenade" featuring Doyle Bramhall II. A slower paced rock/R&B/jazz number with Gales alone on vocals, it's the best I've heard of his singing. Moving and soulful, you can feel that he means every word. The guitar solo is soaring and beautiful—such touch and feel. The guitar tells a story all its own. This song is stunning.
The last few songs on The Bookends take a turn toward the darker side of roots-rock with an edgier feel. There's anger there on "Somebody Lied" and it surfaces not just in the lyrics and the way Gales sings on this catchy rock tune, but in the emotion infused in his guitar playing. Gales is such an expressive player and singer, so much so that you can't walk away without being moved. Gales guitar work is stinging and muscular on this track and there's a certain rawness there.
"With A Little Help From My Friends" features powerhouse vocalist Beth Hart, and she and Gales sing a duet, doing the song justice.
Apparently Eric Gales wanted to challenge himself as a guitarist and as a vocalist on The Bookends. He definitely succeeded. But more than that, the album as a whole is stellar, showing his versatility, his capacity to hone his many gifts.
The Bookends is already in my permanent collection.
For more information on The Bookends by Eric Gales: