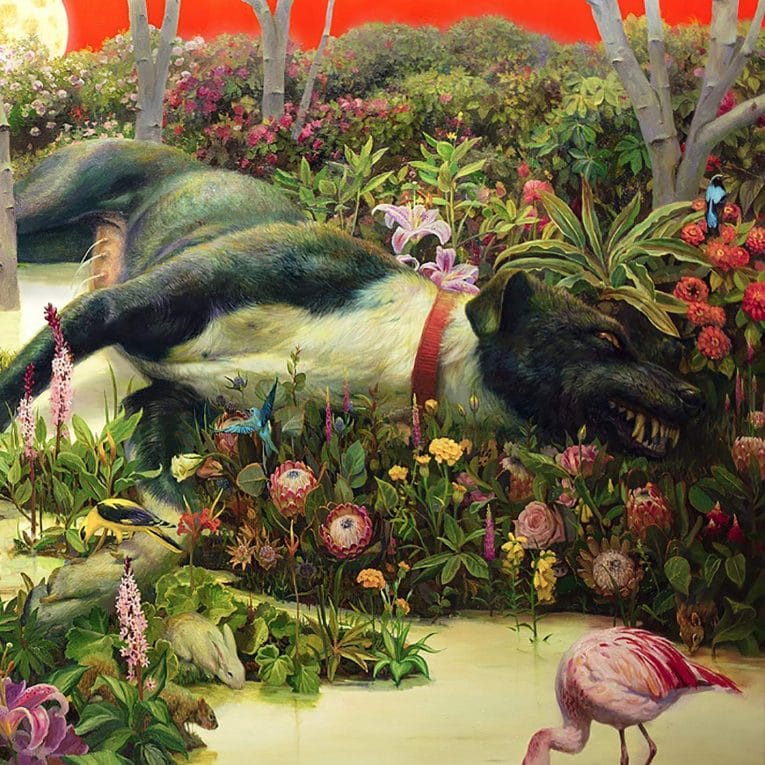 By Dave Resto
Rival Sons celebrate their tenth anniversary as a recording and touring band with their new release, Feral Roots. The album marks another successful collaboration with producer Dave Cobb (Zac Brown, Brandi Carlile, Jason Isbell) on his Nashville-based label, Low Country Sound.
Rival Sons started in Long Beach, California when guitarist Scott Holiday met vocalist Jay Buchanan (then a blues singer) in 2009. The band is rounded out by drummer Michael Miley and bassist Dave Beste. While clearly a hard rocking outfit, their sound defies simple classification. On their sixth full length album, Feral Roots, Rival Sons continue to carve out their own niche in modern rock music.
The opening track "Do Your Worst" serves as the band's mission statement for Feral Roots: everything is on the table. It seamlessly stitches together elements of grunge and glam, with a touch of blues. Cobb's production skills capture the signature garage band growl of Holiday's guitar and juxtaposes it against Buchanan's powerful, cleanly delivered vocals. The crashing, slow-stomping drums are pushed to the front of the mix, with pulsating bass in lock step. The chorus is infectious. With ten tracks to go, you already know you've got your money's worth from this album.
"Sugar on the Bone" features another great buzz saw guitar intro, while Miley bumps up the tempo with some crafty tom-thumping and broken hi-hat beats. The haunting keyboards which are layered in just beneath Buchanan's vocals give things a cool psychedelic feel. Holiday keeps it psychedelic with his 1960s San Francisco Bay Area sounding guitar solo.
"Back in the Woods Again" is a solid gut punch that will knock the wind right out of you. This epic rocker throws in everything – a thundering extended drum intro, an aggressive, snarling bass line, brightly burning guitar and blistering blues-rock vocals. Rival Sons channel Deep Purple, The Cult and Sound Garden to deliver a gem of their own making.
Producer Dave Cobb captures a back country performance on the minute-and-a-half intro to "Look Away." The meandering acoustic guitar, softly droning bass and light-handed percussion give way to a commanding, medium-tempo, stop/go crunch riff. That striking blend of Americana and hard rock continues through the next track, "Feral Roots." Taken together, this section of the album is evocative of the music from Led Zeppelin III.
Other tracks through the middle of this album conjure the energy of bands like Bad Company on "Too Bad" (compare Buchanan's powerhouse vocal performance to
Paul Rodgers
), The Rolling Stones and
The Black Crowes
on the groovy "Stood by Me," and The Black Keys on the slow-stomping riff-rocker "Imperial Joy." Rival Sons remain adept at processing their influences and then turning out their own fresh and vital songs.
"All Directions" begins with ethereal beauty, with strings and angelic backing vocals. On the back half, it picks up an attitude and descends into lovely chaos.
Although informed by great rock music of the past, Rival Sons are not mired in it. The drum machine beat that introduces "End of Forever" and runs throughout the song is refreshing, adding another welcome color to the band's impressive pallet of sounds.
The albums concludes with the hopeful, gospel-infused rocker, "Shooting Stars." A ghostly choir precedes Buchanan's soulful vocals, as he proclaims, "My love is stronger than your hate will ever be!" Holiday layers in acoustic and then electric guitar. The drums and bass come in to propel the song with the strength that this message deserves. Holiday's slide guitar solo is artfully punctuated by the choir and Buchanan's outro vocal with stay with the listener long after the track fades from the ear.
With six albums and an EP in their catalogue, Rival Sons may have made the defining album of their career with Feral Roots.
For more information about Rival Sons: