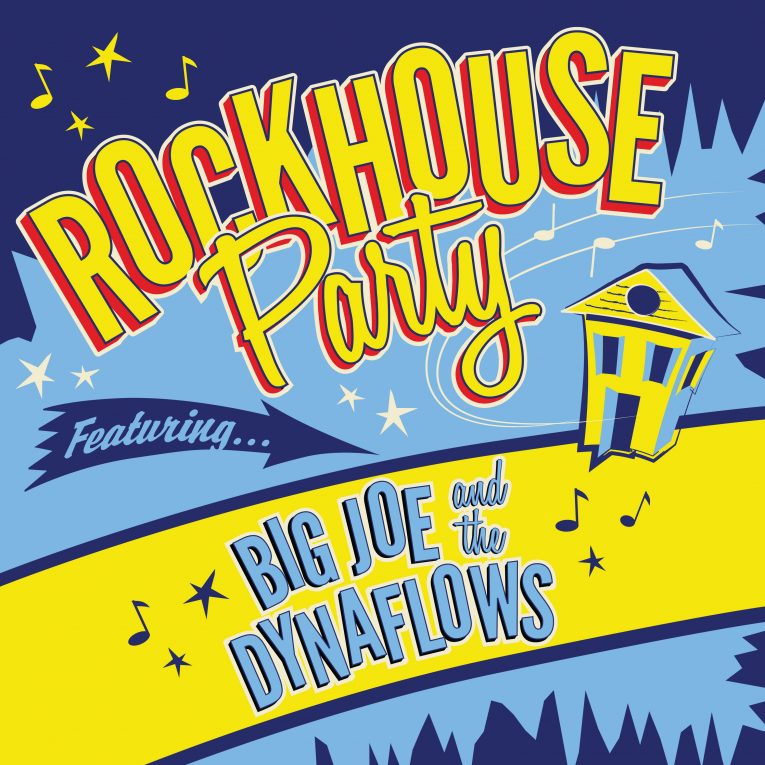 By Mike O'Cull
Big Joe and the Dynaflows is the hot, blue, and righteous Washington, D.C.-based outfit of groove merchants led by drummer/vocalist/entertainer/recording artist Big Joe Maher. Big Joe has been playing blues and jazz music for nearly 50 years. He worked with jazz legends like Mundell Lowe and Clark Terry while still in high school and has been pounding the skins ever since. He has also shared air with blues, soul, and R&B greats like Jimmy Witherspoon, Willie Dixon, Lazy Lester, Bull Moose Jackson, James "Thunderbird" Davis, Nappy Brown, and Otis Rush. His latest release, Rockhouse Party, drops February 15th, 2019 on Severn Records and is a top-shelf record full of everything we all love about the blues.
Maher is that rarest of breeds, a lead-singing drummer, and, as such, controls the two most vital elements of his songs. His pocket is strong and solid, his swing is deep, and his vocals and engaging and expressive. The album opens with a cover of Roosevelt Sykes' "Drivin' Wheel" that is cool and confident and is built on a perfect mid-tempo shuffle feel. Many bands like to open a record with something fast and frantic but Big Joe keeps it wide open and easy, full of the confidence that lots more great music is on the way. His vocals express Sykes' lyrics in a way that keeps listeners tuned in and paying attention to the songwriting skills that created them.
Listen to "Driving Wheel" from Rockhouse Party here. 


Big Joe and the Dynaflows bassist Tom "Mookie" Brill takes over vocals on the heartbreak-heavy "So Mean To Me" and lays every bit of pain in the song out for all to see. It's the kind of track that reminds us that blues is vocal music first and foremost and that it's built on actual songs, not the endless instrumental jamming so common with lesser groups. "Rockhouse Party represents my love of pure blues and R&B," says Big Joe, "The songs I write come from my heart and tell the same story as all the great blues artists have done for the last 100 years: the story of life!" This kind of real human storytelling is somewhat of a lost art in the 21st Century but Big Joe does a fine job of keeping the spirit and tradition of blues music alive without sounding like a history lesson.
"World Gone Wrong" is an emotive slow blues with socially-conscious lyrics about the state of indigo that's washing over our planet and it's worth some close listening time. Co-producer Kevin McKendree lays down sweet piano and organ licks here that add to the track's 3AM atmosphere. Guitarists Robert Frahm and Yates McKendree put in good work, too, and are always right where they should be on the entire album. The set ends with another slow blues, "Two Years of Torture," that shows the entire band's mastery of open space. No one ever overplays and this keeps the mood deliciously soulful.
Big Joe and the Dynaflows have a winner in Rockhouse Party, plain and simple. The record is distributed by MRI/The Orchard/Sony in both CD and LP formats and both versions feature vibrant cover art done by Big Joe's homie Marty Baumann, who works for Disney-Pixar Films. This means it should be available and attracting attention around the world, bring the band to the biggest audience it has ever had. This is definitely one for lovers of vintage sounds but the soul and creativity the album contains will make it a good time for anyone interested in American musical styles. Rockhouse Party is a blast from beginning to end and you should play it for everyone you know. If they don't respond to this session, they might be dead. Pick it up today.
For more information on Big Joe and the Dynaflows: