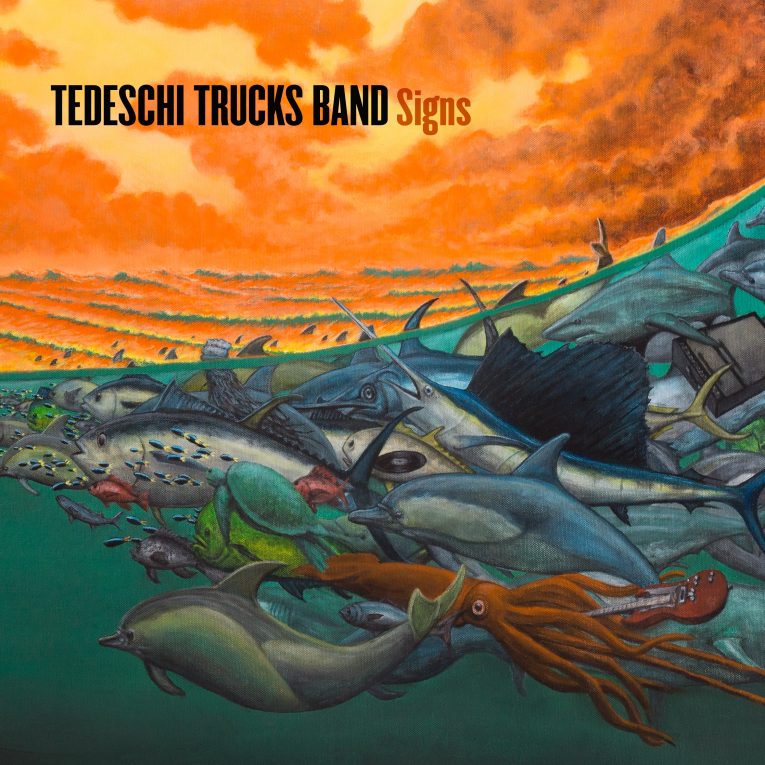 By Tom O'Connor
The always formidable Tedeschi Trucks Band has scheduled a February 15th release date for their new and powerful 11-song collection, Signs on Fantasy Records.
Singer/guitarist Susan Tedeschi teams up again with her guitarist husband, Derek Trucks and their entire supremely talented 12-piece band to deliver a timely state-of-the-union message on their fourth studio album, told in their hard-hitting style of Blues and Americana. This is a record that isn't afraid to explore anxiety and loss while assuring everyone who listens that they, and we, still have plenty of fight left in us. As traditional as the sounds and song shapes might be, this is a band ready to speak honestly about where we are today, and unafraid to take Southern Rock wherever it needs to go next. 
Signs is a true band effort, with songwriting duties shared among the band members with additional contributions from Warren Haynes, Oliver Wood and Doyle Bramhall II. Derek Trucks, Jim Scott and Bobby Tis produced the album.
The sly chugging soul beat of "Signs, High Times" eases you into the album sonically but right out of the gate, the lyrics let you know this isn't going to be an album full of party anthems. The band is going to be speaking from the heart and directly, in no uncertain terms, to the listener. "We been here before. We were just getting ready. No more fooling around." It is a call to arms to all of us, if we're ready. It's a rocking, groove-based number with Susan's voice soaring and souflul.
The message gets more personal, but no less intense on "I'm Gonna Be There." Susan uses a smooth R&B slow jam to reassure a nervous lover, or country, that hope is always alive as long as we stick with each other. Heavier still are Susan's vocals on the emotionally bare "When Will I Begin." A torch song about more than just a love gone wrong, the arrangement swells and expands setting up a guitar break that packs as much emotion as Susan's vocals.
A modern undertone runs through the horn-soaked soul groove of "Walk Through This Life," another popping reminder that hope is always our most powerful and durable weapon. If I didn't know better, I would swear the song is a cover of some timeless Stevie Wonder classic. The light and airy arrangement of "Strengthen What Remains" makes some of the album's heaviest lyrics feel more contemplative than damning. Flute solos over cellos tends to do that, but there is no denying the power behind the message, nor the fearlessness of the band to drop this kind of tune in the middle of a collection of more tradition-bound sounds. With vocals like Susan's, the message goes down easy. And it's a toe-tapper of the best kind with beautiful chord changes, a short slide solo and guitar riffs by one of the most respected guitar players, Derek Trucks.
Speaking of breaking with tradition, "Still Your Mind" opens with a piano interlude before sliding into some of the most quirky tones and rhythms on the album. The music and lyrics, especially in the chorus, hum with the insistence of a good Liz Phair song and once again the emotionally unsettled lead guitar break captures the emotional tone of the song perfectly.
Doing an emotional 180 in an album themed by heaviness and loss, "Hard Case" positively bubbles with hope and reminders of what good times feel like. By the time the funky keyboard break bounces in like another Stevie Wonder cameo, you'll discover your head was already bobbing. The band gets back to heavier subjects and sounds on the bluesy "Shame." While Susan's lyrics call down shame on those who are "poisoning the well" and "murdering the truth" the band unleashes some gut-punch funk in the bridges and choruses that sounds like a protest that is teetering on the edge of becoming a riot, and what could feel more timely than that?
On the wistful and swoony "All The World" Susan's yearning and simply beautiful vocals lean into the sweet and simple groove guided by the horn section and filled out by some exceptional organ work. The band picks up the pace on the big sounds of "They Don't Shine," which finds every corner of the band playing hard, and with intent, on a traditional mid-tempo rocker, like they're going to lift you out of your seats no matter how weird, or bad, the news night be.
This is an album clearly flavored by loss, angst, and apprehension, often on a big scale. Using their formidable chops and obvious chemistry, Tedeschi Trucks Band does a good job of capturing the overall vibe of the country here in 2019. We remember better times and know they can return, but we also know it ain't gonna be easy. The collection, however, closes with the extremely personal. "The Ending" is a tribute song to Col. Bruce Hampton, a friend and mentor to many in the band, who died while playing on stage with Derek and Susan, during his 70th birthday celebration/concert. As always, when a song or story is this specific, it somehow manages to tap into something universal – about the nature of life, the inevitability of loss and the duty we have to carry on anyway. This album is your soundtrack to 2019.
For more information on Signs by the Tedeschi Trucks Band: