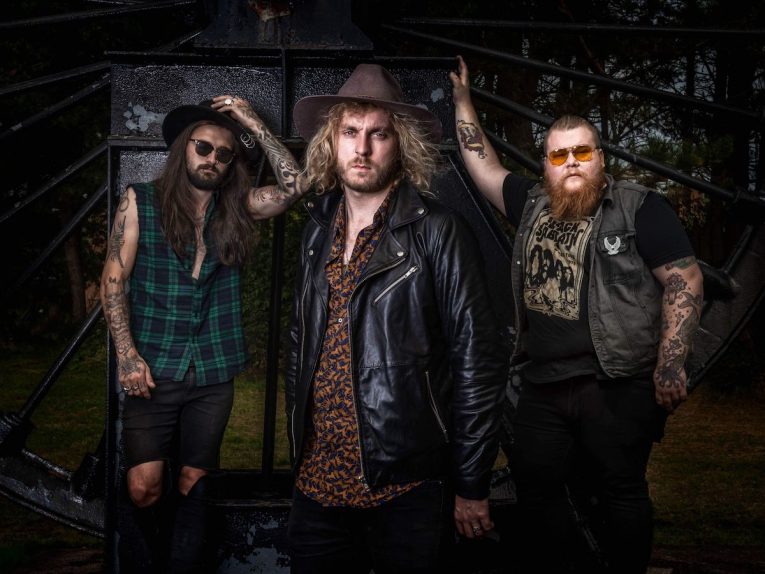 Formerly the badass UK rock band, The Bad Flowers, these West Midlands blues rockers released their debut album 'Starting Gun' in February 2018. The trio quickly became one of the most electrifying blues-rock outfits to emerge from the UK scene in recent history. Prompting high praise from all angles, the band performed a number of live dates and festivals with a memorable array of raunchy riffs, passionate lyrics and awe-inspiring energy.
Tom Leighton, Dale Tonks and Karl Selickis undoubtedly left their mark on the UK rock scene as The Bad Flowers, yet despite gaining reputation for harboring an unmatched display of powerful rock 'n' roll grit – both on stage and through stereo speakers – the band needed to evolve…to become something bigger.
Emerging in 2019 with a brand new identity and a renewed sense of purpose, Wolf Jaw personify their namesake with a grizzly rock 'n' roll snarl – a beast with bark as bad as its bite.
"Our change of name is a reflection of the new sound that we're striving to create," comments Leighton. "We're going more dirty, gritty and hard-hitting. We felt now was the right time to evolve our sound and go for something even bigger. We've been working hard writing songs for a new record and this new identity has given us a new lease of life. We can't wait to share this music with the world!"
With thunderous riffs and a shout-worthy chorus, "I Lose My Mind" will leave a lasting impression on fans as an early taste of Wolf Jaw's sophomore studio album.
Wolf Jaw
formed from the depths of the Black Country in 2014, their sound is steeped in raw passionate energy of the Black Country's 70s heroes, while at the same time staying in tune with 21
st 
century rock.
Rising up the ranks, Wolf Jaw released a self-titled EP in 2016 and opened for Canadian rockers The Sheepdogs, the band went on to perform with the likes of Jared James Nichols, Crobot, and Scorpion Child.
"I Lose My Mind' is the first statement of intent. This track was written really quickly, with only one rehearsal before we took to the studio, where our goal was to create these mammoth-sounding, nasty guitar riffs and a pounding rhythm section. Lyrically it's dark and meaningful, driven by a sense of confusion mixed with anger and angst. This song is very personal to me, and shows some of the internal struggles I have faced during the past year, but I think we all experience moments where our world gets flipped on its head and you don't really know where to turn. We're all human, we all lose it sometimes and that's what this single is all about – that feeling that you just need to let it all out." –Tom Leighton, Vocals & Guitars
Wolf Jaw:
Tom Leighton – Guitar/Vocals
Dale Tonks – Bass/Vocals
Karl Selickis – Drums
For more information on Wolf Jaw:
Facebook https://www.facebook.com/thisiswolfjaw/
Instagram @thisiswolfjaw