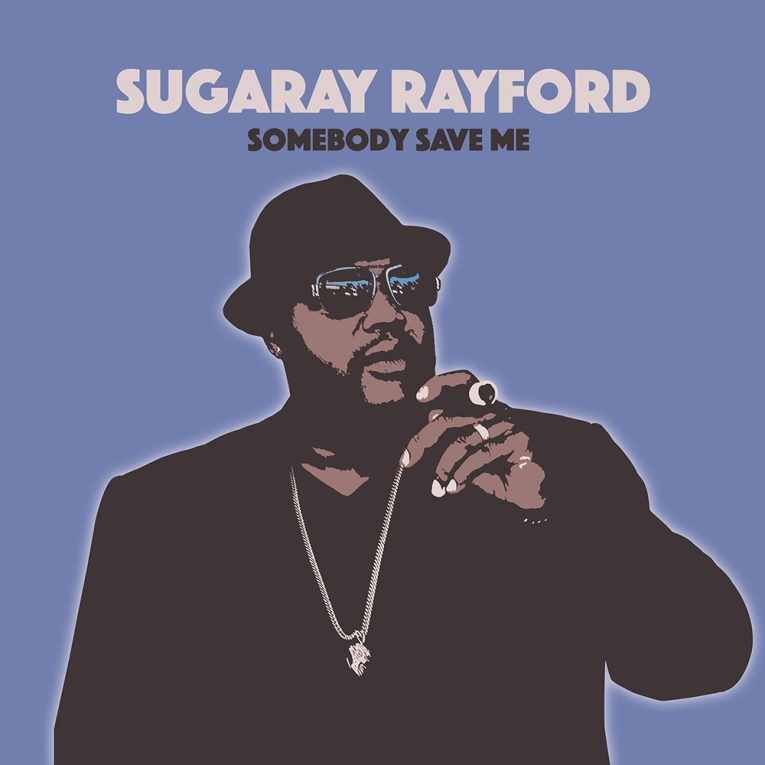 By Martine Ehrenclou
Nominated for four Blues Music Awards, including "BB King Entertainer of the Year," powerhouse, soul-blues singer, Sugaray Rayford will release Somebody Save Me on March 1, 2019 via Forty Below Records and produced by its founder, Eric Corne.
A fierce vocalist and performer, Sugaray Rayford lets loose on 10 original new blues, soul and rock n' roll tracks, written by Corne. Vocalists like Sugaray Rayford don't come along every day. He's raw talent with a voice like a canon, but with pure groove and emotion. Rayford has the capacity to caress slow songs like a modern day Teddy Pendergrass or grab the wheel of an up-tempo number and steer it home with soulful command.
This is the case on Somebody Save Me. Sugaray Rayford has the vocal chops to die for, but he's got something else—it's called star power and charisma. And there's no way you can manufacture any of that with auto-tune or Pro Tools. This guy's got 'It." See if you don't agree by clicking the first track, "The Revelator."
Opening with a heavy downbeat and bass line not unlike some 90's hip hop, this song takes off as Sugaray blasts the R&B-soul-blues track with his dynamic and spirited voice. He grabs this song with both hands and digs deep. He's feeling it–and the groove. And so was I. This is a song I want to see Sugaray perform live. You've got the soul factor with the backing singers (wah-oo wah-oo) and some kind of stellar trumpet solo—then the song glides back to that heavy base line.
It's more than great vocal chops. Sugaray throws his larger than life personality into the track and takes control from the front seat of that song.
"Time To Get Movin'" is a rocking blues number with plenty of social commentary. It's an up-tempo song with great rhythm and catchy guitar riffs. Sugaray gets behind this song with his old school voice and passion. This is one tight band that includes guitarist Rick Holmstrom, bassist Taras Prodaniuk, drummer Matt Tecu, keyboardist Sasha Smith, guitarist Eamon Ryland and the horn section from Late Night with Conan O'Brien. A couple of nice harp riffs fill out the track courtesy of Eric Corne. This is yet another song that's perfect for a vocalist like Sugaray.
There are some soul songs on the album like "You and I," complete with the insanely tight horn section that creates a good platform for Sugaray–he sinks his teeth into this soul blues tune as well. You can just hear who Sugaray is when you listen to this track and others on the album. With some strong backing vocals, this is a classic up-tempo, soul/R&B tune with groove.
"I'd Kill For You Honey" is a standout track on the record with swampy groove and slide guitar. The drummer, Matt Tecu, locks it down tight with some great rhythm. This band boasts outstanding musicianship. Sugaray is in good company and he kills it on this one. He growls, he sings softly with plenty of body and soul, and works his magic on an already stellar tune.

With almost a Zydeco rhythm, "Sometimes You Get the Bear (And Sometimes the Bear Gets You)" is another standout, with a swampy, lively feel that shifts mid-song into a blues shuffle, complete with classic blues guitar riffs. Sugaray's magnetic vocals could almost overpower a song or a band, but he works it like the seasoned pro that he is.
The title track "Somebody Save Me" is a vintage soul crooner and Sugaray's deep, soulful voice is a touch of velvet. I could do without the effects on the organ solo but those don't detract from this being a deeply moving song. Sugaray sings it not just with controlled vocal power but with enough emotion to get you out of your seat and into the arms of your Honey on the dance floor.
The album closes with a winner, "Dark Night Of The Soul," a hot, slower soul-blues number with sultry horns and backing singers. Sugaray is right on time with his phrasing and vocal punch. It seems that he's in his element, steering this track into the pocket of rhythm.
Sugaray is a singer to be reckoned with–authentic, gutsy, and with vocal chops you just have to be born with and hone. He's the real deal.
For more information on Somebody Save Me by Sugaray Rayford:
Pre-order link https://smarturl.it/SomebodySaveMe