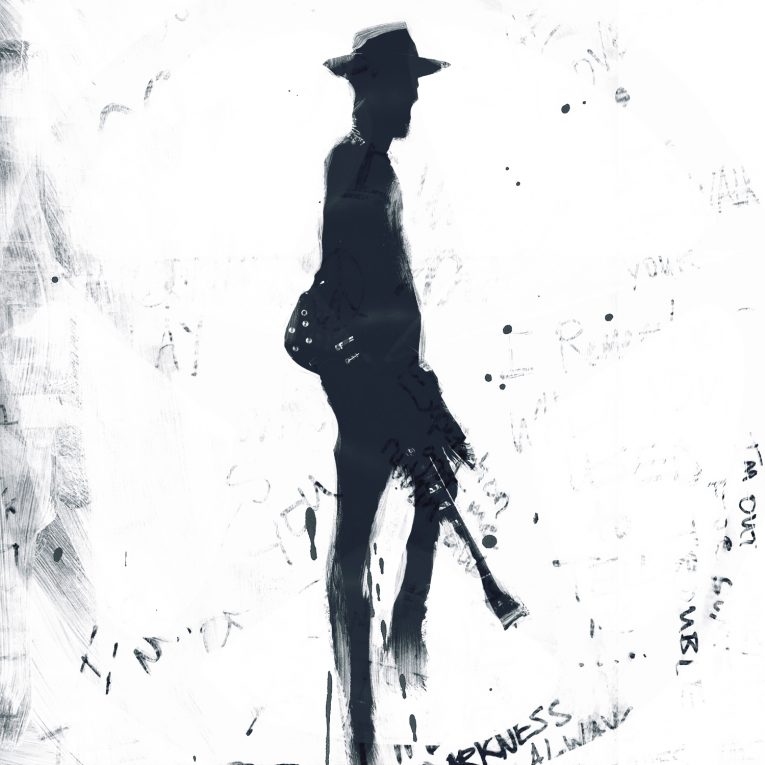 By Tom O'Connor
Expect fireworks on February 22nd when Warner Bros. Records releases Gary Clark Jr's third major label studio album, the vast and uncompromising This Land. The long-awaited follow-up to his chart-topping 2015 album The Story of Sonny Boy Slim, this new 16-track collection (including bonus material) might turn out to be a career-defining disc for the blues guitar virtuoso whose songwriting chops and POV have definitely caught up with his playing.
Stretching the fabric of his Blues to include strains of hip-hop, funk, reggae and even some punk rock, Clark pushes the structural and sonic boundaries most people have in mind when they hear the phrase "blues album" to create an artist's statement-of-purpose as well as a document that captures the state-of-mind of many in America, version 2019. He does it with more than just "guitar and vocals" too.
While Gary Clark Jr. does enlist the talents of some heavy-hitting musicians such as drummers Brannen Temple and JJ Johnson as well as Mike Elizondo's ready-for-anything bass on the record, and brings in some impressive special guests like Sheila E to add even more sonic layers, Clark himself is also credited on various tracks for bass, keyboards and "programming" of percussion elements. This multi-instrumentalist approach, as well as his occasional falsetto vocals, could give Prince a run for his money.
Title track and first single "This Land" has already made some waves, and for good reason. Opening with some crunchy Casiotone-esque keyboard tones laid over an unmistakable reggae shuffle, Gary Clark Jr. is letting you know from the outset that he won't be hemmed in by "tradition." He uses every tool at his disposal to get his points across. Those points couldn't be clearer than the lyrics he lays down in this battle cry of an album opener, as he tells his truth about the still-rampant racism experienced by people of color regardless of their socio-economic status. That mindset continues on through the glorious call-to-arms "What About Us," which is another declaration that change is coming, and it is about time.
Gears switch on "I Got My Eyes On You," a slow-building blues torch song about steady lovin' with some slick R&B elements that saves the guitar fireworks for the big ending.
Leaning more toward lust than love, "Feeling Like A Million" is the closest this album is going to come to a party anthem. Once again working from a reggae framework, Clark and the band push the song as far as it'll go, morphing the tune from Dancehall Reggae to something you wouldn't be surprised to hear in any rock club in the country. As if to further prove his versatility, the straight-ahead moshpit-inducing rocker "Gotta Get Into Something" then blasts out of your speakers like a forgotten
Buzzcocks
B-side.
Clark and the band swerve back into the experimental lane on "Got to Get Up" which builds on a foundation of wobbly vibrato-ed guitar chords and a popping horn figure to create something new and powerful enough to carry his take-to-the-streets-people message. The social message in "Feed the Babies" comes wrapped in a soul-smooth package that would make Marvin Gaye or Curtis Mayfield nod in approval. Once again Clark juxtaposes his crisp, upfront guitar with his floating, sweet falsetto vocal, while the band powers through a funky soul groove that sounds as 2019 as it does 1973, and that ain't easy.
The soft vocals continue on "Pearl Cadillac." This time they sweeten a powerfully heart-felt ode to the internal battle between the duties of home and the necessity of the road, and the un-repayable debt a child owes a dedicated parent. If you think that's a lot to cram into one song, I would usually agree with you. Gary Clark Jr makes it look and sound easy.
In a return to more difficult themes, "Low Down Rolling Stone" tells a darker tale of a man discovering, to his horror, that he's "reached a point where darkness is my comfort zone." That's a tough place for anyone to find themselves and Clark and the band make it sound as difficult and scary as it should.
All this sets up, for me anyway, one of the most impressive tracks in the collection. Almost buried at number 14 "Don't Wait Till Tomorrow" is impressive in its ambitions and innovative combinations. Audio tape loops combine with power chords and secondary percussion to create a fairly dazzling hybrid of a song. It finds our hero in the less-than-heroic position of having to deny infidelity and beg for the kind of forgiveness and grace that rarely follows. It is a tale older than the Blues, told in a way that could have only come from Clark's musical head in 2019. A clear example of a musician on a mission to use all of his interests and influences, with nothing "off limits" to get his point across. I've replayed this track more than any other.
After a couple of fairly restrained tracks, the reggae bass groove returns to drive the powerfully psychedelic and slightly unhinged instrumental "Highway 71.' This is Clark's chance to let his guitar do all the talking, and he doesn't let the opportunity pass him by. If you needed reminding about what impressed you so much about GCjr in the first place, this free range, galloping solo is it.
The album closes with "Dirty Dishes Blues," a traditional-sounding blues workout, a little more polished than the informal "The Governor" we heard earlier, but every bit as traditional. The tune showcases Clark's mastery of the blues form, and still manages to also deliver a timely sideways glance at the US justice system.
That is part of what makes This Land special and likely to be one of the most important albums of the year. It isn't about paying homage, it is about Mr. Clark the artist, having his say in this troubled time by bending the blues to fit what he is feeling. As he explores the edges of the known blues, it never feels like a detour or departure. It feels like an idea that is always moving, ever forward. Gary Clark Jr. Is taking us all there with him.
Pre-order link for This Land by Gary Clark Jr