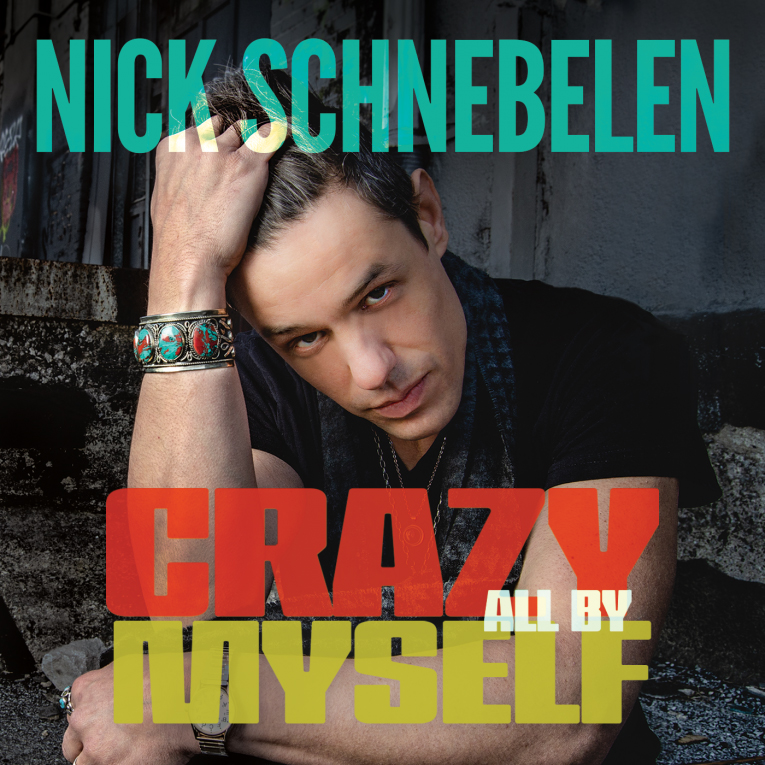 By Tom O'Connor
The Vizztone Label Group continues to nurture the future of the blues with the March 1 release of Nick Schnebelen's Crazy All By Myself. This 13 track solo debut album, produced by long-time collaborator, the Grammy award-winning Tony Braunagel and featuring members of Taj Mahal's Phantom Blues Band, is a powerful statement from an emerging blues artist who is still staking out his territory on the blues map.
While Nick's playing runs the gamut of Blues styles, there is a definite focus on city-fied, low-down blues in this collection. Opening track "Lil Death" sets this tone early with a mid-tempo groove doused with buckets of tone and attitude, as Nick and the band tell a story that might eventually become a cautionary tale but is still in the early, fun stages of the debauch. This is immediately followed by "It Ain't Me" another scuttle-buttin' tale about the struggle to avoid bad decisions, dangerous women and all the usual temptations that seem too good to miss out on, but end up costing too much in the end.
The tempo and the party get taken up a notch or two in the piano-driven honky tonk of "Ain't Got Time For The Blues." A dance floor friendly story about the new girl who is putting the wind back in your sails and making you forget your troubles. This is also the listener's first chance to hear Nick Schnebelen deliver the kind of poppin' and party-ready lead break that takes a good tune to the next level. The piano continues to carry the groove on title track "Crazy All By Myself" but Nick's guitar is, at this point, ready to break free and soar. This is the first of many tracks that remind you why Schnebelen has already received an "Albert King Award" for his guitar prowess.
Sooner or later, we're all sacrificed on the "Altar of Love," but that doesn't mean it can't also be a kick-ass party. This swinging tune jumps out of the speakers in a way that'll make you drive faster, or run to the nearest dance floor. The band keeps up with Nick's slide-powered guitar mayhem as well as with the hard-blowing harmonica fireworks. The gears get shifted to slow burn mode on "Bad Disposition with the Blues" which leaves the city behind for the swampy menace of a slide guitar, a syrupy slow tempo and a truly menacing harmonica. The tempo stays slow on "Bad Dream" but takes an entirely different stylistic direction; polished and smooth urban blues with no extra flourishes.
We stay on the blue-eyed-soul side of the city on "Soul Magic." A tune about hopeful, early love and the most obvious cover-bait song in the collection. A listener can easily imagine their favorite blues/soul/jazz performer, male or female, covering this tune, which is always a sure sign that you're dealing with not just the latest guitar hotshot but with an actual songwriter of some skill and depth. Things get a little more physical on "I'm A Fatboy" a very Harley-Davidson specific party-rocking blues that finds Nick's slide guitar breaks gliding over the tune like a Heritage Classic glides over fresh pavement.
Nick Schnebelen and the band slow down to torch song tempo on "I Leaned My Heart On You." When you've promised all and given all…what is left? Nick again proves that his singing and songwriting chops can rival his guitar playing – and if the lyrics weren't already enough to crack your hardened heart, his extended lead break on this one takes you through every appropriate emotion for a love gone wrong. Another stand out track in no hurry to impress you, because he knows it will.
After that emotional and musical high point, Schnebelen and the band keep things on the lighter side in the closing tracks. We're back in the honky-tonk for "Out of Bad Luck," a piano-driven mid-tempo blues walk in the "you can't keep a good man down, but it can be a loooong way back to '"up'" vein. The toe-tapping "Monkey Around" is a light-hearted SRV-like romp.
Album closer "Holding On" is a leisurely torch song about the kind of done-me-wrong woman you always hope will come back again anyway. Nick closes out the song and the collection with one last on-the-money lead break, included to add to the feeling behind the lyrics, not just to show off some guitar heroics. That is a level of confidence and maturity rarely seen in a debut solo album. Clearly, Nick feels certain he has more albums in him, and that he'll get more opportunities to make them. I believe he will too.
For more information on Crazy All By Myself  by Nick Schnebelen: