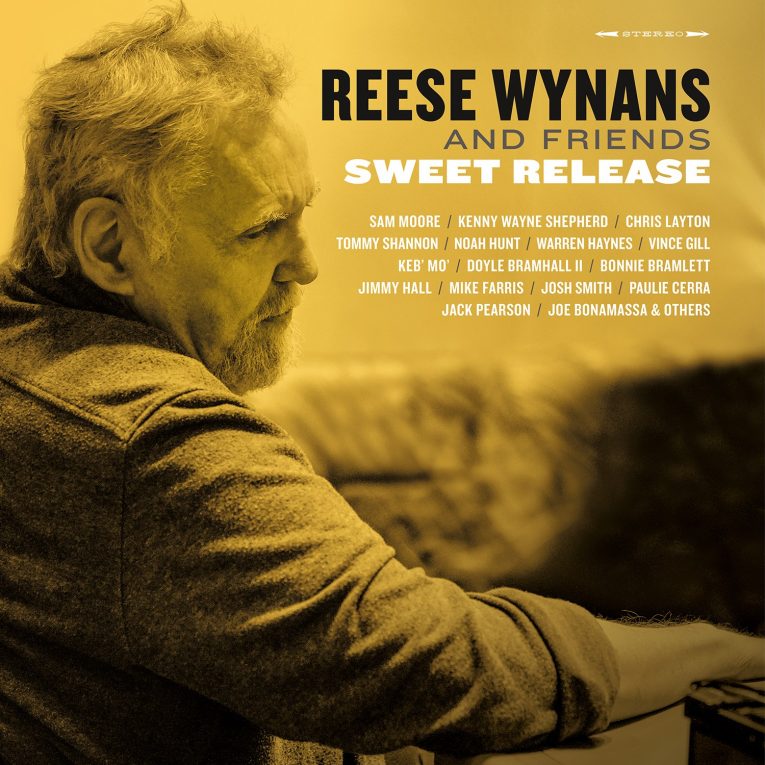 By Mike O'Cull
Superstar roots music keyboardist Reese Wynans has, after more than 50 years in the music business, finally released his debut album as a bandleader and it's everything you'd expect it to be and more. Titled Sweet Release, the set drops March 1st, 2019 on the Mascot Label Group/Provogue Records imprint. The record also marks guitarist Joe Bonamassa's maiden voyage as a producer and he and Wynans make just as much magic here as they do onstage with Joe's band, which Reese joined in 2015.
Wynans is practically a brand name when it comes to blues/rock piano and organ playing. He's most famous for his years with Stevie Ray Vaughan and Double Trouble but Wynans has worked with a string of luminaries since the late 60s that includes Duane Allman, Dickie Betts, Boz Scaggs, Carole King, Larry Carlton, Delbert McClinton, Los Lonely Boys, Joe Ely, Doug Sahm, Brooks & Dunn, Joe Bonamassa, Trisha Yearwood, Martina McBride, Hank Williams Jr., Buddy Guy, Willie Nelson, and many more. Thankfully, Wynans has lost none of his fire over the years and Sweet Release contains performances that would blow any roof in the world clean off.
As you'd expect, Wynans has an incredible supporting cast on these sessions and it's pretty much a dream team situation. The record opens with SRV's "Crossfire" performed with Double Trouble bassist and drummer Tommy Shannon and Chris Layton, guitarist Kenny Wayne Shepherd, vocal icon Sam Moore of Sam & Dave, guitarist Jack Pearson, and The Texacali Horns. Yeah, it's like that. Wynans and his famous friends groove hard and rock out, setting the tone for the rest of the album. There are other SRV tunes on Sweet Release but Wynans' cover of Stevie's legendary "Riviera Paradise" with both Kenny Wayne and Bonamassa playing guitar is especially cool.
"That Driving Beat" is a blast of funky 60s-style R&B that features vocalists Mike Farris and
Paulie Cerra
. Cerra also tears up some sax on the track and helps raise the temperature in the room even higher. The title cut, "Sweet Release" by Boz Scaggs, is uplifting and sanctified. It's a gospel-influenced, soulful gem featuring vocal turns from Cerra, Farris, Keb' Mo', Jimmy Hall, Bonnie Bramlett, Vince Gill, and Warren Haynes. Wynans also does a raveup cover of Harlan Howard's "Shape I'm In" that is houserocker certified and potent enough to turn goat's milk into gasoline. Deeper in, Keb' Mo' and Wynans team up to channel a bit of the blues' piano-and-resonator past on the duet "I've Got The Right To Be Blue" and rub that old school thing just right, which purists everywhere will appreciate.
The album closes with Wynans alone at the piano turning in an inspired solo take on the Beatles classic "Blackbird." Reese expresses himself all over this one and the track is a classy way of winding down after the intensity of the rest of the record. We don't get to catch Wynans by himself too often, as he is usually found improving other folks' sessions, and hearing him play this freely and openly is a treat.
With this long-overdue solo effort, Reese Wynans has done practically everything possible with his instruments besides strap engines to them and fly them through the sky. He is a towering talent who has spent his life playing behind other giants and it's good to witness him stretching out on his own. Will this be a regular thing? Who knows but it sure is a fine bunch of music. Sweet Release captures one of America's top musicians at the peak of his powers. If you've ever dug anything Wynans has done in the past, you're going to love this one.
For more information on Sweet Release by Reese Wynans: