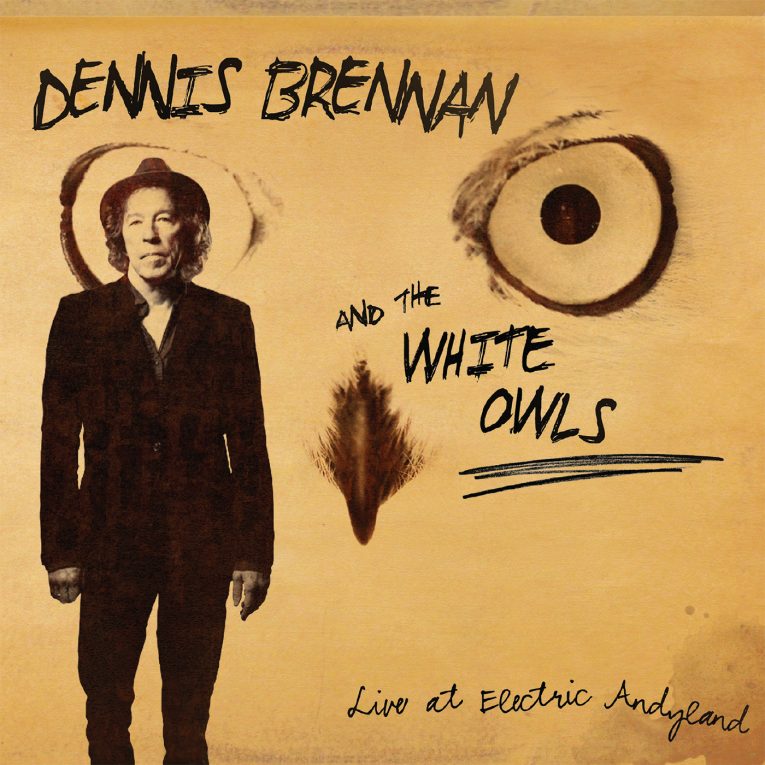 By Tom O'Connor
Boston singer/songwriter stalwart Dennis Brennan and his band The White Owls have partnered with Vizztone Records for the album "Live from Electric Andyland " scheduled for release on March 15th. This collection of a dozen tracks with three originals and the rest covers, is a tight and concise slice of blues, created by a band that has clearly put in the kind of time it takes for members to find their own sonic space and fronted by a guy who you can tell is singing and playing his blues harmonica for all the right reasons.
Even with a prodigiously talented band playing flat-out, Andrew Plaisted's drums and Jim Haggerty's bass holding the rhythm steady, Tim Gears and Stephen Sadler's ever-ready guitars having their say and David Westner's keyboard skills filling out the sound, there is still plenty of room for Brennan's expressive voice and volatile harmonica-playing. This is a band that sounds like it can blow the roof off a joint without breaking a sweat.
The collection opens with Johnny "Guitar" Watson's "Cutting In" which sounds so lived in and familiar, you'll think you heard it in a Scorsese movie during a slo-mo tracking shot of the fem fatale's entrance, or maybe it used to be on the jukebox at your favorite day-drinking bar. The Chicago Blues-inspired spirit continues on the swaggering "Nothin' But Love." A song about looking for trouble and settling scores, and the first taste of Brennan's biting, no-nonsense harmonica playing. The vibe turns closer to Rockabilly by way of Little Feat on Big Al Downing's "Yes' I'm Loving You," a tune that'll get everyone on the dance floor.
The band slows things down to torch song tempo as they rework the original, folkish "End of the Blues" into a full-on blues ballad that feels right as rain "We unravel, but we keep looking for the end of the blues"–preach it brother. "Good Lover" is a sly come-on of a song about a guy who knows he has plenty to offer the ladies, but it ain't money. Possibly the oldest cover in the collection, "The (New) Call of the Freaks" launches with marching drums and extended an instrumental open that would pull you off the street and into any juke joint you heard it pouring out of, and that's before yet another spot-on harmonica break paired with some inventive guitar shenanigans.
You could tango to the original, "Tangle." It certainly has the right kind of insistent cadence pulsing out of the rhythm section, sinister-sounding lyrics coming from a love-lorn singer and that feeling of strangely tropical bewitchment hovering over it. The hoodoo stomp and harmonica-driven swampiness return on the original "Three Kinds of Blues," where we are introduced to a down-on-his-luck protagonist who "greets the world all alone except for three kinds of blues," and you can feel all three of them.
The upside of the Blues life follows with "I Live The Life I Love." The slow slinky strut of this city blues is driven by the buzzy slide guitar break and the unapologetic vocals. The tempo bounces almost into zydeco territory on the blustery "FoolKiller." This tune is a definite showcase for a tight band playing an intricate little rhythm that still manages to find sonic room for everyone – and that's before you even get to the harmonica break that pushes the slide guitar even further into the upper atmosphere.
After so much swagger and good-timin' music, Brennan and the White Owls close the album with a couple of big and fairly successful swings. They rework
Leadbelly's
chaotic "I'm On My Last Go Round," turning it into an almost Clapton-esque high-speed chase. This version has the feel of a song the band uses as a high-energy set-closer when playing live. Finally, the collection closes with a cover of the lesser known 
Rolling Stones
gem "No Expectations." Here Brennan and the band really shine by playing it totally straight and heavy. No tongue-in-cheek for the lyrics and no sideways wink in the music, just a band leaning hard into a good song and letting it do the heavy lifting. The band feels this one, and they want you to feel it too… and in the end, isn't that what this music stuff is really all about?
It is a safe guess that Brennan and the White Owls have saved a few bad nights for people with their crowd-pleasing vibe and this album certainly captures that feel. If you slapped this album on the turntable at a party (do people still do that?) I know no one would complain and you just might get some props for kicking things up a notch.
For more information on Dennis Brennan and the White Owls: