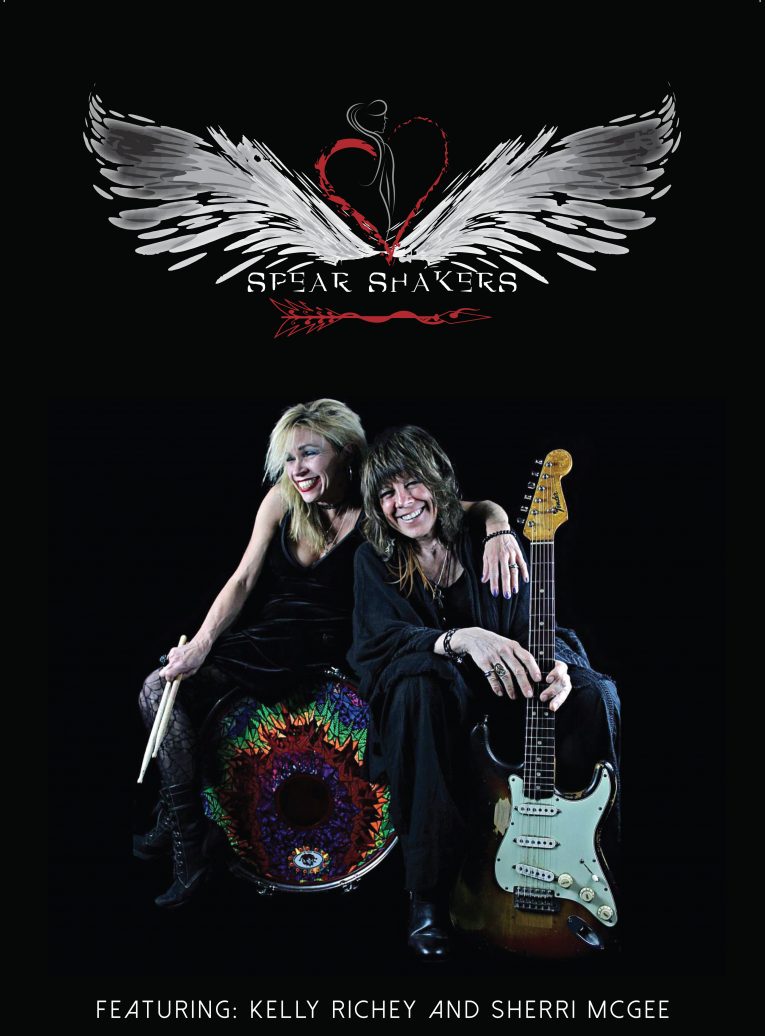 In honor of International Women's Day, we are featuring The Spear Shakers video "Something's Going On" by blues-rockers Kelly Richey and Sherri McGee.
The Spear Shakers features Kelly Richey on lead guitar and vocals and Sherri McGee on drums. The raw power, electrifying force and psychedelic sound of these two stars is certainly powerful. McGee's blues-rock grooves lay a thundering foundation for Richey's masterful guitar jams. They are badass musicians. It's hardcore blues-rock on steroids, a blistering, in-your-face tour de force.
Kelly Richey's vision to develop and all-original female blues-rock power duo was inspired by her love for bands like the White Stripes, The Kills, The Flat Duo and the Black Keys.
About Kelly Richey
Kelly Richey is one of the hardest-working independent musicians in the music business today. When it comes to touring, this Cincinnati-based blues rocker can truly claim the title "Queen of the Road Warriors." The veteran guitar-slinger has covered the USA, Canada, Europe and Australia in her 30-year career. Fronting her blues/rock power trio, Kelly has played over 4,000 shows, logged a mind-boggling 1 million road miles (and counting) and released 16 albums on her private label, Sweet Lucy Records, earning her reputation as a master guitarist and singer/songwriter. This ain't no polite, watered-down sound.
Born in Lexington, Kentucky but living in Cincinnati since 2000, Kelly Richey started playing guitar at the age of 15. The late Lonnie Mack was so impressed with her hyper-muscular playing and singing that he described her as "Stevie Ray Vaughan trapped in a woman's body." Listed among the "top 100 gifted guitarists" by the influential Truefire Community, Kelly frequently draws comparisons to guitar icons from Stevie Ray to Jimi Hendrix. Throughout her career, Richey has shared the stage with legends like Lonnie Mack and Albert King and has opened for Boston, Heart, Joe Cocker, Lita Ford, Johnny Winter, Edgar Winter, Walter Trout, Little Feat, Foghat, REO Speedwagon, George Thorogood, Average White Band, Robben Ford, Warren Zevon, and James Brown.
About Sherri McGee
Sherri McGee knew she wanted to play drums since she was a toddler. Before getting a real drum kit, she played along to Tom Jones and Monkees records using two hairbrushes on a green Naugahyde recliner, and one of her earliest influences was watching Karen Carpenter on TV. Sherri has been called a cross between Patsy Cline and John Bonham.
Sherri started playing drums when she joined the 5th-grade school band in Glasgow, KY. By the time Sherri entered high school she was in marching band, concert band, stage band, and pep band as section leader and lead snare drummer. At age 15, she joined The Flying Scotsmen, a 17-piece swing/Big band of male adults. After high school, Sherri moved to Lexington, KY where she played top bass drum in the University of Kentucky marching band.
Sherri quickly became part of the Lexington local music scene in the Twinkettes, as one of three females fronting a Motown-type band, and Spree 33, a versatile new wave cover band. She was a founding member of Velvet Elvis, an original pop/rock band that released an EP and a full album before securing a record contract with Enigma Records. Velvet Elvis released a record produced by Mitch Easter and toured extensively; shot two videos for MTV, and were favorably reviewed in Musician Magazine and Rolling Stone, among many other industry publications. They opened for Let's Active, Adrian Belew and the Bears, and UB40 to name a few.
For more information about The Spear Shakers: