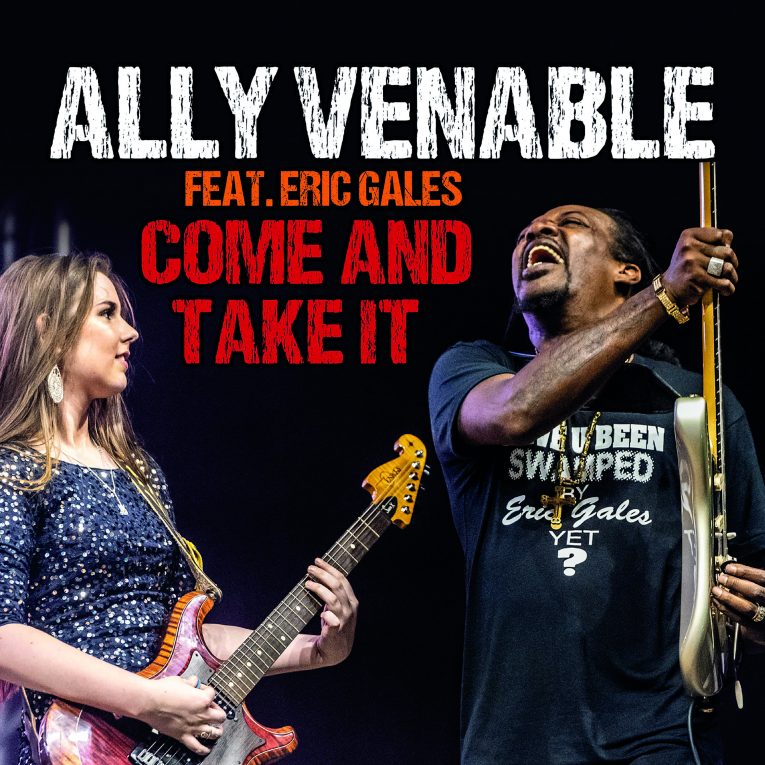 We are excited to premiere "Come And Take It" by Ally Venable with Eric Gales off Venable's upcoming album, Texas Honey out March 22, 2019 via Ruf Records.
What a song, and with these two great talents on guitar and vocals, look out blues-rock world, here they come!
"I'm so excited that Eric is a part of 'Come and Take it' I look up to him so much as a guitar player and performer, it means so much to me. Can't wait for y'all to hear!" – Ally Venable
"What can I say. It was a huge honor and privilege to be a part of Ally's new record coming out. I'm sure all will love what they hear. I sure know I do!!! #BOOOOOM" -Eric Gales
Listen to these guitar slingers play together on this awesome song. "Come And Take It."


A powerhouse from Texas, the Ally Venable band has ignited excitement in the modern blues scene. Lead singer and guitarist, Venable has received many awards including two-time win for "Female Guitarist of the Year" and three time winner of "Blues Band of Year" "Album of the Year" by ETX Music Awards.
Ally's recent album Puppet Show debuted at #7 on the Billboard Blues Charts.
Venable might only be hitting her twenties, but long-term fans will know this isn't Ally's first rodeo. Rewind to her childhood in the post-millennium and this rising star found her voice in church, but it was the influence of fiery Texas guitar-slingers like SRV and the melodic smarts of Miranda Lambert that showed her the path. "What's cool about Stevie is that he introduced so many people that didn't know about blues to this music," she reflects. "And that's what my goal is to do with my music."
With Ally's soulful vocals, burn-it-down fretwork and heart-on-sleeve songcraft, Texas was hers for the taking. Detonating venues across the South and holding their own as support for titans like Lance Lopez and Eric Gales, Ally's lineup of Bobby Wallace (bass) and Elijah Owings (drums) proved a power-trio to rank alongside the best. "I take in that Texas guitar-slinging influence in my shows and songwriting," she explains. "My band is a three-piece, so it's a 'right-in-your-face' power-trio."
But it's all been leading to Ally Venable's upcoming album, Texas Honey, produced by Mike Zito who turned the killer songs in her back pocket into the album of her career. "On this album," Ally reflects, "it's still guitar-oriented, but I focused more on the songwriting, the hooks and melodies. I try and write about what goes on in my life, or something that I feel can relate to others. I want my songs to be a release for people, something they can play and enjoy."
Expect some sweetness – and plenty of sting on Ally Venable's upcoming album, Texas Honey. Opener "Long Way Home" sets the pace, fusing a twanged riff, white-hot solo and anthemic chorus. "One-Sided Misunderstanding" pairs a reflective verse with an overdriven chorus, before "Running After You" offers a bad-tempered buzz saw riff and a lyric that tells it straight ("If you want to leave then go/But just know I'm not running after you").
"Broken" has a gritty verse that builds to a knockout chorus, while "Blind To Bad Love" is a moody half-time strut that finds Ally caught under the spell of a bad lover ("I've tried everything to get you out of my head"). The title track serves up a growling riff and a solo that races the length of the fretboard, while "White Flag" is positively vicious, with a distorted vocal, scything licks and sneered solo.
For more information on Texas Honey by Ally Venable: