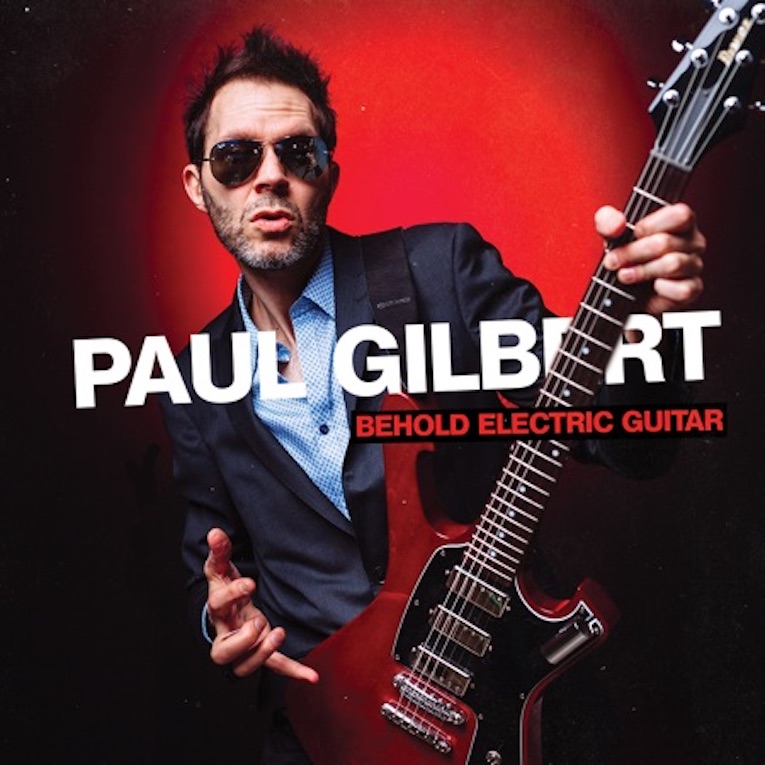 Paul Gilbert, master guitarist, to release new album, Behold Electric Guitar, out May 17, 2019, on Music Theory Recordings. Paul Gilbert's newest album features 12 new original songs, all with Paul's most expressive, and inspired guitar playing to date.
Most songs are instrumental, except for his poem, "A Herd of Turtles", where Paul opted his best Liverpudlian accent to recite his poem of hope, and inserted some ferocious funk riffs for musical contrast in between.
The songwriting process on Behold Electric Guitar is interesting, and not what you would expect from a virtuoso shredder like Paul.
Paul started most of the songs by writing lyrics first. Then the melody, with the right chords, arrangement and groove is formed. And then the lyrics are translated to a guitar melody, completely tossing out the lyrics. The result is Paul's most expressive and inspired guitar playing to date.
Behold Electric Guitar will be released worldwide on CD, double vinyl and digitally. The vinyl is limited to 1000 copies, and includes a code for a complimentary MP3 download of the album.
"I finally wrote a song with long guitar solos! It took me decades to stretch beyond my pop song structure habits, and it feels great to be FREE, and just play, and play, and play. The song still has melodies and themes, and those were inspired by the idea that when you have something good… You still want MORE. Havin' it… don't make me stop wantin' it!" – Paul
Guitar fans will notice that Paul's harmonic vocabulary has expanded considerably on
Behold Electric Guitar
. "I've been studying blues for years now, and that's just a doorway into the larger house that is jazz. There are so many interesting notes there! I love having new sounds to explore."
After his recent move to Portland, Oregon, Paul set out to connect with the best and grooviest musicians in the area, and record an album in his brand new hometown. Brian Foxworth (drums) and Asher Fulero (keyboards) were both obvious choices to play Paul's mix of rock, blues, jazz, and pop flavors. When Paul's regular Portland bassist Kelly Lemieux was unavailable (due to his touring with Buckcherry), Paul reached out to New Orleans bass legend, Roland Guerin. Roland came to Portland weeks before the recording dates for intense rehearsing and arranging sessions.
With the band complete, Paul enlisted legendary producer and engineer John Cuniberti. John is well known for his work with Joe Satriani, but Paul was primarily interested in John's expertise with "one mic" recording. Paul explains, "It's so easy to make albums with overdubbing and editing these days, but I really prefer playing live and just getting the music to sound right because the musicians, the songs, and the performances are good." After hearing Paul's band, John recommended a few more mics, but still agreed that the music worked best as live performances with no overdubs. "There is not one overdub on the record. Everything you hear is four guys jamming, listening to each other, and making room for each other. The music almost mixes itself that way! And it's just a great mindset to have. When you know that you won't be fixing or adding parts later… It keeps your mind very active to get things right!"
The album was not without some unexpected drama. After laying down stunning grooves on three songs, drummer Brian Foxworth collapsed from exhaustion in the studio. Paramedics were called, and fortunately Brian eventually made a full recovery. But the music couldn't wait, so drummers Reinhardt Melz (from Portland) and Bill Ray (from Seattle) were called in to finish laying down drums for the album.
Paul explains, "The idea of playing melodies on guitar seems like an obvious one, but it really took me decades to get a grip on it. I grew up listening to music where melody was the job of the singer. The guitarists that I liked tended to play more like guitar players… which is fine. But it just never occurred to me that guitar could handle a melody like a singer could. My first attempt was a few years ago, when I did my 'Stone Pushing Uphill Man' record. Playing melodies on that album was such demanding work, that I did a lot of overdubs and editing to get it done. I had to! The art of the melody was too new for me to tackle with live performances. I'm really happy that my ears and technique have grown to where I can now play live in the studio and get the melodies to sound and feel how I want them. I'm really finding my 'voice' on the guitar, and it's really inspiring to me. I want to play all the time now!"
Paul will be touring with his band this year to support Behold Electric Guitar.