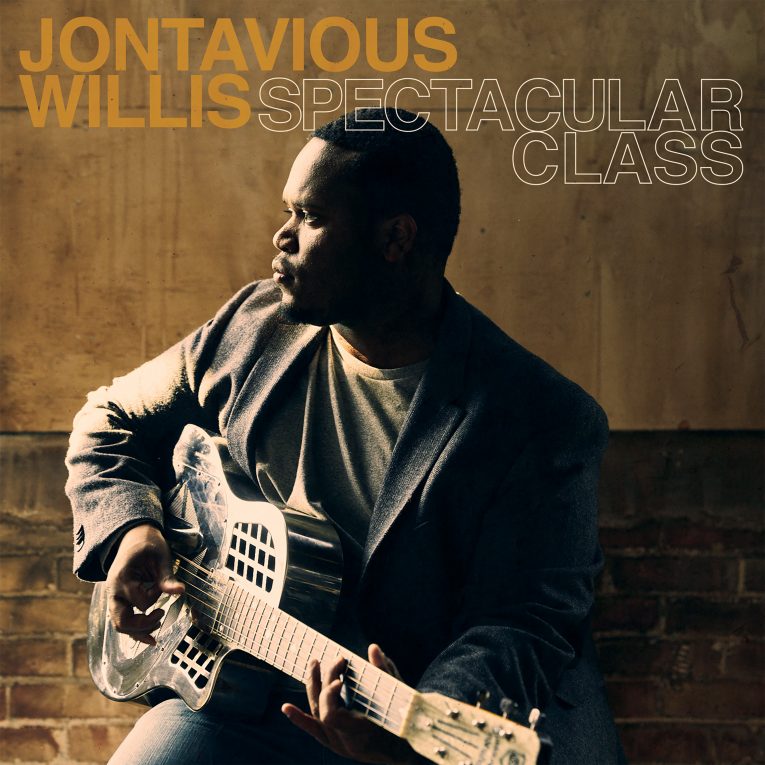 By Martine Ehrenclou
It's been said that the days are gone when famous musicians give lesser known musicians a leg up by having them open for them on concert tours. Grammy winners Taj Mahal and Keb' Mo' are revitalizing that old school practice with Jontavious Willis, the acoustic blues singer-songwriter, multi-instrumentalist who's been taking the country by storm and opening for both Mahal and Keb' Mo'. His new album, Spectacular Class, will be released on April 5th through Kind of Blue Music.
And you thought Blues was dead.
With Taj Mahal and Keb' Mo' at the helm of production for Spectacular Class by Jontavious Willis, they're not only breathing new life into acoustic blues but they've found an artist who Mahal describes as the "Wonderboy" and "the Wunderkind."
And Mahal isn't wrong.
Jontavious Willis is the future of acoustic blues. He's the real deal, and at age 22, to be this talented and such a soulful, full-bodied singer with spunk and sass (think Muddy Waters,) something's gotta be rumbling in the area of the blues, and in this talented, young musician's old soul.
Spectacular Class is the follow-up release to Jontavious Willis' debut album, Blue Metamorphosis, which won Best Self-Produced CD Award 2018 in The International Blues Challenge put on by the Blues Foundation.
Spectacular Class is a blast of fresh air, a warm summer breeze of an album with Willis' rich and soulful voice at the root of country blues. The 10-tracks (lyrics written by Willis,) are a blend of Delta, Piedmont, and Texas blues with a Gospel wash. With Willis on vocals and acoustic guitar (fingerpicking/flatpicking) and playing slide guitar, Keb' Mo' on electric guitar, Eric Ramey on bass, Phil Madeira on Hammond B3 and piano, Martin Lynds and Thaddeus Witherspoon on drums, you've got outstanding musicianship combined with a whole lot of soulfulness and groove.
"Low Down Ways" kicks off the album with an up-tempo blues shuffle with Jontavious Willis riding shotgun on vocals with some kind of tone and feel. The musicianship is superb, including some tasty Hammond B3 fills by Madeira and guitar riffs by Willis and Keb' Mo'. This tune sets you up for the rest of the album, which is fun, easy going and bound to make you feel good. It sure did me.
"The Blues Is Dead" is a standout track on the album with wonderful groove and Willis' right-on-time vocals that couldn't be more perfect for this tune. He also plays slide guitar on this track, which gives it a nice dose of swamp. Truly, you would not guess Willis is 22 years old—he's spirited  and has the confidence of someone three times his age. The piano by Madeira is beautiful, and harp by Andrew Alli just as delightful. Turn this one up and see if you don't get goose bumps like I did. This song is a winner.


Easy going blues tunes follow with, "Resting on My Mind" which features Willis' ear-pleasing vocal tone and an elegant guitar solo by the great Keb' Mo'. It's a love song, but I almost didn't know it until I'd listened to it a few times, so taken with Willis' voice and the stellar musicianship of all parties involved.
"Daddy's Dough" ups the ante with up-tempo rhythm, a Delta inspired song with echoes of the 1920's and Willis showing some dynamic vocals and phrasing. His humor, which is present in a number of lyrics on the album, made me laugh out loud. This tune is graced by Willis singing solo and thumb picking on acoustic guitar with added highlights of harmonica.
There's pure country blues tunes on the album with Willis singing solo while fingerpicking acoustic guitar, such as "Take Me To The Country" that made me want to go to the country as I listened to it. So easy, laid back and visual with sounds and smells of cornbread baking in the kitchen wafting from the lyrics.
 "Take the cloud as your pillow, the grass as your bed, I know you smell the sweet aroma of that hot water cornbread, take me to the country, nothing but skies and pine."
 Willis' delightful fingerpicking combined with the depth of his voice and fun-loving soulfulness, you could almost swear he's singing directly to you.
It's that kind of informality on Spectacular Class that serves up its inherent magic.
For a little playful ragtime, check out "Long Winded Woman." Willis sings about a woman who, just like the title says, talks a blue streak. There's humor in the lyrics and in Willis' voice. He must have known the same woman I did who talked so much that she wore him out. He nailed it with fun and plenty of laughs in the lyrics. Willis just seems like a natural entertainer. If you can say that just from listening to an album, the real person shines through. Go see him live.
This is one fun record with old school blues themes like drinking too much liquor and loving your woman. There's traditional blues, country blues and boogie woogie, and it makes for one heck of a good time. "The World is in a Tangle" closes the record with a message about the state of the world but it's wrapped in a package of sweet groove and delivered by vocalist/guitarist who sure knows how to bring it.
Jontavious Willis will be touring with Keb' Mo'. For tour schedule see here.